Water and Wastewater Analysis
The quality of drinking, utility and waste water samples is analysed according to standards. These analyses include physical, chemical and bacteriological tests.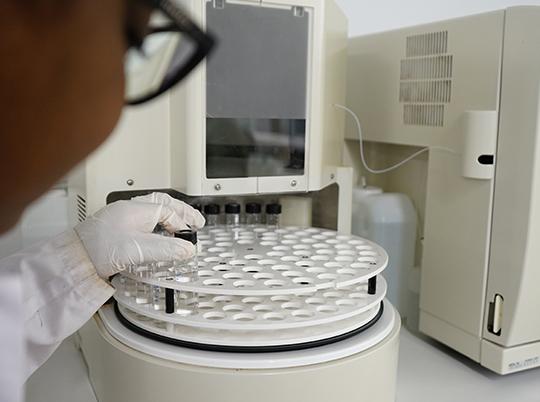 Physical and Chemical Analysis
    Acidity
    Sulfate
    Dissolved Oxygen
    Alkalinity
    Chloride
    Conductivity
    Solids
    Biochemical Oxygen Demand (BOD)
    Chemical Oxygen Demand (COD)
    Nitrate
    Colour
    Hardness
    Oil and Grease
    Turbidity
    pH
Instrumental Analysis
    Atomic Absorption Spectrometric (AAS) Analysis by Flame Method
    Anion-Cation Analysis with Liquid Chromatograph
    Total Organic Carbon Analysis
 
Microbiological Analysis
Membrane filtration technique is used to analyze water samples to estimate the presence of microorganisms such as E.coli, total coliform, Salmonella, Shigella, and total microorganisms.
Material Characterization
CIU Laboratories offer testing with the instrumental analytical devices that provide detailed information about the properties of the material sample such as surface, content and size. The analysis list consists of:
    Qualitative Mineral Structure Analysis by X-ray Diffraction Method (XRD)
    Master-sizer Particle Size Analysis
    Differential Scanning Calorimetry (DSC) Analysis
    X-Ray Fluorescence (XRF) Analysis
    Scanning Electron Microscopy (SEM) Analysis
    Fourier Transform Infrared Spectrometer (FTIR) Analysis
    Qualitative Analysis by Gas Chromatography-Mass Spectrometry (GCMS)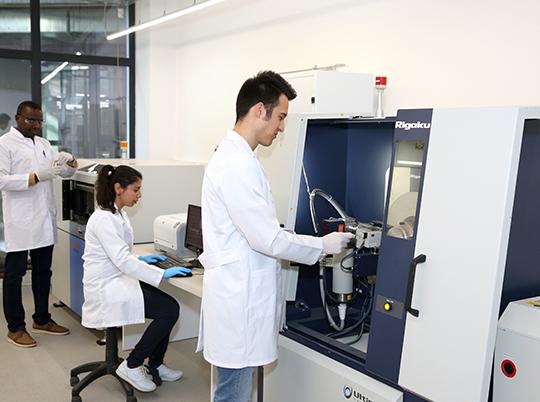 Asphalt Tests
Asphalt mix samples are analyzed to determine their strength, hardness and resistance to external factors such as bad weather conditions and earthquakes. The analysis list consists of:
    Asphalt Binder Analysis (ABA or centrifugal extractor)
    Methylene Blue Test
    Marshall Stability Test
    California Bearing Ratio (CBR) Test
    Bitumen Penetration Test
 
Soil Mechanics Analysis
In CIU Laboratories, soil, rock samples are analyzed in order to determine their characteristics and engineering properties such as their behavior according to various technical enforcements. The analysis list consists of:
    Consolidation Test (Settlement analysis)
    Determination of Soil Permeability Coefficient
    Determination of Water Content
    Grain Size Distribution (Sieve Analysis)
    Grain Size Distribution (Hydrometer)
    Atterberg Consistency Limits
    Determination of Soil Shrinkage
    Determination of Specific Gravity of Soils
    Unconfined  Compressive  Strength of Soil
    Determination of Swelling Potential of Clay Soils
    Conical Penetrometer Test
    Optimum Water Content and Maxi- mum Dry Density
    Direct Shear Test
    Triaxial UU-CU-CD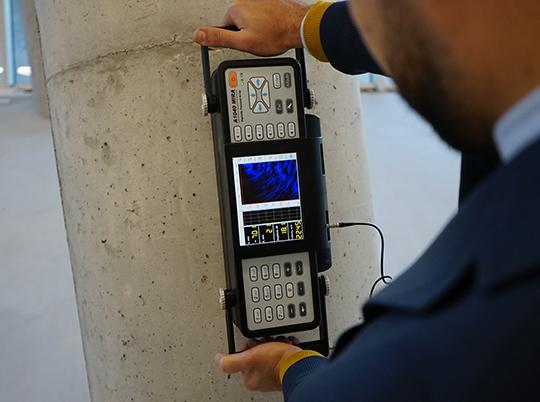 Construction Tests
Construction properties such as compressive strength of structure samples are analyzed. The analysis list consists of:
    Compressive Strength Test
    Flexural Strength Test
    Steel Bar Tensile Test
    Steel Rack Testing System
Construction Materials Tests
    Air Measurement in Fresh Concrete
    Wear Resistance Test (Los Angeles and Micro-Deval machines)
    Freeze and Thaw Resistance Test
    Soundness Test of Portland cement (Autoclave and Le Chatelier)
    Compaction Factor Analysis
    Tomographic Concrete Test
    Aggregate Gradation
    Concrete Permeability Test
    Loss on Ignition (LOI) in Cement
    Hardness Measurement
    Concrete Penetration Resistance
    Thermal Conductivity
    Ultrasonic Pulse Velocity Test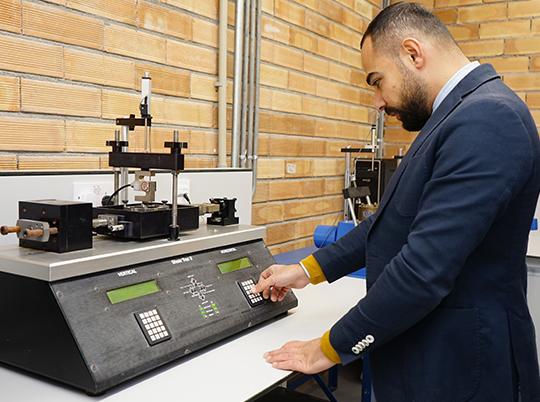 Ergonomic Analysis
Noninvasive and quantitative measurements are done to assess the health and dietary status of the human body, sEMG and oxygen uptake are measured during treadmill and bicycle exercises. 
Anthropometric Measurement
sEMG and Oxygen Consumption Measurement (with treadmill and bike)
Manufacturing Atelier
Whether a spindle or a flange, various mechanical parts are manufactured through precision machining using CNC Milling Machine or CNC Plasma Cutting machine to meet customer requirements. The manufacturing machinery consists of: 
    CNC Lathe
    CNC Milling Machine
    CNC Plasma Cutting
    Drill Bench
    Radial Drill Bench
    Grinder
    Shaper
    Band saw
    Universal Milling Machine
    Universal Lathe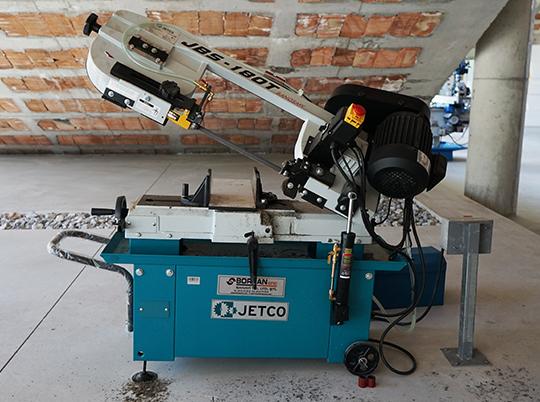 Environmental Analysis
CIU Laboratories and Workshops provide environmental analysis for pollutants such as air and noise which affect humans and other living organisms negatively and harm ecological balance.
Gas and Dust Particle Measurement
Indoor Air Quality Measurement
Noise and Vibration Measurement
Other Equipments
CIU Laboratories and Workshops provide managed access to high-spec, cutting-edge research instrumentation. The equipments are: 
    Gas Chromatography
    Liquid Chromatography
    UV-vis Spectrophotometer
    Fluorescence Spectrometer
    Shaking Incubator
    Colony Counter
    Tissue Bath
    BIOPAC MP36 System
    Microplate Reader
    Fluorescent Inverted Light Microscope
    CO2 Incubator
    Electrospinning Device
    Electrophoresis device
    Nanophotometer
    Homogenizer
    Transilluminator
    Freeze Dryer
    QPCR - RT-PCR
    -80oC Freezer
    Rotary Evaporator