About
Cyprus International University Faculty of Dentistry started education in the 2019-2020 academic year with the English Dentistry Program with its expert, experienced, national and international faculty members. After the 5-year dentistry program, students will be able to graduate as modern, well-equipped, committed to ethical values dentists.
The program consists of 123 different courses of 225 credits and education of 300 ECTS, spread over a total of 10 semesters. The short-term development plan includes the operation of operating rooms and the completion of Doctorate programs in Dentistry, thereby increasing the quality of service in polyclinics, thus increasing the quality and quantity of scientific research.
Students will be trained with dental knowledge and techniques in educational areas equipped with advanced technology and innovative devices. In the first three years of education, students will take basic dentistry courses, and in the fourth and fifth years, they will receive theoretical and applied clinical science education at the Oral and Dental Health Application and Research Center within the university.
Mission and Vision
The mission of the Faculty of Dentistry is to train competitive, genuine dentists who can contribute to the health of the society, develop knowledge, have ethical values, contribute to universal science, and provide health services.
The vision is to be a unique dentistry faculty, which is recognized in national and international standards, qualified, effective, genuine, shown as an example in the field of health services and proud to be a graduate, in line with technological developments, with its education, training and scientific studies.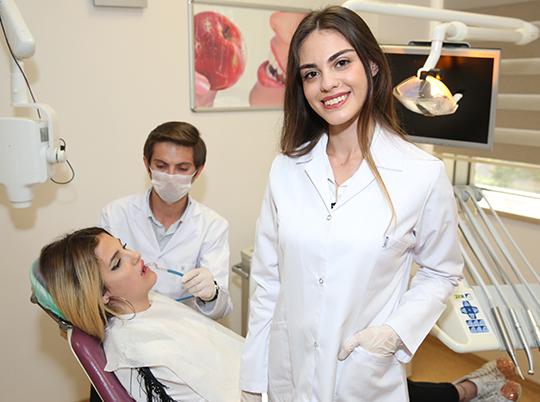 ACADEMIC ADMINISTRATION CALENDAR
2022-2023 Academic Administration Calendar
Fall Semester
12-23 September 2022
Course Registration
19 September 2022
Proficiency Exam
20-23 September 2022
Interactive Course Registration, Advisor Approvals
26 September 2022
First Day of Classes
26 September -3 October 2022
Late Course Registration Week (Penalty will apply to late registrations from October 3rd, 2022(including the date).)
14 October 2022
Last Day for Course Add/ Drop
19-29 November 2022
Midterm Exams
9 December 2022
Last Day for Course Withdrawal
6 January 2023
Last Day of Classes
9-24 January 2023
Final Exams
27 January 2023
Last Day for Submitting Course Grades
30 January 2023
Announcement of Course Grades
27 January -2 February 2023
Registration of Re-sit Exams
31 January -7 February 2023
Re-sit Exams
8 February 2023
Last Day for Submitting Re-sit Examination Grades
Spring Semester
1-10 February 2023
Course Registration
6 February 2023
Proficiency Exam
13 February 2023
First Day of Classes
13-17 February 2023
Late Course Registration Week (Penalty will apply to late registrations from February 17th, 2023 (including the date).)
3 March 2023
Last Day for Course Add/ Drop
8-18 April 2023
Midterm Exams
28 April 2023
Last Day for Course Withdrawal
26 May 2023
Last Day of Classes
29 May-13 June2023
Final Exams
16 June2023
Last Day for Submitting Course Grades
19 June2023
Announcement of Course Grades
16-21 June2023
Registration of Re-sit Exams
20-27 June2023
Re-sit Exams
3 July 2023
Last Day for Submitting Re-sit Examination Grades
Summer Semester
19 June-4 July 2023
Interactive Course Registration, Advisor Approvals
3 July 2023
First Day of Classes
18 August 2023
Last Day of Classes
21-23 August 2023
Final Exams
28 August 2023
Last Day for Submitting Course Grades
29 August 2023
Announcement of Course Grades
National/ Religious Holidays
8 October 2022 Saturday
Religious Holiday
29 October 2022 Saturday
National Holiday
15 November 2022 Tuesday
National Holiday
1 January 2023 Sunday
New Year Holiday
23 April 2023 Sunday
National Holiday
21-23 April 2023 Friday-Sunday
Religious Holiday
1 May 2023 Monday
May Holiday
19 May 2023 Friday
National Holiday
28 June- 1 July 2023 Wednesday- Saturday
Religious Holiday
20 July 2023 Thursday
National Holiday
1 August 2023 Tuesday
National Holiday
30 August 2023 Wednesday 
National Holiday