About
The Cyprus International University (CIU) News Agency, established in 2007, is the responsible unit for tracking, reporting and photographing the events and activities within the university. The team that collects, writes and photographs news within the agency consists entirely of university students. Although it is preferred that the students selected to work for the news agency are from the Department of Journalism or the Faculty of Communication, students with good social and interpersonal communication skills from other departments who are interested in journalism or photography can also take part in the news agency. Any interested students who wish to apply to the agency do not need to know news writing or photo shooting techniques at an expert level. News gathering, news writing and photography techniques are taught by the Agency News Coordinator and Agency News Supervisor.
Working Areas
The News Agency's news reports cover the achievements and activities organized by the university's faculties, schools, institutes, units, and centers. In addition to these, news stories are written about the scholarly works written by the lecturers. CIU Corporate Communication and Public Relations Directorate serves all news stories written by CIU News Agency daily to the local press.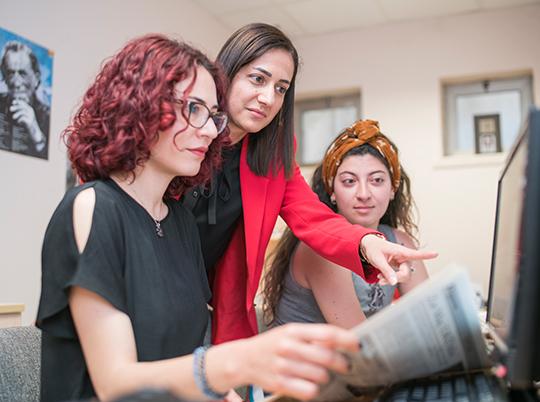 Provided Services
The News Agency offers three basic services: providing practice opportunities, informing and archiving. The primary mission of the agency can be summarized as providing opportunities for the Department of Journalism students to practice the journalism profession and hence, to experience working in a professional environment by putting the theoretical knowledge they learn in class, into practice. The technical equipment required to take photos and write news within the agency is provided by the university administration. The Agency also provides an important service in terms of meeting the "information" criteria, which is the most basic function of the journalism profession. All information in relation to the university are included in the news content. Finally, the Agency also serves as a library of events and activities conducted by our university, as all the news prepared is archived by the agency.
Contact
News Agency
Çevik Uraz Center, CU 119
Tel: +90 392 671 1111 Extension: 2315