Institute of Graduate Studies and Research
Education Management and Planning (PhD)
Apply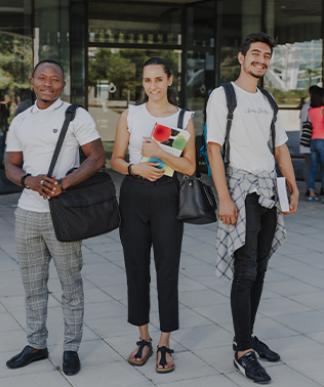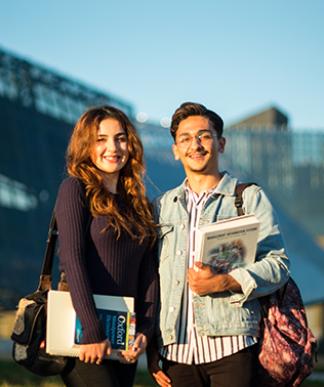 About the Program
The Education Management and Planning Program aims to educate distinguished leaders, who are equipped to cope with the rapidly changing and challenging conditions of today's world, and are committed to the continuous improvement of education.
Also, the program aims to create and disseminate information on; advanced school development in education, creation of appropriate educational policies, and the development of effective executive leaders and teacher leaders focusing on social justice issues.
It is expected that the students, who are educated in the program, will play a role in the field regarding the development of educational institutions, contribute to the field in academic areas such as conducting new research, bringing new solutions to problems and developing projects.
Education Opportunities
The program, within the body of the Institute of Graduate Studies and Research, includes courses such as Educational Management Theories and Processes, Effective Leadership and Project Management. One of the main objectives of the program, covering scientific research methods, is to educate experts with the spirit of researcher producing solutions to the current problems in the education system by following contemporary management approaches and practices and being involved in the education system. This will help them start their careers one step ahead with the support of qualified faculty members.
Career Areas
Graduates of the program will be awarded the title of "Doctor of Education Management and Planning" and they will be needed in almost every educational institution affiliated to the Ministry of National Education.
Compulsory modules
First Semester
THEORY AND PROCESSES IN EDUCATIONAL ADMINISTRATION
The main aim of this course is to enable students to have a theoretical level of knowledge about administrative theories and processes and to increase their ability to solve current educational administration problems. Scientific business, management processes, bureaucratic organization, formulation of management, old approaches such as dynamic management, human relations, cooperation, rational decision, exchange of services, adaptation in the organization, new approaches such as social system and information theory within modern approaches General system and open system theory, cybernetics and learning organization theories will be discussed. In addition, management processes, decision, communication, planning, organization, coordination, supervision and evaluation, and impact will be both theoretically addressed and problems in implementation and solutions will be discussed.
ADVANCED RESEARCH METHODS
Students will be able to design and implement a research related to instructional technologies and make statistical analysis using SPSS. Research problem is identified and a research and data analysis is performed to produce a report. Students will use scientific research methods to solve a problem related to educational science on the basis of analytical thinking and provide the students who have completed the course content fully the ability to write a report by interpreting the findings obtained in data collection, modeling and data analysis in the process of scientific research methods for the solution of educational problems. Lectures, question-answer, discussion, data collection with survey application, data analysis with SPSS, research topic reporting, project presentation and different sample applications will be covered.
Second Semester
PHILOSOPHY OF SCIENCE
This course will follow three main paths: Firstly it will introduce philosophy to doctoral students. The meaning of philosophy, its scope, its sub-branches and its different schools will be the subject topic of the first weeks. Then the course will focus on the relation of philosophy with the sources of knowledge and different sciences. Here, Rationalism, Empiricism and Intuitionism will be covered during the following weeks. In the remaining weeks the course will concentrate on philosophy of science and scientific ethics. Logical positivism, paradigm changes, falsificationism, the questions of "what is science", "what is pseudo-science?", "what is the relation between theory and reality?" are amongst topics that will be covered. Finally, the course will concentrate on ethical theories and will particularly cover scientific ethics.
STATISTICAL APPLICATIONS FOR SOCIAL SCIENCES
Entering the data collected to the computer, organizing and getting data ready for statistical analyses; normal distribution and sampling distribution of the mean; establishing confidence intervals; writing research questions, research hypotheses, null hypotheses; hypothesis testing. Descriptive statistics: Measures of central tendency and position measurements (arithmetic mean, median, mode, percentile and quartile); measures of variability (range, variance, standard deviation); summary and display of data. Inferential statistics: t-test applications (single-sample t-test, independent samples t-test, dependent samples t-test), analysis of variance applications (one-way ANOVA, two-way ANOVA, ANCOVA); correlations (Pearson and Spearman correlation coefficients); multiple linear regression; exploratory factor analysis; reliability; non-parametric tests (Wilcoxon signed rank test, Mann-Whitney U test, Kruskal-Wallis test, Chi-Square tests); interpreting and writing results of analyses.
Third Semester
DISSERTATION
PhD dissertation work consists of determining a research topic in the field of study, defining the research problem, writing appropriate research questions and hypotheses, determining the research method for finding answers to the research questions, collecting and analyzing data, writing findings, discussions and implications. Prior to the dissertation work a proposal has to be prepared and presented to the dissertation monitoring committee consisting of three members including the supervisor. After the completion of the dissertation the candidate defends it in front of a jury of five members including the monitoring committee. The dissertation should contribute to the field of study and for setting up a jury the candidate must publish an article from his/her dissertation in a journal indexed by the SSCI, AHCI or SCI.
QUALIFYING EXAMINATION
The qualifying exam is to determine whether the student who completed the courses and seminar has a base for scientific research related to the basic subjects and concepts. A student can take the qualifying exam at the most twice after completing the seminar and credited courses. The qualifying exam consists of two parts: written and oral; and are held on the days and times announced by the graduate committee, within the semester following the completion of the credited courses and the seminar. The jury of the qualifying exam evaluates the success of the student. The student who fails the qualifying exam can take to it for the second time in the following semester.
Optional modules
EDUCATION POLICIES
The aim of this course is to understand and discuss how political ideologies affect the content, structure and functions of education Within the scope of this course, education policies (conservation, liberal etc.), culture, political psychology and political economy, power, gender and globalization, education law, decree law, international treaties, regulations, directives, circulars, development plans, national education councils, government programs will be included. Different training policies both in Turkey and abroad will be discussed. At what level are the education policies in Turkey and the TRNC? How aware are our educators of these policies? How are our Education Policies by world standards? What are our shortcomings? How to overcome our deficiencies? Such topics will be discussed and solutions will be proposed.
COMPARATIVE EDUCATIONAL ADMINISTRATION
The aim of this course is to teach students the history of comparative education, research methods used in comparative education, the education systems applied in different countries, comparisons of the systems they apply by considering the characteristics of the countries and development of solutions to existing problems based on this comparison. For this purpose, the theoretical framework of comparative education, history and approaches will be discussed first. Then the education systems, the administrative structures, teacher education approaches of countries such as USA, England, Germany, Finland, Denmark, Japan, China, India, Australia, Turkey, Egypt, Russia, etc. which have different cultural and demographic characteristics. Students will carry out scientific research using the research methods related to the countries they choose.
EDUCATION REFORMS AND STRATEGIC THINKING
In this course issues students will analyse the issues such as Why education reforms are made, what are the reasons that trigger education reforms, what are the education reforms in different countries? What are the compatibility of these reforms with the culture of the country and their sustainability. Issues such as What is the purpose of education? Who / who will decide this aim? How can an education system be built to support sustainable quality? What lessons can be drawn from the results of past reforms? How are all these questions shaped by history and politics? will be discussed. Students will also have the opportunity to improve their strategic thinking skills while looking for answers to these questions.
EDUCATION AND SCHOOL LEADERSHIP
The aim of this course is to increase the knowledge levels of students about school leadership in particular. In this context, from past to present, leadership theories, feature theory, behavioral leadership approaches, situational leadership approaches, current approaches will be discussed. The school-specific leadership styles, such as instructional leadership, moral leadership, etc., will also be covered in detail. In this course, students will also learn leadership behaviors such as influencing group activities, providing guidance, team building, directing people to group goals in an institution that is important in education and school leadership. In this course, teacher leadership, both theoretically be examined and studied in terms of practices broad, Turkey and TRNCand provided solutions to the problems detected.
EDUCATIONAL AND EDUCATIONAL LEADERSHIP
EDUCATIONAL AND EDUCATIONAL LEADERSHIP
ADMINISTRATION OF HIGHER EDUCATION
The aim of this course is to increase students' level of knowledge about the administration of higher education. In this course organization of higher education, reforms in higher education structures, powers and responsibilities of higher education institutions, leadership in higher education, financing and internationalization of higher education, the Bologna process and reflections on Turkey will be tackled. Issues such as organizational structure and autonomy will be discussed and discussed. The financing problems of both public and private / and the impact of human resources management on finance will be examined. The role of the leader in higher education, formal and informal leadership, campus culture, strategic planning, crisis leadership and effective leadership will also be discussed.
EĞITIMDE DENETLEME VE DEĞERLENDIRME
OKULLARDA STRATEJIK PLANLAMA
ORGANIZATIONAL CHANGE AND DEVELOPMENT
The aim of this course is to make students understand and realize the basic dynamics of change and improvement. For this purpose, within the scope of this course, organizational change theories (eg Lewin's three-stage model, Kotter's 8-stage model, Harris's 5-stage model, etc.), forces that trigger change, resistance to change and factors that reduce resistance will be discussed. In addition, models for organizational development such as organizational development, total quality management, strategic planning, benchmarking, reengineering, restructuring and models for developing individuals such as job enlargement, laboratory training and behavioral performance management will be analysed and discussed within the framework of outcomes, problems and solutions.
Students who are interested in pursuing advanced graduate studies leading to a master's, doctoral degree or professional doctorate degree for the Fall and Spring semesters every year. Applicants can directly apply online to our graduate programs using the application portal.
TRNC Applicants- Required documents:
Bachelor's and Master's Degree Diploma
Bachelor's and Master's Degree transcripts for each completed academic term/year.
Documents to prove English proficiency for English language departments,
Scanned copy of passport or identity card.
Click for detailed admission requirements information.
Cyprus International University provides academic scholarships for its students as an incentive for success, with most students benefiting from 50%, 75% or 100% scholarships or discounted tuition fees. Click for more information.
Click for more to learn about fees in line with the Tuition Fee Calculation system.
| | |
| --- | --- |
| Fee pe​r course     | € 650,00 |
| Fee for thesis (4 Semesters) | € 2.600,00 |
| Fee for seminar     | € 200,00  |
| Scientific Foundation per course     | € 150,00 |
| Registration and other fees* | € 245,00 |
| Student Union fee | € 50,00     |
|   | VAT Exc. |
*Applies to 1st. Year students. € 195,00 for others.