About the Program
The aim of the Energy Systems Engineering Master's Engineering is to educate and train engineers to work in the field of energy systems engineering who are equipped with the necessary information, gained knowledge and ability to assess and interpret information by doing scientific research and can solve complex energy problems. In addition, graduates of the Energy Systems Engineering Program provide expertise in sub-areas such as renewable energy systems, energy management, energy policy, energy efficient production / consumption, energy-environment relations, energy economics, energy systems modeling. The use of fossil fuels pollutes the environment and they have become an undesired source of source due to their endangerment and ever-increasing costs. Another goal of the program is concerned with educating professionals who specialize in alternative and sustainable energy sources. In terms of science, the Master of Science (M.Sc.) education will accelerate the research activities carried out in the Energy Systems Engineering Master's Program.
Education Opportunities
Master of Science (M.Sc.) in Energy Systems Engineering has two sub-programs; the thesis and non-thesis program. The thesis program consists of seven courses, seminar and a thesis. Two of the seven courses are compulsory; and from the remaining five courses, two are program-based elective courses, and three are graduate-level elective courses from other engineering programs. The non-thesis program is designed for those who would like to improve themselves for educational and professional purposes. The non-thesis program consists of ten courses and a graduation project. Two of these courses are compulsory, five are program-based elective courses, and the remaining three courses are graduate-level elective courses from other engineering programs. The program offers courses on issues such as past, present and future of energy; techno-economic analysis of energy practices; solar power design; integration of renewables; modern economic problems in energy systems; and fundamentals of optimization of energy systems.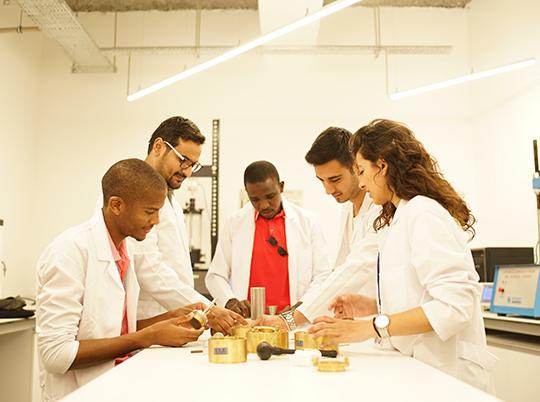 Career Areas
Students who successfully complete their M.Sc. in Energy Systems Engineering and wish to continue their academic career can apply for the Ph.D. programs at the national and international institutions. Program graduates who do not prefer to continue their career academically can be employed in national and international fields related to their professions in the public and private sectors or they may establish their own businesses. Program graduates can work in the fields of energy storage devices, energy storage materials, fuels and combustion, energy conversion systems, solar energy, wind energy, biofuels, energy efficiency, energy management, energy politics/policies, power generation, transmission and distribution, intelligent networks and electric / hybrid electric vehicles.
Compulsory modules
First Semester
ENERGY - PAST, PRESENT & FUTURE
ENERJİ - GEÇMİŞ, BUGÜN & GELECEK
TECHNO-ECONOMICAL ANALYSIS OF ENERGY APPLICATIONS
Second Semester
Optional modules
RESEARCH METHODS
This course is designed to be a background pass to graduate studies. The ability to formulate a research question, finding the data relevant to research questions, analyze those data, and presentation of research findings are skills that will be acquired through this course. Scientific thinking skills and methods of research, using library and online archives, experimental design, and presenting quantitative data are modules covered within the scope of this course. Scientific communication, writing research proposals, scientific reporting and thesis writing are also supported. Conference presentations, time management in research projects, ethical issues, plagiarism and skills of working in a group and networking are also highlighted throughout the semester.
FUNDAMENTALS OF ENERGY SYSTEMS OPTIMIZATION
DESIGN OF ZERO EMISSION 100% RENEWABLE CITIES
POWER GENERATING SYSTEMS
This course focuses on to provide students with the understanding of energy generating systems and their working principles. The topics of steam power plants, power generation, steam cycle (Rankine cycle, Kalina cycle, combined gas and steam cycles) including the Brayton cycle, economics of power cycles, fuels and combustion; including solid, liquid and gases fuels, steam generators, steam turbines, gas turbines and the circulating water systems will be discussed in greater depth and complexity than is done in undergraduate courses. Design of economizers and feed water heaters, condensing systems, fuel preparation methods, water treatment, environmental concerns, location of plants will also be discussed. Power transmission systems will be introduced as part of the course.
INTEGRATION OF RENEWABLES
PROJECT SCHEDULING
The project schedule is the tool that communicates what work needs to be performed, which resources of the organization will perform the work and the timeframes in which that work needs to be performed. The project schedule should reflect all of the work associated with delivering the project on time. The aim of this course is to give the principles of project management, representation of project operations such as project breakdown, network representation and terminology, network data. The course content includes network planning with respect to costs and durations: critical path analysis, linear time cost trade-off analysis, resource-constrained network planning, resource scheduling and resource leveling.
TOTAL QUALITY MANAGEMENT
Total Quality Management (TQM) is a comprehensive and fundamental quality policy that aims continuous improvement. This course focuses on total quality concepts and total quality approach for decision making. In addition to presenting various Total Quality Management concepts and quality improvement tools, importance of customer focus, team formation and problem solving are also underlined. The key actions that highlights importance of quality through planning, design and control are discussed. Up-to-date quality standards and award models are discussed and criticized using real life cases. Aim of the course is to give total quality concept to the students. Also the course explains total quality management decision methods.
INTERMEDIATE HEAT AND MASS TRANSFER
INTERMEDIATE FLUID MECHANICS
PRODUCTION PLANNING AND SCHEDULING
The course aims to analysis of some specific problem areas within the context of planning and scheduling of production activities. Also the course give the information related definition, formulation and available solution procedures for aggregate planning and lot sizing. It includes scheduling in manufacturing systems, scheduling in service systems, design and operation of scheduling systems. Students in this course will learn fundamental problem areas of production planning and control and, the relation between planning and control activities. At the end of this course student will be able to define of Production Planning and Control Concepts, decide forecasting and evaluate the forecasting methods, decide lot size of a single item with deterministic and constant demand, compute total cost of an inventory policy and solve lot sizing problems under resource constraint with multiple items.
HAZARDOUS AND TOXIC WASTES - TREATMENT AND CONTROL
POWER SYSTEM ENGINEERING AND ECONOMICS
INDUSTRIAL WASTE TREATMENT
The source, characteristics and treatment techniques of wastewater generated from various industries. The caracterization of industrial wastewater, purpose of treatment and regulations. The detection of the wastewater amount. Waste minimization by changing the processes. Modeling the flow and variability of wastewater. Equalization and flow design. The design of unit processes including physical, chemical and biological processes. Liquid-solid separation by sedimentation, DAF, and filtration. The investigation of wastewater treatment plant process flow diagrams of selected industries.
POWER ELECTRONICS APPLICATIONS FOR RENEWABLE ENERGY SYSTEMS
HYDROGEN AND FUEL CELL TECHNOLOGY
ADVANCED AIR POLLUTION
This course is about air pollution effects, measurements, emission estimates, meteorology and modeling. Topics covered are air pollution meteorology; physical and thermodynamic properties of the atmosphere, equations of motion, hydrostatic equation, continuity equation, geostrophic approximation, atmospheric stability and inversions / air pollutant concentration models; fixed-box models, diffusion models.
RENEWABLE ENERGY POLICIES & SCENATIOS
MODERN ECONOMIC ISSUES IN ENERGY SYSTEMS
SOLAR - THERMAL ENERGY AND ITS APPLICATIONS
PHOTOVOLTAIC SYSTEMS
Introduction to photovoltaic (PV) systems. Solar energy potential for PV, irradiance, solar radiation and spectrum of sun, geometric and atmospheric effects on sunlight. Solar cells, basic structure and characteristics: Single-crystalline, multi-crystalline, thin film silicon solar cells, emerging new technologies. Electrical characteristics of the solar cell, mathematical model and equivalent circuit, modeling of solar cells including the effects of temperature, irradiation and series/shunt resistances on the open-circuit voltage and short-circuit current. Solar cell arrays, PV modules, PV generators, shadow effects and bypass diodes, hot spot problem in a PV module and safe operating area. Terrestrial PV module modeling. Interfacing PV modules to loads, direct connection of loads to PV modules, connection of PV modules to a battery and load together. Energy storage alternatives for PV systems.
FLUID MECHANICS
Definitions, physical properties. Hydrostatic, forces on plane and curved surfaces, buoyancy, hydrostatics in moving and rotating containers. Lagrangian and Eulerian descriptions, derivatives, rate of deformation, flow lines. System and Control volume approach, Reynolds Transport Theorem, principles of conservation of mass, momentum and energy, Bernoulli equation. Dimensional analysis, Buckingham pi theorem, similitude
SUPPLY CHAIN MANAGEMENT
Supply chain management course provides an insight to logistics and supply chain concepts and explores the management of supply chains to improve an organization's overall supply efficiency. The course also addresses all steps of the supply chain process, including procurement of materials, shipping, warehousing and distribution of finished goods. Other concepts included can be listed as the definitions of supply chains (and related supply chain concepts), identification procedures, an overview of methods, processes, and systems that are used in the operation of supply chains, and the applications of methods, processes, and systems to improve supply chain performance.
ENGINEERING ETHICS
One of the conditions rendering a specific field of activity into a profession is the rules and regulations related to ethics. In this respect, engineering disciplines also possess unique professional rules of ethics; which are in fact inseparable from the general business ethics. Within the scope of the course and with the help of examples from different sectors, ethic topics, regulations and behaviors are covered. Main topics to be covered in this course can be listed as responsibility in engineering; framing the moral problem; organizing principles of ethical theories; computers, individual morality, and social policy; honesty, integrity, and reliability; safety, risk, and liability in engineering; engineers as employees; engineers and the environment; international engineering professionalism; and future challenges.
ANAEROBIC BIOTECHNOLOGY FOR INDUSTRIAL WASTEWATERS
ENVIRONMENTAL BIOTECHNOLOGY
The course aim is to provide the students with information on the application of biological processes in environmental technology. Environmental biotechnology covers the use of microorganisms in biotechnological processes such as sewage and industrial wastewater treatment, solid waste degradation, soil purification, bioremediation of sites contaminated with hazardous materials, enhancement of the quality of drinking water, biodegradation, bioconversion, biorecovery, biological detoxification.
RESEARCH TEHCNIQUES IN HUMAN ENGINEERING
An introduction to ergonomics, methods and standards. Topics include: ergonomics definition, history and benefits; scientific foundation and principles; application of principles in the design of human-work and human-technology systems; work method analysis and development of time standards. Specifically, manual work, workstation, equipment, tool and control design; work environment design: noise, illumination, climate, ventilation, vibration, radiation and chemical substances; occupational health and safety; cognitive work design: information coding, display design, human-computer interaction, and user experience; time and motion studies; shiftwork and working hours; problem solving tools; basic lean manufacturing principles. Laboratory and field research techniques in industry. Practical applications, instrumental methods and the general principles of project development. Classroom discussions, term projects and library research.
OPERATIONS RESEARCH TECHNIQUES
Introduce students to developed techniques, methodologies and models used in Operations Research (OR). Operations Research (or Management Science) is a field of Applied Mathematics that uses mathematical methods and computers to make rational decisions in solving a variety of optimization problems. Most OR techniques require the use of computer software to solve large, complex problems in industry, business, science and technology, management, decision support and other areas and disciplines. In this course Deterministic Problems are considered – the data and future outcomes are known with certainty. Optimization of the solution is the primary goal. Matlab and Excel are used for representing and solving the problems.
INVESTMENT APPRAISAL
This course is devoted to the techniques of cost-benefit analysis of investment projects. The course covers both the analytical techniques as well as their practical applications in decision-making. The course topics will cover financial modeling of investment projects, alternative investment criteria, the role of discounting the time value of money, pre-feasibility and feasibility studies in project appraisal, sensitivity analysis and maintaining consistency between real and nominal prices, inflation rates, exchange rates and interest rates. It will also cover how to determine the optimal scale and timing of investments and how to construct income statements and balance sheets from cash flow projections.
COMPUTER AIDED DATA ANALYSIS
Following a general introduction, the qualitative and quantitative data, their systems of collection and analysis are given to the students. Regression and correlation analysis concepts. Case studies and solutions by using relevant software such as SPSS. Quality control concepts with respect to data analysis. Students will be able to manage qualitative data in an efficient and accessible manner, develop a qualitative data analysis plan, choose and apply different inductive and deductive approaches to coding appropriate to the data type and the context in which results will be used, employ and write analytical memos to aid in interpretation of qualitative data, understand the basic functions of computer-aided qualitative data analysis software, present qualitative findings in different settings using formats appropriate for different audiences.
ECOLOGY
This course will review major ecological concepts, identify the techniques used by ecologists, provide an overview of local and global environmental issues, and examine individual, group and governmental activities important for protecting natural ecosystems. The course has been designed to provide technical information, to direct the student toward pertinent literature, to identify problems and issues, to utilize research methodology for the study of natural ecosystems, and to consider appropriate solutions and analytical techniques. Discussion and understanding will be emphasized.
ADVANCED ENGINEERING THERMODYNAMICS
EXERGY AND EXERGY-ECONOMIC ANALYSIS OF RENEWABLE SYSTEMS
INTERMEDIATE THERMODYNAMICS
The main aim of this course is to enhance the understanding of thermodynamics principles and their relevance to the problems of humankind. The course provides the students with experience in applying thermodynamic principles to predict physical phenomena and to solve engineering problems. The course starts with fundamental definitions of related concepts to build up the unique vocabulary necessary in the course. The course continues with a quick introduction to the fundamental laws which are zeroth, first, second and third law of thermodynamics. The course continues with their applications to the common engineering problems such as steady flow device analysis, unsteady problem analysis and thermal system analysis.
STRATEGIC PLANNING
In this strategic planning course, students gain an understanding of the relationships between strategy, planning and execution, and learn how to develop a strategic mindset, improve their analytical skills, and apply creative planning to current challenges. Using case studies and drawing on the ideas and models of leaders in the field, this strategic planning course will debunk the myths and illustrate how good strategies are formed. The course gives a complete outline of the main areas found within the plan and offers guidelines for all information contained under the main headings. It also gives guidance for creating ownership within the organization and how to communicate the plan.
PRODUCTION AND INVENTORY THEORY
Surveys the design, development, implementation and management of production planning systems, including master production scheduling, aggregate planning, material requirements planning, capacity and inventory planning and production activity control. Students will be exposed to contemporary approaches such as just-in time, theory of constraints and the relationship of enterprise-level planning and control systems to the overall materials flow. Students will be able to articulate and apply the following tools and practices of production planning and inventory control: The elements, processes, and technologies comprising the field of Manufacturing Planning and Control (MPC), Demand management theories and techniques – forecasting, CPFR, Sales and Operations Planning process in the firm, Enterprise Resource Planning (ERP) – How MPS decisions are supported by ERP, Supply chain inventory management – independent demand items, Using a Material Requirement Planning system.
ANAEROBIC BIOTECHNOLOGY FOR INDUSTRIAL WASTEWATERS
BIOSEPERATIONS
In this course the separation of proteins, nucleic acids, and oligonucleotides from biological matrices is covered from analytical to process scales. Also in this course, the separation of monoclonal antibodies, which have found numerous uses as therapeutic and diagnostic agents will be covered. Analytical techniques include an interesting montage of chromatographic methods, capillary electrophoresis, isoelectric focusing, and mass spectrometry. Among separation and purification methods, liquid-liquid distribution, displacement chromatography, expanded bed adsorption, membrane chromatography, and simulated moving bed chromatography will be covered at length. Regulatory and economic considerations will be addressed, as are plant and process equipment and engineering process control. Application of DNA chip arrays, proteomics as well as evolving methodologies for a large number of drugs that are under development for treatment of cancer, AIDS, rheumatoid arthritis, and Alzheimer's disease will be discussed.
Students who are interested in pursuing advanced graduate studies leading to a master's, doctoral degree, or professional doctorate degree for the Fall and Spring semesters every year. Applicants can directly apply online to our graduate programs using the application portal.
TR Applicants- Required documents:
Bachelor's Degree Diploma
Bachelor's Degree transcripts for each completed academic term/year.
Valid ALES result document (must not exceed 5 years),
Documents to prove English proficiency for English language departments,
Scanned copy of passport or identity card.
Click for detailed admission requirements information.
TRNC Applicants- Required documents:
Bachelor's Degree Diploma
Bachelor's Degree transcripts for each completed academic term/year.
Documents to prove English proficiency for English language departments,
Scanned copy of passport or identity card.
Click for detailed admission requirements information.
Students who are interested in pursuing advanced graduate studies leading to a master's, doctoral degree, or professional doctorate degree for the Fall and Spring semesters every year. Applicants can directly apply online to our graduate programs using the application portal.
International Applicants- Required documents;
Bachelor's Degree Diploma
Bachelor's Degree transcripts for each completed academic term/year.
Evidence of English Language competence: TOEFL (65 IBT) or IELTS (5.5). Students without these documents will take the CIU English proficiency exam on campus following arrival.
Scanned copy of international passport/birth certificate
CV
Fully completed and signed CIU Rules and Regulations document (which can be downloaded during the online application)
Click for detailed admission requirements information.
Cyprus International University provides academic scholarships for its students as an incentive for success, with most students benefiting from 50%, 75% or 100% scholarships or discounted tuition fees. Click for more information.
| | |
| --- | --- |
| Fee pe​r course     | € 350,00 |
| Fee for thesis     | € 1.050,00 |
| Fee for seminar     | € 120,00  |
| Scientific Foundation per course     | € 150,00 |
| Registration and other fees* | € 245,00 |
| Student Union fee | € 50,00     |
|   | VAT Exc. |
*Applies to 1st. Year students. € 195,00 for others.