About the Program
The Energy Systems Engineering program offers students, who wish to have an academic, research, industry or entrepreneurship based career, the opportunity to pursue the doctorate degree in energy systems engineering. It is important that the Ph.D. program graduates perceive the need for lifelong learning, are constantly improving themselves and are specialized engineers who have gained detailed knowledge of the related practices. For this reason, the primary aim of the Ph.D. in Energy Systems Engineering program is to train academics who can; conduct independent research on energy systems, comment on scientific events with a broad and deep perspective, continuously improve/train themselves to adapt to innovations in the field, and identify the steps needed to reveal new syntheses. Doctoral thesis will fulfill the aims of scientific innovation developing a new scientific method and/or applying a known method to a new field.
Education Opportunities
Ph.D. program consists of seven courses, a seminar, a doctoral qualification examination, and thesis work. Four of these courses must be program-specific Ph.D. courses, while the remaining three courses may be M.Sc. or Ph.D. level courses suitable for the area of specialization in which students aim at. In the last semester of course work, each student will give a seminar about the chosen thesis topic. Students who complete the course load, including the seminar, within the period determined by the Institute of Graduate Studies and Research and have a CGPA of at least 3.00, are entitled to enter the qualification examination. Students who are successful in the qualification examination can register for the thesis and continue their research. In order to be able to defend the thesis, students should have at least one journal article related to their thesis topic published in SCI or SCI-Expanded journals. After publishing the article, students can defend their thesis at a time deemed appropriate by the thesis supervisor.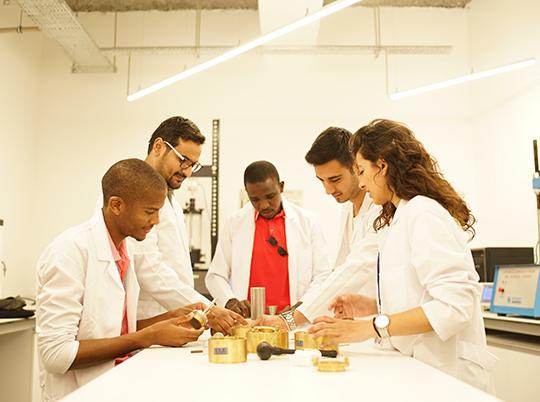 Career Areas
Graduates of the Ph.D. in Energy Systems Engineering program can work as researchers at universities or other research institutions. They can also continue their careers as academics; they can teach, in their field of specialization, at universities in North Cyprus or abroad. Graduates of Energy Systems Engineering doctorate program can follow current energy legislations, design and develop new ones, assess energy sources and supply-demand balance. They can also work on developing conversion technologies (chemical, heat, electricity, mechanics) for utilizing energy sources (oil, natural gas, coal, solar, wind, water, geothermal, biomass, wave, etc.), designing/managing energy transmission, distribution and storage processes, increasing the efficiency of energy generating systems or reducing their costs and environmental impacts of systems related to energy systems engineering.
Compulsory modules
First Semester
Second Semester
QUAILIFICATION EXAM FOR PHD
Philosophy of Science
This course will follow three main paths: Firstly it will introduce philosophy to doctoral students. The meaning of philosophy, its scope, its sub-branches and its different schools will be the subject topic of the first weeks. Then the course will focus on the relation of philosophy with the sources of knowledge and different sciences. Here, Rationalism, Empiricism and Intuitionism will be covered during the following weeks. In the remaining weeks the course will concentrate on philosophy of science and scientific ethics. Logical positivism, paradigm changes, falsificationism, the questions of "what is science", "what is pseudo-science?", "what is the relation between theory and reality?" are amongst topics that will be covered. Finally, the course will concentrate on ethical theories and will particularly cover scientific ethics.
Optional modules
EXERGY AND EXERGY-ECONOMIC ANALYSIS OF RENEWABLE SYSTEMS
DESIGN AND OPTIMIZATION OF ENERGY SYSTEMS
TECHNO-ECONOMICAL ANALYSIS OF ENERGY APPLICATIONS
RENEWABLE ENERGY TRANSPORTATION SYSTEMS
RENEWABLE ENERGY TRANSPORTATION SYSTEMS
ADVANCED SOLAR ENERGY UTILIZATION
POWER SYSTEMS PROTECTION AND CONTROL
RESEARCH METHODS
This course is designed to be a background pass to graduate studies. The ability to formulate a research question, finding the data relevant to research questions, analyze those data, and presentation of research findings are skills that will be acquired through this course. Scientific thinking skills and methods of research, using library and online archives, experimental design, and presenting quantitative data are modules covered within the scope of this course. Scientific communication, writing research proposals, scientific reporting and thesis writing are also supported. Conference presentations, time management in research projects, ethical issues, plagiarism and skills of working in a group and networking are also highlighted throughout the semester.
ENERGY SECURITY AND GEOPOLITICS
ENERGY DECISION SUPPORT TOOLS
POLICIES & FUTURE R&D OF FUEL CELL TECHNOLOGY
INTEGRATED ENERGY SYSTEMS-MODELING & OPTIMIZATION
PERFORMANCE ANALYSIS OF ENERGY GENERATION SYSTEMS
The course content includes the analysis and modelling of energy systems. It will help students to understand the science behind the energy generation systems and their working principles. The main topics of discussion will be of advanced energy generation systems such as power generation systems. The discussion will also include gas cycles, including Brayton cycle as well as the vapour compression refrigeration cycles, vapour absorption refrigeration cycles. It further includes the economics of power cycles, fuels and combustion (solid fuels, liquid fuels, and gas fuels), steam generators, steam turbines (single stage, multi-stage, tandem and compound etc.) and the main components of steam and gas turbine systems. The contents mentioned above will be analyzed for their perspective of first and second laws of thermodynamics.
ENERGY - PAST, PRESENT & FUTURE
ENERJİ - GEÇMİŞ, BUGÜN & GELECEK
PROJECT SCHEDULING
The project schedule is the tool that communicates what work needs to be performed, which resources of the organization will perform the work and the timeframes in which that work needs to be performed. The project schedule should reflect all of the work associated with delivering the project on time. The aim of this course is to give the principles of project management, representation of project operations such as project breakdown, network representation and terminology, network data. The course content includes network planning with respect to costs and durations: critical path analysis, linear time cost trade-off analysis, resource-constrained network planning, resource scheduling and resource leveling.
ADVANCED TECHNIWUES FOR ENERGY SYSTEMS
TOTAL QUALITY MANAGEMENT
Total Quality Management (TQM) is a comprehensive and fundamental quality policy that aims continuous improvement. This course focuses on total quality concepts and total quality approach for decision making. In addition to presenting various Total Quality Management concepts and quality improvement tools, importance of customer focus, team formation and problem solving are also underlined. The key actions that highlights importance of quality through planning, design and control are discussed. Up-to-date quality standards and award models are discussed and criticized using real life cases. Aim of the course is to give total quality concept to the students. Also the course explains total quality management decision methods.
POWER ELECTRONICS APPLICATIONS FOR RENEWABLE ENERGY SYSTEMS
MODERN ECONOMIC ISSUES IN ENERGY SYSTEMS
ADVANCED ENGINEERING THERMODYNAMICS
DESIGN OF ZERO EMISSION 100% RENEWABLE CITIES
ADVANCED RESEARCH METHODS FOR ENGINEERING
This course covers data analysis using statistical methods, e.g., descriptive and multivariate analysis. Furthermore, the course covers the topics of correlation, sampling, estimation, and hypotheses testing. The logic and key assumptions underpinning the multivariate ordinary least squares regression model will be given together with more advanced subjects such as the analysis of time series and panel data analysis. The emphasis will be on achieving a smooth transition between theory, model definition, and outcome presentation. It will illustrate several methods of data analysis, presenting the findings of analyses (for example, visually, using graphics, tables, and text), and understanding their meaning. Students will gain hands-on experience with the techniques discussed in this course by applying them to various datasets using statistical software
SOLAR - THERMAL ENERGY AND ITS APPLICATIONS
ENGINEERING ETHICS
One of the conditions rendering a specific field of activity into a profession is the rules and regulations related to ethics. In this respect, engineering disciplines also possess unique professional rules of ethics; which are in fact inseparable from the general business ethics. Within the scope of the course and with the help of examples from different sectors, ethic topics, regulations and behaviors are covered. Main topics to be covered in this course can be listed as responsibility in engineering; framing the moral problem; organizing principles of ethical theories; computers, individual morality, and social policy; honesty, integrity, and reliability; safety, risk, and liability in engineering; engineers as employees; engineers and the environment; international engineering professionalism; and future challenges.
OPTICAL COMMUNICATION NETWORK
Optical network design. Optical network modeling, routing and wavelength assignment algorithms. Optical network simulation tools and techniques. Optical grid/cloud networks. Optical Burst Switching (OBS) and EPONs (Ethernet Passive Optical Networks).
ANALYTICAL DECISION MAKING
OPERATIONS RESEARCH TECHNIQUES
Introduce students to developed techniques, methodologies and models used in Operations Research (OR). Operations Research (or Management Science) is a field of Applied Mathematics that uses mathematical methods and computers to make rational decisions in solving a variety of optimization problems. Most OR techniques require the use of computer software to solve large, complex problems in industry, business, science and technology, management, decision support and other areas and disciplines. In this course Deterministic Problems are considered – the data and future outcomes are known with certainty. Optimization of the solution is the primary goal. Matlab and Excel are used for representing and solving the problems.
INTEGRATION OF RENEWABLES
INTERMEDIATE FLUID MECHANICS
INTERMEDIATE HEAT AND MASS TRANSFER
SYSTEMS ENGINEERING
In this course students will be introduced to systems thinking in the context of whole of infrastructure life cycle, with a special emphasis on structural safety and resilience. The course covers systems approach in innovative design, construction, operation and management of structures. Students will learn to recognize and assess the performance of systems which are dependent on the performance of their components. A combination of technical, economic, environmental and social aspects for robust and resilient structural systems will be considered through case studies covering the life cycle of structural systems. You will learn from the research base about contemporary and emerging concepts and trends such as design for deconstruction and design for safe construction from the perspective of systems-thinking.
FLUID MECHANICS
Definitions, physical properties. Hydrostatic, forces on plane and curved surfaces, buoyancy, hydrostatics in moving and rotating containers. Lagrangian and Eulerian descriptions, derivatives, rate of deformation, flow lines. System and Control volume approach, Reynolds Transport Theorem, principles of conservation of mass, momentum and energy, Bernoulli equation. Dimensional analysis, Buckingham pi theorem, similitude
PRODUCTION PLANNING AND SCHEDULING
The course aims to analysis of some specific problem areas within the context of planning and scheduling of production activities. Also the course give the information related definition, formulation and available solution procedures for aggregate planning and lot sizing. It includes scheduling in manufacturing systems, scheduling in service systems, design and operation of scheduling systems. Students in this course will learn fundamental problem areas of production planning and control and, the relation between planning and control activities. At the end of this course student will be able to define of Production Planning and Control Concepts, decide forecasting and evaluate the forecasting methods, decide lot size of a single item with deterministic and constant demand, compute total cost of an inventory policy and solve lot sizing problems under resource constraint with multiple items.
ADVANCED TECHNIQUES OF ENVIRONMENTAL ENGINEERING ANALYSIS
Aims to understand the working principles of modern analytical instruments, and how they can be used to solve analytical problems encountered in environmental engineering. Includes optical methods, ultra violet, visible, infrared, X ray absorption, emission and flame spectroscopy, selective ion electrodes, mass spectroscopy, gas and liquid chromatography theory and applications, total organic carbon analyzer, electrical separation methods. Laboratory experiments.
ADVANCED TOPICS IN BIOTECHNOLOGY
Advanced level topics in biotechnology. Different topics will be covered according to the need of students and interest of the instructor.
STATISTICS AND DATA ANALYSIS
FUNDAMENTALS OF ENERGY SYSTEMS OPTIMIZATION
SPECIAL TOPICS IN ENVIRONMENTAL ENGINEERING
Various advanced level topics will be covered on environmental engineering, according to the need of students and interest of the instructor.
POWER GENERATING SYSTEMS
This course focuses on to provide students with the understanding of energy generating systems and their working principles. The topics of steam power plants, power generation, steam cycle (Rankine cycle, Kalina cycle, combined gas and steam cycles) including the Brayton cycle, economics of power cycles, fuels and combustion; including solid, liquid and gases fuels, steam generators, steam turbines, gas turbines and the circulating water systems will be discussed in greater depth and complexity than is done in undergraduate courses. Design of economizers and feed water heaters, condensing systems, fuel preparation methods, water treatment, environmental concerns, location of plants will also be discussed. Power transmission systems will be introduced as part of the course.
INTERMEDIATE THERMODYNAMICS
The main aim of this course is to enhance the understanding of thermodynamics principles and their relevance to the problems of humankind. The course provides the students with experience in applying thermodynamic principles to predict physical phenomena and to solve engineering problems. The course starts with fundamental definitions of related concepts to build up the unique vocabulary necessary in the course. The course continues with a quick introduction to the fundamental laws which are zeroth, first, second and third law of thermodynamics. The course continues with their applications to the common engineering problems such as steady flow device analysis, unsteady problem analysis and thermal system analysis.
Students who are interested in pursuing advanced graduate studies leading to a master's, doctoral degree or professional doctorate degree for the Fall and Spring semesters every year. Applicants can directly apply online to our graduate programs using the application portal.
TRNC Applicants- Required documents:
Bachelor's and Master's Degree Diploma
Bachelor's and Master's Degree transcripts for each completed academic term/year.
Documents to prove English proficiency for English language departments,
Scanned copy of passport or identity card.
Click for detailed admission requirements information.
Students who are interested in pursuing advanced graduate studies leading to a master's, doctoral degree, or professional doctorate degree for the Fall and Spring semesters every year. Applicants can directly apply online to our graduate programs using the application portal.
International Applicants- Required documents:
A valid Bachelor's Degree and transcripts for each completed academic term/year.
A valid Master's Degree and transcripts for each completed academic term/year.
Evidence of English Language competence: TOEFL (65 IBT) or IELTS (5.5). Students without these documents will take the CIU English proficiency exam on campus following arrival.
Scanned copy of international passport/birth certificate
CV
Ph.D. research proposal
Fully completed and signed CIU Rules and Regulations document (which can be downloaded during the online application)
Click for detailed admission requirements information.
Cyprus International University provides academic scholarships for its students as an incentive for success, with most students benefiting from 50%, 75% or 100% scholarships or discounted tuition fees. Click for more information.
Click for more to learn about fees in line with the Tuition Fee Calculation system.
| | |
| --- | --- |
| Fee pe​r course     | € 650,00 |
| Fee for thesis (4 Semesters)     | € 2.600,00 |
| Fee for seminar     | € 200,00  |
| Scientific Foundation per course     | € 150,00 |
| Registration and other fees* | € 245,00 |
| Student Union fee | € 50,00     |
|   | VAT Exc. |
*Applies to 1st. Year students. € 195,00 for others.