Institute of Graduate Studies and Research
Health Care Organizations Management (MSc)
Apply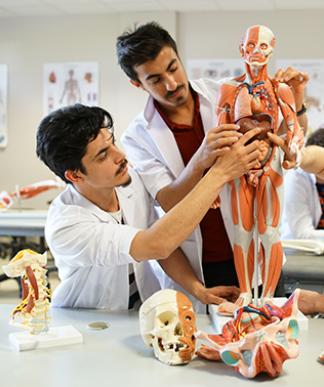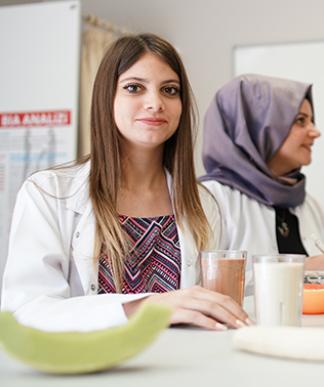 About the Program
Cyprus International University Health Care Organizations Management Master's Program, was founded in parallel with the development and evolution of healthcare organizations management all over the world. Program aims to improve the knowledge of administration of health services and institutions by offering education, training and research at postgraduate level. The program maintains the title of being the first and leading department in this field in North Cyprus. The program aims to educate students who can contribute to solving the problems of the healthcare sector; are decision making-focused (management of healthcare organizations, marketing, financial management, human resources management, research methods and statistics, relations with medical staff, organization relations with its environment,), and are practice-focused (coordination and team work skills, interpersonal relations, following the behaviors and practices of successful healthcare managers).
Education Opportunities
Master of Science (M.Sc.) in Health Care Organizations Management Program is offered in both Turkish and English either as thesis and non-thesis programs. The thesis program consists of 7 courses, a seminar, and a thesis; while, the non-thesis program comprises of 10 courses and a graduation project. In both programs, students are offered courses on management duties in health institutions to advance in their management levels or to open the way for building an academic career. These courses include Health Care Organizations Management, Marketing in Health Care Organizations, Human Resources Management in Health Care Organizations, Financial Management in Health Care Organizations, Quality Management and Accreditation in Health Care Organizations, Strategic Management in Health Care Organizations, Quantitative Decision Making Techniques in Health Care Organizations, Research Methods and Statistics for Health Care Services, Business Economics, Professional Ethics in Health Care Services. Health Care Organizations Management and Marketing in Health Care Organizations as the compulsory courses with more courses as electives.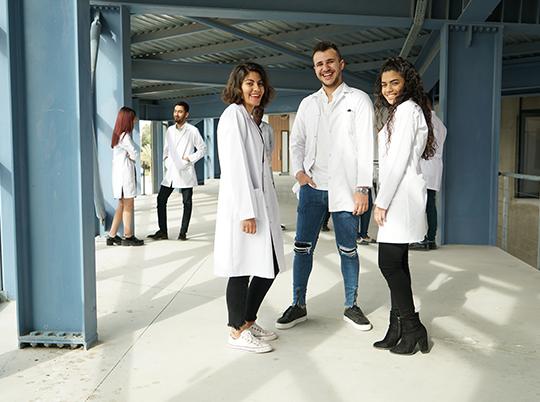 Career Areas
Our students who graduate from the Master of Science (M.Sc.) in Health Care Organizations Management Program can be assigned to various positions in the healthcare sector. Our graduates can work in the organizations aiming to treat and protect health; in relevant units of the Ministry of Health; in healthcare units of public institutions and private sector organizations; in institutions producing healthcare materials for the health sector; in institutions that produce or supply medication, medical devices and consumable materials used in healthcare services; in the center of healthcare research and development as managers, marketing directors, financial specialists, human resources directors, public relations directors or as administrative officers in different positions offered by the hospitals. Our graduates would also be very effective in the quality management and accreditation of healthcare organizations. Our graduates also have the opportunity to continue their doctoral studies to pursue an academic career.
Compulsory modules
First Semester
HEALTH CARE ORGANIZATIONS MANAGEMENT
This course will provide an integrated study of the fundamentals of management and their applications in the health institutions. The theories such as decision making, innovation management, organization-environment relationship, organizational structure, groups and teams, organizational communication, behavior and motivation and leadership are considered as long as the semester. The management functions; called organizing, planning, leading and controlling are the fundamental topics of the course. The types of the innovation, leadership styles, components of organizational structure, two types of the environmental components and control mechanism are some of the important topics of the course. At the end of the semester, students will improve their managerial skills and abilities.
Second Semester
MARKETING IN HEALTH CARE ORGANIZATIONS
SEMINAR
Seminar presentation and group discussions on selected topics related to the program. This course is designed to help develop a broad and unified perspective on research, research ethics and plagiarism, literature review, research methods and design, report writing and effective presentation techniques in social sciences. For this purpose, each student will be required to do literature review on a topic related to his/her academic background and interest. As a result of their literature review the students will specify relevant further research areas. Each student will also prepare a report about the studies done so far in the topic and will cover methods used, findings, discussion and implications. Each student will share his/her report with other students in the course by doing a presentation.
Third Semester
THESIS
This course gives the students an opportunity to produce and defend a thesis under the supervision of a lecturer in the field of health care organizations management. This is a process-oriented writing course that integrates reading, research, writing, and oral presentations. Students will carry out a research project on a health care organizations management topic of own interest. Student will also present the results of each stage of the work to the advisor and the other jury members. The thesis is expected to conform to appropriate standards of scholarship. Additionally, students will engage in a series of face-to-face activities aimed at helping them develop reading, research, writing, and presentation skills.
Optional modules
QUALITY MANAGEMENT AND ACCREDITATION IN HEALTH CARE ORGANIZATIONS
RESEARCH METHODS AND STATISTICS FOR HEALTH CARE SERVICES
HEALTHCARE, TECHNOLOGICAL DEVELOPMENTS AND DIGITALIZATION
Technological developments and digital technologies change lives and completely reconstruct the health environment. Digital developments take patients to the center, and a new status quo and new roles are emerging for both the patient and health professionals and specialists. To this end, this course will inform the health sector employees of developments and new technologies and will increase the awareness of the participants about digitalization. The course will focus on developments and changes in the sector. The trends that shape the future of health and medicine, strengthened patients, health games, augmented reality and virtual reality, telemedicine and remote care, personalized medicine, and hospitals of the future are among the topics to be covered in this course.
COMMUNICATION METHODS USED IN HEALTH SECTOR
The aim of this course is to examine communication and marketing methods which health institutions prefer to use to reach foreign patients and to examine the channels that patients prefer to use to reach hospitals. In this course, students will understand the factors affecting the preferences of foreign patients, such as the reputation and brand values of countries and health organizations, price, quality service. They will learn the communication and marketing methods used by the countries, cities and health organizations. At the end of this course, students will have a comprehensive understanding of medical and health travel and will learn how medical travel services are marketed around the world, competition and best practices in different countries.
HUMAN RESOURCES MANAGEMENT IN HEALTH CARE ORGANIZATIONS
FINANCIAL MANAGEMENT IN HEALTH CARE ORGANIZATIONS
ORGANIZATIONAL BEHAVIOUR IN HEALTH CARE ORGANIZATIONS
STRATEGIC MANAGEMENT IN HEALTH CARE ORGANIZATIONS
CONFLICT MANAGEMENT AND NEGOTIATION SKILLS
MARKETING
This course introduces the essential principles of marketing (key concepts, methods of analysis, strategies and tactics) critical to managing profitable customer relationships in today's dynamic and allied environment. Topics include, understanding the marketplace, product, services and branding strategies, new product strategies, pricing products, marketing channels, integrated marketing communication strategies. The course will help in understanding development of managerial decision-making techniques and problem-solving through practice in analyzing practical marketing cases. It will expose students to the commonly problems faced by marketing managers and to develop skills in analyzing marketing problems and preparing implementable plans of action based on analyses of given business situations. Cases and a marketing simulation are used to focus the discussion and to reinforce learning of key marketing concepts.
HUMAN RESOURCE MANAGEMENT
Managing human capital in the new economy is a challenge all business professionals face. This course addresses that challenge by retaining its unique orientation to overall practicality and real-world application incorporating technology, teams and virtual learning methods. Practical tips and suggestions provide effective ways of dealing with problems in communication, leadership, discipline, performance appraisal, labor relations, and compensation administration.
LEADING, TRANSFORMATION AND CHANGE
MANAGEMENT INFORMATION SYSTEMS
STATISTICAL APPLICATIONS FOR SOCIAL SCIENCES
QUALITY ACCREDITATION AND PATIENT SAFETY IN HEALTH CARE
DEVELOPMENT OF SUSTAINABLE TOURISM POLICIES AND PLANNING
This course informs students about the basic concepts and practices related to sustainable tourism policies and planning. Tourism requires effective planning for the development of sustainable and non-harmful, beneficial to the environment and economic development. This course will address the issues related to tourism planning today, process and future tourism planning. The course also aims to highlight the importance of local governments' decisions and practices in ensuring the sustainable development of tourism, and to develop new recommendations for decision makers in this regard. The aim of this lesson is to learn about planning studies in tourism and what needs to be done for the development of tourism during the adaptation of tourism concept of sustainability aiming to provide resources for future generations by protecting resources.
TOTAL QUALITY MANAGEMENT
Total Quality Management (TQM) is a comprehensive and fundamental quality policy that aims continuous improvement. This course focuses on total quality concepts and total quality approach for decision making. In addition to presenting various Total Quality Management concepts and quality improvement tools, importance of customer focus, team formation and problem solving are also underlined. The key actions that highlights importance of quality through planning, design and control are discussed. Up-to-date quality standards and award models are discussed and criticized using real life cases. Aim of the course is to give total quality concept to the students. Also the course explains total quality management decision methods.
MANAGEMENT INFORMATION SYSTEMS IN HEALTH CARE ORGANIZATIONS
ORGANIZATIONAL COMMUNICATION
This course is designed to examine the internal and external communication systems of business organizations. It is also examined that the uses of communication media such as internet and intranet in organizations.
INTRODUCTION TO MANAGEMENT
NEGOTIATION TECHNIQUES AND CONFLICT MANAGEMENT SKILLS
DATA ANALYSIS & COMPUTER APPLICATIONS IN MANAGEMENT
COMPUTER AIDED DATA ANALYSIS
Following a general introduction, the qualitative and quantitative data, their systems of collection and analysis are given to the students. Regression and correlation analysis concepts. Case studies and solutions by using relevant software such as SPSS. Quality control concepts with respect to data analysis. Students will be able to manage qualitative data in an efficient and accessible manner, develop a qualitative data analysis plan, choose and apply different inductive and deductive approaches to coding appropriate to the data type and the context in which results will be used, employ and write analytical memos to aid in interpretation of qualitative data, understand the basic functions of computer-aided qualitative data analysis software, present qualitative findings in different settings using formats appropriate for different audiences.
RESEARCH METHODS
This course is designed to be a background pass to graduate studies. The ability to formulate a research question, finding the data relevant to research questions, analyze those data, and presentation of research findings are skills that will be acquired through this course. Scientific thinking skills and methods of research, using library and online archives, experimental design, and presenting quantitative data are modules covered within the scope of this course. Scientific communication, writing research proposals, scientific reporting and thesis writing are also supported. Conference presentations, time management in research projects, ethical issues, plagiarism and skills of working in a group and networking are also highlighted throughout the semester.
INDUSTRIAL, ORGANIZATIONAL AND WORK BEHAVIOR MANAGEMENT
The application of principles, theory and research of industrial organization, work behavior management and behavioral science knowledge in the context of work setting is explored in this course. The main goal of the course is to outline how businesses and their organizations can be designed so that both employees' efficiency and quality of life are improved. The covered topics comprise job analysis, training and development, personnel decisions, organizational change, leadership, motivation, teamwork, occupational stress and well-being, personnel assessment, history and evolution of the field, as well as other related subjects on employer-worker relationship. The course also includes developing students understanding of the questions raised and answered by scholars in the field and the methods used to answer those questions in paper writing.
INTERNATIONAL HOTEL MANAGEMENT
The development of hospitality and issues with hospitality management has been growing rapidly. We believe that hospitality is an area of activity that is sufficiently different to be considering separately from other aspects of management. In this lesson you will learn about: the international dimensions of hospitality management define the hospitality conception in global business environment, define key marketing concepts in global environment, to understand the strategic management process. Explain the criteria for changing international hospitality enterprises entry modes; understand the background to different approaches to international management. And students should be able to evaluate the actions taken to manage diversity in the hospitality industry both internally and externally.
HISTORY OF MANAGEMENT THOUGHT
The main aim of this course is to introduce the students with the main approaches in management and equip them with the required knowledge about different perspectives of management theory. The course will start with the chronological introduction of different schools in management and knowledge will be provided on the development of management discipline over the years. Later on, the contemporary management theories and approaches will be instructed to the students.
ADVANCED MARKETING RESEARCH
The main purpose of this course is to provide the prospective marketing manager with an understanding of marketing research in an advanced level. Advanced methods of marketing research have been specially compiled for graduate students on marketing management and business administration programs. This course provides the sophisticated marketing research techniques found in the discipline in a basic way. The contributors focus on the history of methods, descriptions of their assumptions and content, and examples. The main themes of the course include marketing research design, data collection, data preparation and data analysis. The students will find advanced methods of marketing research an essential update of their knowledge of classical procedures which will be helpful to conduct their project or thesis.
TECHNIQUES FOR STATISTICAL ANALYSIS
HUMAN RESOURCES MANAGEMENT
MULTINATIONAL COMPANIES AND ISSUES IN GLOBALISATION
MULTINATIONAL COMPANIES AND ISSUES IN GLOBALISATION
ORGANIZATIONAL COMMUNICATIONS
PROJECT SCHEDULING
The project schedule is the tool that communicates what work needs to be performed, which resources of the organization will perform the work and the timeframes in which that work needs to be performed. The project schedule should reflect all of the work associated with delivering the project on time. The aim of this course is to give the principles of project management, representation of project operations such as project breakdown, network representation and terminology, network data. The course content includes network planning with respect to costs and durations: critical path analysis, linear time cost trade-off analysis, resource-constrained network planning, resource scheduling and resource leveling.
LANGUAGE OF SCIENCE AND CRITICAL EVALUATION
The main focus of this course is to crystallize the students' capability of accessing, reading and understanding the evidence that is revealed through social sciences literature to guide inquiry; the use of measurement or manipulation; and an assessment of relationships under controlled, objective, and systematic conditions. The abundance of information made readily available by internet created important problems like selecting and assessing. Hence the aim is to increase awareness and furnish the students with the basic tools of critical evaluation to detect those fine nuances between what is right and what is not, the ability to capture the meaning of several, often contradictory signals and stimuli, to interpret them in holistic and integrative manner, to learn from them, and to act on them.
ORGANIZATION AND MANAGEMENT
This course is structured to inform the MBA students about contemporary applications of management. With this basic approach the topics include knowledge society and organizations, information technologies, globalization and organizations, TQM, core competence, outsourcing, hybrid, organizations, downsizing, sub – contracting, lean organizations and cluster organizations. This course examines organizational theory, practice and learning in the context of rapidly changing competitive and economic environments. Strategies and tactics for growth and performance improvement are explored. This course covers issues of current relevance, including social networks, knowledge management, innovation, organizational learning and design thinking.
MANAGEMENT INFORMATION SYSTEMS
GLOBAL POLITICS
The course provides the analytical tools required to examine the changing nature of the international politics and the emergence of a global political space. It provides a historical understanding of the evolution of global political and economic forces and the ideas that shaped them. It also includes evaluations of the spread of neo-liberal economic orthodoxy, the creation of new multilateral institutions, migration, and debates on global media and the increased interpenetration of the world's cultures. students are expected to have a profound understanding of core perspectives in international political economy; to learn how the current highly integrated global economy was created and evolved.
OPERATIONS RESEARCH TECHNIQUES
Introduce students to developed techniques, methodologies and models used in Operations Research (OR). Operations Research (or Management Science) is a field of Applied Mathematics that uses mathematical methods and computers to make rational decisions in solving a variety of optimization problems. Most OR techniques require the use of computer software to solve large, complex problems in industry, business, science and technology, management, decision support and other areas and disciplines. In this course Deterministic Problems are considered – the data and future outcomes are known with certainty. Optimization of the solution is the primary goal. Matlab and Excel are used for representing and solving the problems.
ECOLOGY
This course will review major ecological concepts, identify the techniques used by ecologists, provide an overview of local and global environmental issues, and examine individual, group and governmental activities important for protecting natural ecosystems. The course has been designed to provide technical information, to direct the student toward pertinent literature, to identify problems and issues, to utilize research methodology for the study of natural ecosystems, and to consider appropriate solutions and analytical techniques. Discussion and understanding will be emphasized.
SUSTAINABLE MARKETING
This course tries to introduce the concept of sustainable approach due to the fact that the environment play a crucial role in sustainability studies at the top of the agenda for many organizations. Marketing has a key role to play in driving this agenda. This course tries to explore the complex and challenging environment of sustainable marketing strategies and actions. It firstly starts by considering the background of traditional marketing in order to understand some changes that have occurred over recent times and their significance. From corporate social responsibility to societal and green marketing movements, leading to the development of sustainable marketing practice. This course relies on the most complete and the accessible introduction to sustainable marketing in various markets.
Students who are interested in pursuing advanced graduate studies leading to a master's, doctoral degree, or professional doctorate degree for the Fall and Spring semesters every year. Applicants can directly apply online to our graduate programs using the application portal.
TRNC Applicants- Required documents:
Bachelor's Degree Diploma
Bachelor's Degree transcripts for each completed academic term/year.
Documents to prove English proficiency for English language departments,
Scanned copy of passport or identity card.
Click for detailed admission requirements information.
Students who are interested in pursuing advanced graduate studies leading to a master's, doctoral degree, or professional doctorate degree for the Fall and Spring semesters every year. Applicants can directly apply online to our graduate programs using the application portal.
International Applicants- Required documents;
Bachelor's Degree Diploma
Bachelor's Degree transcripts for each completed academic term/year.
Evidence of English Language competence: TOEFL (65 IBT) or IELTS (5.5). Students without these documents will take the CIU English proficiency exam on campus following arrival.
Scanned copy of international passport/birth certificate
CV
Fully completed and signed CIU Rules and Regulations document (which can be downloaded during the online application)
Click for detailed admission requirements information.
Cyprus International University provides academic scholarships for its students as an incentive for success, with most students benefiting from 50%, 75% or 100% scholarships or discounted tuition fees. Click for more information.
| | |
| --- | --- |
| Fee pe​r course     | € 350,00 |
| Fee for thesis     | € 1.050,00 |
| Fee for seminar     | € 120,00  |
| Scientific Foundation per course     | € 150,00 |
| Registration and other fees* | € 245,00 |
| Student Union fee | € 50,00     |
|   | VAT Exc. |
*Applies to 1st. Year students. € 195,00 for others.