Institute of Graduate Studies and Research
Information and Communication Technologies (MSc)
Apply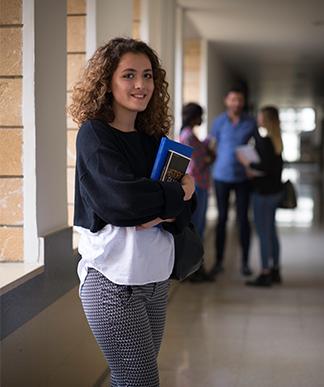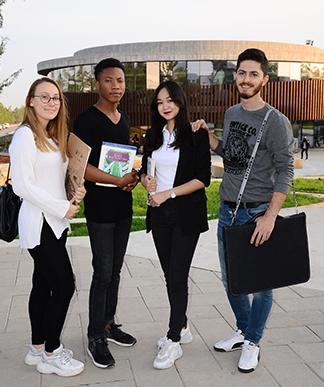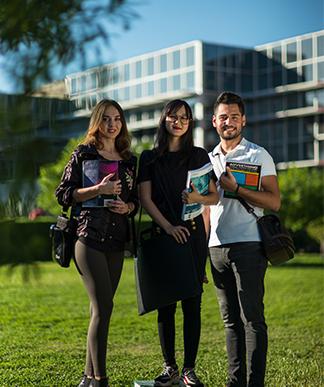 About the Program
Graduates of the Information and Communication Technologies in Education (ICT in Education) Master's Program (M.Sc.) are trained with the required knowledge and skills to apply current research and learning theories, and use emerging technologies to solve learning problems. It is an interdisciplinary program focusing on the design of learning technology environments, systems, applications and instructional materials for multiple learning contexts.
The focal points of the faculty staff and students include:
Computer-supported collaborative learning
Games and simulations
Instructional design
Performance improvement
Emerging technologies
Online, blended, and mobile learning and teaching
Technology for classroom interaction and engagement
Education Opportunities
Cyprus International University, which hosts students from many countries around the world, offers high-quality education and training opportunity in an international environment. In our department, research and practice are given as much importance as the courses so, our students learn by doing and living. Scientific activities such as conferences, seminars, symposiums and panels are organized on a regular basis to contribute to the development of productive, creative and independent individuals with scientific thinking skills and working styles. Moreover, the students will have strong academic background as well as necessary skills to be competent in the academic world, the industry or the service sector. Postgraduate studies at CIU are built upon academic freedom and ethical conduct. Our practical laboratories, equipped with the most recent technologies, are open to the use of our students outside the class hours. Our students, as individuals living in a globalized world, are trained through teaching methods which provide them with the knowledge and skills on all devices and materials used in education in order to make them aware of the rapid changes in technology and information flow. On top of that, postgraduate students will have multicultural educational opportunities with the expertise of the academic staff.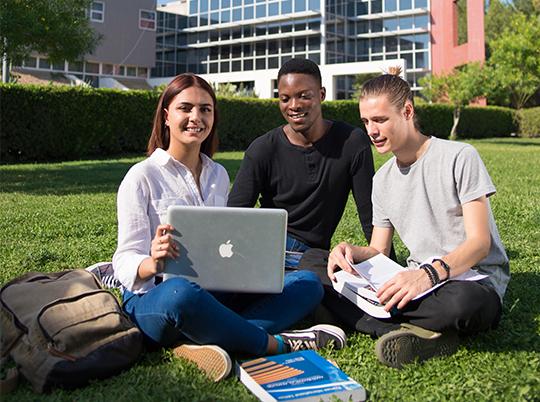 Career Areas
Students gain the skills needed for careers in K-12 schools, universities, government agencies, businesses, and other organizations.
Graduates have the opportunity to work in the following positions and fields:
Education and Training Technologist
Academic Staff
Content Development Specialist
E-Learning Project Manager
Software Development Specialist
Computer Systems and Web Designer
Multimedia and Graphic Designer
Computer Programmer
Project supervisor
Network Administrator
System Designer
Multimedia Designer
Database Administrator
Compulsory modules
First Semester
DESIGN AND EVALUATION OF INSTRUCTIONAL MATERIALS
Place and importance of design, measurement and evaluation of instructional materials in education; basic concepts of measurement and evaluation; psychometric (validity, reliability, usability) properties of measurement tools; development and implementation of success tests; interpretation of test results and giving feedback; analysis of test and item scores, The features of the result-oriented and process-oriented measurement tools used in education, measurement tools based on traditional approaches (multiple choice tests, written exams, short answer exams, true-false type tests, paired tests, oral examinations), various tools for evaluating students (observation, interview, performance evaluation, student portfolio, project and performance assignments, peer evaluation, self-assessment, attitude scales), testing cognitive, affective and psycho-motor behaviors.
RESEARCH METHODS
Students learn the scientific methods and techniques and develop their competence to evaluate research and prepare research projects. The basis of scientific research, scientific method, quantitative and qualitative research, problem statement, literature review, hypothesis, assumption, limitations, definitions, sampling methods, data collection (validity, reliability, item analysis, questionnaire development procedures, observation, interview), quantitative research methods (descriptive studies, correlational research, casual research, experimental research, single-case studies, meta-analysis), qualitative research (content analysis, case studies, action research, narrative research), reporting (organizing a scientific writing, parts of a scientific writing, general writing rules, showing the source in the text, preparing the list of resources). Students make scientific research about a subject that is related to their fields.
Second Semester
THESIS
Students will carry out an original study proving that scientific research on topics selected in the field of Information and Communication Technologies in Education in accordance with scientific research methods and related legislation. Students work with the thesis supervisor at every stage of the thesis writing. Students make a detailed literature review. The thesis research consists of defining the problem, determining the hypothesis and the research method, determining the data collection tools, statistical analysis and / or content analysis and writing the findings, discussions and suggestions about the findings. At each stage of the thesis writing the student moves in the direction of the thesis supervisor's recommendations. After writing the thesis, the students defend it in front of the jury.
INSTRUCTIONAL DESIGN THEORY AND APPLICATION
Importance of instructional design, needs assessment approaches, properties of learners in learners environment, Instructional targets and duty analysis, systems approach and generic modelling, introduction of instructional design models, needs and problem analysis, instructional environment (student, content and organizational) analysis, content and organizational analysis and teaching-learning experiences, discussion of teaching strategies and methods and techniques, subject-content and task analysis, determination of priorities and conditions, determination of educational objectives, writing of instructional objectives, determination of measurement and evaluation criteria, teaching theories and strategies, selection and development of appropriate instructional materials, system design of instruction, designing, developing, implementing and evaluating instruction using instructional design theories and models, project management, information dissemination and applications.
Optional modules
INFORMATION COMMUNICATION TECHNOLOGIES PROJECT MANAGEMENT
Problem solving in project management. Steps to solve the problem; diagnosis of problems. Analysis of the problems. Appropriate solution to be found. Decision making in project management. Decision making models and tools Pareto diagram of cause-effect relationships. Lightning diagram. Decision trees. Scientific research of project subject. Concepts about project and its components; definition and function of the project; project cycle management; problem analysis; choice of project topic; scanning literature; the goal of the project; the method to be used in the project; the original value of the progeny; data collection; project work and time schedule; project management software; progeny budget; risk plans; project team; recalled projects; national projects (TUBITAK, SPO, National Development Agencies, Ministries, etc.); international projects (EU etc.); creating a unique project proposal.
THEORY AND PRACTICE IN EDUCATIONAL ADMINISTRATION
Students develop knowledge and skills in management theories and practices, basic management processes and gain effective management skills. They use this information to identify current problems and find solutions in educational institutions. The history of administrative science, classical management theories, contemporary management theories (system approach, contingency theory), management processes (leadership, motivation, change, communication, decision making, planning, organizing), organizational climate, organizational culture content cover the content of the course. The students have the opportunity to use the case studies in the lessons and to use the theoretical knowledge in problem identification and problem solving activities. Students use scientific research methods to research on a topic of their choice and share their findings with group members.
LEARNING BASED ON ONLINE COOPERATION
Theoretical foundations of cooperative learning and online cooperative learning; online learning processes, design, problems and applications; online cooperative learning tools (electronic mail, intranet, portals, online communities, Weblogs, dashboards, conferences, forum, meeting room, learning management, workflow and knowledge management), online collaborative learning theories, main design principles of online collaborative learning, inquiry community, meaningful online discussion development, cultural and epistemological dimensions, strengths and weaknesses of online collaboration-based learning, the processes of knowledge construction, knowledge construction environments, the relationship between the knowledge construction process and interaction and participation, the current studies on online collaboration-based learning, the creation of working groups of students with different skills.
MANAGEMENT OF TECHNOLOGY IN ORGANIZATIONS
Technology and technology management concepts, technology management, definitions, and needs, globalization and technology management, technology life cycle; critical factors in managing technology; business and technology strategy, technological innovation management, competitiveness; technology planning and technology transfer; technology acquisition and use; technological innovation process, global competitiveness and technology management, technology management and tools of change, activities and tools in technology management, planning and technology management, operational efficiency and applications to improve productivity, contemporary approaches in technology management, developments in the world in technology management, information management in enterprises, cybernetics, comparative view to technology management in different countries, change strategies and technology, technology usage and management in marketing methods, AR-GE, innovation and design activities.
E-GOVERNMENT STUDIES
This course introduces the main concepts of electronic government (e-government) practices and analyses the practical implications of e-government for public organizations. The course examines the development of e-government practices, discusses and analyses main forms of e-government methods, focuses on the measurements of e-government. E-participation and e-engagement will also be examined throughout the course. Furthermore, students will also learn wider concepts such as barriers and impediments towards e-government and will be able to evaluate solution methods based on real case scenarios. The impact of innovation and technological infrastructure will also be examined within the course. After the successful completion of the course students will have an in-depth understanding of the e-government practices which are used worldwide as well as impacts on organizational effectiveness, transparency and accountability.
INSTRUCTIONAL LEADERSHIP
Students will learn the educational leadership qualities and how they can be used in school management. Apart from classical leadership behaviors, the school manager learns his/her roles such as coordination, problem solving, teacher management and teacher development, teacher evaluation, instructional management and support, resource management and quality control. Instructional leadership behavioral dimensions: to identify the school vision and mission, to identify and share school objectives, to supervise teaching, to evaluate and make recommendations, to coordinate educational programs, to monitor school achievement and development of students, to develop positive learning climate, motivation, academic achievement and follow-up, encouraging students to learn and rewarding student achievement involve the content of the course.
TOTAL QUALITY MANAGEMENT IN EDUCATION
In this course, students acquire basic knowledge and skills about total quality approach in education and develop their competence to apply total quality philosophy as a life style. The necessity for change in schools, the concept of quality, organizational culture, institutions which are close and open to change, the history of TQM, the basic principles of total quality management, the basic concepts of TQM, the basic principles of TQM (leadership, customer orientation, communication, continuous improvement, goal and benefit management, process management, preventive approach, continuing education), participatory decision making, measurement and evaluation, process management, synergistic management constitutes the content of the course. Students use the total quality management philosophy practically in the courses to develop the institutions specified in case studies.
Students who are interested in pursuing advanced graduate studies leading to a master's, doctoral degree, or professional doctorate degree for the Fall and Spring semesters every year. Applicants can directly apply online to our graduate programs using the application portal.
TRNC Applicants- Required documents:
Bachelor's Degree Diploma
Bachelor's Degree transcripts for each completed academic term/year.
Documents to prove English proficiency for English language departments,
Scanned copy of passport or identity card.
Click for detailed admission requirements information.
Students who are interested in pursuing advanced graduate studies leading to a master's, doctoral degree, or professional doctorate degree for the Fall and Spring semesters every year. Applicants can directly apply online to our graduate programs using the application portal.
International Applicants- Required documents;
Bachelor's Degree Diploma
Bachelor's Degree transcripts for each completed academic term/year.
Evidence of English Language competence: TOEFL (65 IBT) or IELTS (5.5). Students without these documents will take the CIU English proficiency exam on campus following arrival.
Scanned copy of international passport/birth certificate
CV
Fully completed and signed CIU Rules and Regulations document (which can be downloaded during the online application)
Click for detailed admission requirements information.
Cyprus International University provides academic scholarships for its students as an incentive for success, with most students benefiting from 50%, 75% or 100% scholarships or discounted tuition fees. Click for more information.
| | |
| --- | --- |
| Fee pe​r course     | € 350,00 |
| Fee for thesis     | € 1.050,00 |
| Fee for seminar     | € 120,00  |
| Scientific Foundation per course     | € 150,00 |
| Registration and other fees* | € 245,00 |
| Student Union fee | € 50,00     |
|   | VAT Exc. |
*Applies to 1st. Year students. € 195,00 for others.