About the Program
Nowadays, institutions and individuals demand higher quality and better performance from their surroundings that influence their lives. Considering this, the content of the graduate program is designed to educate interior designers to be able to use and evaluate the principles of interior design at an advanced level by showing a responsible perspective for improving the life quality of interiors. Moreover, they are expected to solve design problems by utilizing necessary research and carry out an independent study on a related topic concerning interior design, which can be considered as a scientific assessment of their success in the search of new meanings, new approaches, and new targets. The main areas of interests of the program are the changes currently occurring in the design profession, research methodology, professional practice and the industry. The students will be able to acquire innovative and unique methods of thinking, shaping and realizing the creative design ideas.
Education Opportunities
The Department of Interior Architecture has Model Making Studio, Photography Studio, Material Lab, Serigraphy Studio and 3D Printing and Screening Studio available in the department. The entrance hall and corridors of the faculty are used as exhibition spaces. In addition, the entrance gallery of the CIU Library building is also used as an exhibition space. The CIU Library hosts 3,899 publications related to the interior architecture program.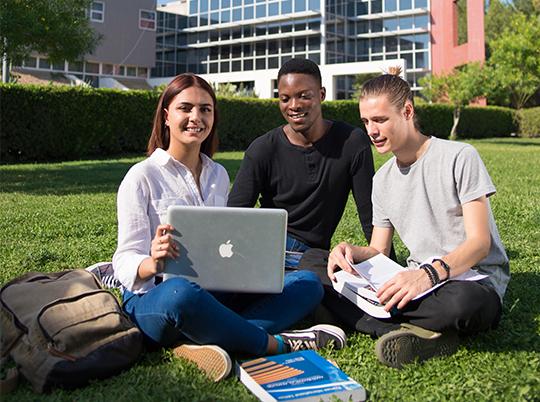 Career Areas
The graduates of the Interior Design Graduate Program would earn the "Master of Interior Design: M.ID." title and will be able to work with various disciplines. Specializing in interior design provides the students with a diverse advanced skill set and career options in the profession. The graduates can work in very complex research and/or design projects. They can also become academics if they choose to continue for a Ph.D.. They can also work individually, or as a team, in their own design offices or governmental institutions. Likewise, they can also have the job opportunities in the area of project management, higher education, commercial, education, healthcare, hospitality, institutional, kitchen/bath design, lighting design, office/ residential furniture design and production, retail and showroom.
Compulsory modules
First Semester
INTERIOR ARCHITECTURE PROJECT I
This studio introduces students to basic design principles, design theory and concept development within the context of a medium to large scale environment with certain cultural, social or spatial characteristics. The defined subject in the design studio starts with the concept work and the theoretical framework is investigated in the literature. Emphasis will be placed on analytical approaches to critical issues in interior architecture such as data gathering, analysis studies, the site of the project, design process, problem solving, spatial organization, anthropometrics, universal design awareness, and presentation techniques. The course includes the relevant material to help students develop the ability to transform the data they collect into architectural knowledge, interpret and present them in a context where architectural design problem is interrogated.
Second Semester
INTERIOR ARCHITECTURE PROJECT II
The course includes once more the relevant material to help students develop the ability to transform the data they collect into architectural knowledge, interpret and present them in a context where architectural design problem is interrogated. The theoretical courses are supported with case studies of spaces and places where an understanding of architecture through structural, constructional, sociological and environmental determinants are targeted. Studio focuses on design of a medium to large-scale residential or corporate interior with emphasis on programmatic requirements leading to a synthesized and identifiable environment. Studies involve concept and design development; programming; space planning; selection and design of furniture, finishes and equipment; materials, lighting systems; architectural details; code compliance and presentation.
SEMINAR
The aim of this major area unit is to develop students' systematic and methodological capability of academic research, and consequently be able them to research, investigate, evaluate, interpret and synthesize theoretical knowledge and/or practical works independently and unconventionally, and to discuss and present their ideas academically. The graduate seminar gives an opportunity for independent and investigative study in various aspects of the research. Small group discussion and critique sessions with faculty advisors and thesis students are provided. Seminar focuses on the dissertation, data collection, programming, building, site selection, design development, documentation, and presentation. The course includes the expression of the topic, and the discussion on the related theoretical and practical issues, presentation of the consequences, the discussion of the seminar subject in regard to historical background and/or recent theoretical and practical developments of architecture.
Third Semester
THESIS
Students should show their competency in the profession by making the necessary research and and writing a research report under the guidance of their supervisor. The student will be responsible to read the recommended readings and to make the research related with the topic. After mutual discussions and critics the student will finalize the thesis. Supervised independent research on a topic arranged between the student and faculty member assigned as advisor and approved by the institute. The dissertation must be an original contribution to the field of Interior Architecture, enhancing analytical thinking and developing a systematic approach to the research problem.
Optional modules
INTRODUCTION TO ARCHITECTURAL RESEARCH
This course aims to understand the conceptual framework in an architectural research. The course focuses on the research methods and it aims to provide students qualitative and quantitative skills; and to help students to conceptualize how research can be used in the design process, and how research findings can be integrated into design. The content of the course includes the definition of a research, the process of problem statement, the methodology of literature review, data collection and evaluation, which are correlated with the research design. The students are expected to study a textbook/paper or a case study by its various interpretations; and to define, plan, execute and complete a research project; and understand the basic principles of scientific investigation and the architectural research process.
INTRODUCTION TO EXHIBITION DESIGN
ERGONOMICS
This course aims to develop the student's ability to critically appraise the knowledge of human factors aspects of indoor ambient environmental conditions. Students analyze the human factors, anthropometric data and their impacts on broad aspects of design development. The physiology and psychology of the client/user are one of the main factors influencing the design of the environment. This course will present design problems that explore issues of ergonomics and proxemics as they apply to interior design. Universal design, the design that creates accessibility, will be the context for the design problems. Discussions will cover the following: interaction of environment and the user's culture, gender, stage of the life cycle, and physical capabilities.
COMPUTERS IN DESIGN
This course focuses on each student's personal design vision. Students explore the specific skills necessary to design posters, catalogues as a unique means of communication. The aim of this course is that introducing students and providing comprehensive knowledge with practices to Graphic Design and digital media applications. Working from concept to finished artwork, students develop to transfer the creative thinking to applications and digital Graphic Design tools, methods and strategies for producing effective graphic design solutions. This course aims to analyze and implement the basics of 2 dimensional and 3 dimensional modeling and design in graphic design by using Adobe Programs.
FURNITURE DESIGN AND CONSTRUCTION I
LIGHTING AND COLOR
The aim of the course is to teach the students general color knowledge, color harmony rules, cultural and psychological effects of color, and to provide sustainable use of color in graphic design. The use of color language in subjects such as photography, graphic design, image and meaning, cinema aesthetics is investigated. The effects of color on culture are examined, students conduct research on the relationship between color and culture, write reports and make presentations. Discusses the common and different areas of societies' understanding of color. Observation-based studies are conducted on concepts and images in the context of color and light. The findings obtained from the observations are discussed in the classroom environment and color and image interaction is tried to be defined.
INTERIOR ARCHITECTURAL DESIGN-II
FURNITURE DESIGN AND CONSTRUCTION II
SEMIOTICS OF IMAGE
This course explores the relationship between image and meaning. Students learn and use visual semiotic analysis approach. Advertisements, signs, symbols, films and everyday objects may be the subject of research. Art exhibitions and artwork are also suitable for research environments. The connection between image and meaning is examined in the context of Barthes, Panofsky and Fiske's theories. The relationship between signifier, signifier, sign, semantic definitions, semantic, syntactic and functional analysis methods are investigated and evaluated. Students write observations and semiotic analyzes and report on related topics. Visual materials such as exhibitions, works of art and films can be considered as a subject for examinations.
SPACE, PLACE AND PLACE - MAKING
HUMAN FACTORS IN ARCHITECTURAL DESIGN
Design process of a building starts with the user requirements and activities. Then the building is designed and constructed based on those of requirements and activities. To measure the performance of the occupied building whether it meets the expectations of the design team and the users Post Occupancy Evaluation (POE) processes start. POEs are tools used to clarify the relationships between human behavior and the physical environment. Diversity of needs, values, behavioral norms, and social and spatial patterns that characterize different cultures are examined. The implications of this diversity for the societal roles and responsibilities of architects are also considered. POEs are useful tools to identify if the building delivers desired functional use and best value for the investment.
INTRODUCTION TO CONSTRUCTION
Introduction to Construction course covers the load-bearing and non-load-bearing elements of solid load-bearing wall structural system and frame (skeleton) structural system. Therefore the sub-structural elements such as soil types and excavation, trenching and shoring, surface water and drainage, foundations, foundation walls, ground floor construction; and the super structural elements such as walls (stone and brick masonry walls, reinforced concrete monolithic walls, timber and steel frame walls and sandwich panel walls), floors (reinforced concrete slab, slab and beam, ribbed, waffle and composite floors), columns and beams, stairs and ramps, and chimneys are examined. In this course it is aimed to enable the architectural students to use the constructional knowledge in their architectural design projects.
BUILDING PHYISCS IN INTERIOR ARCHITECTURE-I
Climate and climatic elements, climatic comfort, design parameters related to built environment which are effective on climate and energy control design of built environment as energy efficient passive climate system; light, visual comfort, design parameters related to built environment which are effective on light control (windows, room dimensions, reflectivity of internal surfaces, obstructions, artificial light sources, etc.), design of natural lighting system, design of artificial lighting system and installation, integrated lighting system; sound, human health and noise relation, acoustical comfort, design parameters related to built environment which are effective on noise control (site, building distances and orientation, room form, building envelope, obstructions, etc.), design of built environment as noise control system, acoustical design of halls are analyzed by the help of interior architecture projects.
ARCHITECTURE AND THE CITY IN SCIENCE FICTION MOVIES
The course scrutinizes the meaning and significance of architecture and urban space in science fiction movies and how architecture is displayed in dystopian visions of the future in movies of the modern and post-modern eras. The dystopian visions repeatedly suggest an anti-democratic future world of surveillance controlled by the international corporations and authoritarian administrations. The architecture of these worlds is variously rendered in Art Déco, Classicism, the International Style, Brutalism, High Tech / Slick Tech, an eclectic Historicism, in vernacular and "eco-" forms, and situated in (decayed) skyscraper mega-cities or within an idyllic natural environment. The course is based on the analysis of selected movies and the reading of scholarly literature on the subject.
RESTORATION AND PRESERVATION I
DEVELOPMENT OF CONTEMPORARY ARCHITECTURE
HISTORY OF FURNITURE AND ARCHITECTURE
The course enhances student's critical comprehension of historic styles and the impact they have on contemporary design solutions. The survey begins with the Egyptian period and provides an overview of the history of furniture and architecture through the Industrial Revolution, including ancient Greece and Rome, the Gothic and Renaissance, Baroque and Rococo periods. Emphasis will be placed on chronological periods, the visual characteristics of each style including regional idiosyncrasies, and the terminology relevant to a study of furniture and architecture. The second part of the course extends the investigation into the 20th century, while addressing issues concerning preservation, restoration, rehabilitation, and adaptive re-use. With field trips and onsite work, students will become actively involved in stylistic progression and local living history.
TYPOMORPHOLOGICAL ANALYSIS IN URBAN STUDIES
GLASS STRUCTURE
The objective of this course is to provide knowledge on the static of advance glass structural systems. Analyze some real systems in detail. Glass facade coating systems and application details will be examined. The course focuses on the suspended glass systems with pre-stressed cable truss (SGSPCT) structure in detail. Design criteria and structural solutions will be examined for suspended glass systems with pre-stress cable truss. The course also focusing glass annex buildings. Historical buildings additions with glass and how can be design and construction also part of the course.1/10 articulated bold and many other detail also will be discuss at the course. Problem solving strategies and behaviour of the stone and glass will be discuss at the course and the reading materials.
SPACE, FORM AND SUSTAINABLE TECHNOLOGY
DISCUSSIONS ON ARCHITECTURAL DESIGN FUTURES
ARCHITECTURAL HERITAGE RECORDING
FILM AESTHETICS
This course aims to develop the skills and knowledge necessary for analyzing film as an art and an aesthetic category. The course focuses on film theories and film criticism and gives special attention to detailed film analyses. Within this context it examines and analyzes the film styles of "auteur" filmmakers and compares their cinematographic styles with those of mainstream filmmakers.
PARADIGMS ON ARCHITECTURE
RESEARCH METHODS
In this course, students learn and apply the research methods. They understand how to use the methods such as observation, interview, survey and case analysis. Learning to write a report, an article or a thesis and how to research and learn to search literature are the gains of this course. Students are informed about research methods, and how to use the primary and secondary sources and the ethical writing rules in a content. They will find out how the result of the research will turn into a report, and how the data will turn into an academic text. It is expected that at the end of the semester, students submitted their own academic study.
COMPOSITE BUILDING MATERIALS AND DESIGN PRINCIPLES
ARCHITECTURAL ENVIRONMENTS AND SPACE
INTERIOR ACHITECTURAL DESIGN IV
FEMALE STEREOTYPES IN DESIGN
The scope of the Female Stereotypes in Design course focuses on the history of graphic design to understand how ingrained stereotypes of women emerged and became widespread today. In general, social changes that took place in the Western civilisation during the Industrial Revolution, World War I, the interwar period, World War II, the post-war period, and the Second Wave of Feminism and their effects on women and their image will be discussed. In this regard, similarities between the various images of women generated in the processes of social change will be compared through posters, and the repetitions in the presentation of these images will be traced during class. Besides these lectures, students will also present their research on the topic for a class discussion.
Students who are interested in pursuing advanced graduate studies leading to a master's, doctoral degree, or professional doctorate degree for the Fall and Spring semesters every year. Applicants can directly apply online to our graduate programs using the application portal.
TRNC Applicants- Required documents:
Bachelor's Degree Diploma
Bachelor's Degree transcripts for each completed academic term/year.
Documents to prove English proficiency for English language departments,
Scanned copy of passport or identity card.
Click for detailed admission requirements information.
Students who are interested in pursuing advanced graduate studies leading to a master's, doctoral degree, or professional doctorate degree for the Fall and Spring semesters every year. Applicants can directly apply online to our graduate programs using the application portal.
International Applicants- Required documents;
Bachelor's Degree Diploma
Bachelor's Degree transcripts for each completed academic term/year.
Evidence of English Language competence: TOEFL (65 IBT) or IELTS (5.5). Students without these documents will take the CIU English proficiency exam on campus following arrival.
Scanned copy of international passport/birth certificate
CV
Fully completed and signed CIU Rules and Regulations document (which can be downloaded during the online application)
Click for detailed admission requirements information.
Cyprus International University provides academic scholarships for its students as an incentive for success, with most students benefiting from 50%, 75% or 100% scholarships or discounted tuition fees. Click for more information.
Click for more to learn about fees in line with the Tuition Fee Calculation system.
| | |
| --- | --- |
| Fee pe​r course     | € 350,00 |
| Fee for thesis     | € 1.050,00 |
| Fee for seminar     | € 120,00  |
| Scientific Foundation per course     | € 150,00 |
| Registration and other fees* | € 245,00 |
| Student Union fee | € 50,00     |
|   | VAT Exc. |
*Applies to 1st. Year students. € 195,00 for others.