About the Program
The aim of the Ph.D. in Law program is to provide students with up-to-date knowledge and expertise in various fields of private law by specialized and experienced faculty members. In this regard, it is also an important goal to equip students with the latest information, to develop their skills in writing, expression and reasoning, and to develop abilities to apply abstract rules to concrete events, and to solve problems of private law. The ability of the program to specialize in specific areas of practice will serve to improve students' professional qualities, as well as to the development of commercial life, the better operation of law and justice. The program is takes the role of law in practice and in the professional life into account and offers different course options to serve this purpose. In addition, the seminar course in the program will contribute to the development of students' ability to conduct scientific research, access information and oral expression.
Education Opportunities
Our students gain experience through practical studies on the Supreme Court and Council of State decisions. All students have the opportunity to conduct research and practical work using computers with an internet connection. The assignment is given to students to help them gain research skills; the research assignments are assessed through written work and their oral presentations. Moot Court (virtual litigation) applications are also available. Throughout the program duration, necessary cooperation is being done to monitor the hearings in the courts and cooperation will be provided for the internship work upon request. Students with a good level of foreign language and average of grades will be sent to international platforms for internships. National / international panels and conferences organized to increase students' knowledge and skills are published as books and distributed to students.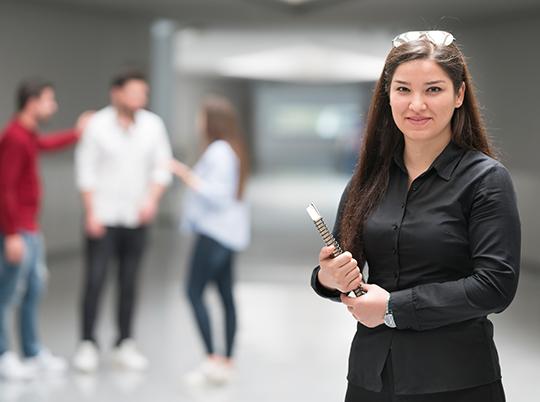 Career Areas
Ph.D. in Law program of Cyprus International University anticipates students to have mastery in the areas they have studied until they are thoroughly familiar with the subjects in the field. If the doctoral thesis is written and successfully defended in front of the jury, the student will be entitled to the international title of "doctor", despite the differences between countries' requirements. If the graduate meets the specified criteria, after graduation, it is possible to apply for an associate professorship from within the university or outside the university.
Compulsory modules
First Semester
Second Semester
PHILOSOPHY OF SCIENCE
This course will follow three main paths: Firstly it will introduce philosophy to doctoral students. The meaning of philosophy, its scope, its sub-branches and its different schools will be the subject topic of the first weeks. Then the course will focus on the relation of philosophy with the sources of knowledge and different sciences. Here, Rationalism, Empiricism and Intuitionism will be covered during the following weeks. In the remaining weeks the course will concentrate on philosophy of science and scientific ethics. Logical positivism, paradigm changes, falsificationism, the questions of "what is science", "what is pseudo-science?", "what is the relation between theory and reality?" are amongst topics that will be covered. Finally, the course will concentrate on ethical theories and will particularly cover scientific ethics.
Optional modules
BIOETHICS PROBLEMS IN HEALTH LAW
DEMOCRACY AND POLITICAL RIGHTS IN THE DEEPENING OF PARTICIPATION
PROTECTION OF YOUR PERSONALITY
CONSTITUTIONAL CONSTITUTION AND CONSTITUTIONAL AMENDMENTS
LIABILITY INSURANCE OF MANAGERS AND MANAGERS IN CAPITAL COMPANIES
COMPARATIVE CONSTITUTIONAL LAW
The course will cover a series of topics arising in the comparative study of constitutional systems. Comparing Turkey's and TRNC'S constitutional systems with such other countries as the USA, Australia, Canada, France, Germany, Britain, India, Japan, Nigeria and South Africa, we will examine the constitutional structure, principals and basic problems related to constitutional design of different countries. Some likely topics include the varying foundations, structures and procedures of judicial review of the constitutionality of laws; the relationships between branches of government and presidential compared to parliamentary systems of governance and whether/how constitutions should address "emergency" powers; approaches to protecting minority groups; gender equality; regimes of fundamental rights and freedoms.
AVRUPA İNSAN HAKLARI SÖZLEŞMESİNE VE AVRUPA İNSAN HAKLARI MAHKEMESİ KARARLARINDA AYIRIMCILIK YASAĞI
CURRENT ISSUES IN INTERNATIONAL PRIVATE LAW
PROTECTION OF PERSONAL DATA
Technological developments have occasioned the breach of privacy and personal data. Therefore, it's important to establish a modern data protection law for the protection of personal data. Identification and limitation of the basic gathering purposes of personal data is essential and it is necessary to prevent the use of information stored in the databases for other purposes. Subjecting the processing of personal data to certain rules, protects fundamental rights and freedoms. In this course, the concept of personal data, the problem of the nature and the protection of personal data are examined in the light of the Protection of Personal Data Act of Turkey, the decisions of the Turkish Constitutional Court, European Court of Human Rights and the Court of Justice of the European Union.
CEZA SORUMLULUĞUNU KALDIRAN VEYA AZALTAN SEBEPLER
DEATH-RELATED SAVINGS AND CANCELLATION
ULUSLARARARSI İNSAN HAKLARI HUKUKU
CURRENT ISSUES IN INTERNATIONAL LAW
ARBITRATION IN INTERNATIONAL LAW
CURRENT PROBLEMS OF CONSUMER LAW
RETHINKING SOVEREIGNTY UNDER INTERNATIONAL LAW
The course focuses upon the concept of sovereignty within the theoretical framework of international law. It reflects upon the historical emergence of the concept and scrutinises its connections with the notions of people, self-determination, and statehood. This initial focus is supplemented by the consideration of emerging alternative perceptions of sovereignty. Emphasis is laid upon minorities, property relations, and globalism. Within the contextual framework of these emphases, the concept of sovereignty is treated in two ways. First, sovereignty is deconstructed to expose its modern exclusionary tendencies; for instance, white, European and colonialist justifications. Second, sovereignty is reconstructed to reveal its potential for inclusive alternatives that overcome Euro-centric prejudices.
DELIL ELDE ETME YÖNTEMLERI
İŞ HUKUKUNDA GÜNCEL GELIŞMELER
KARŞILAŞTIRMALI İDARI YARGILAMA HUKUKU
AVRUPA BIRLIĞI VERGI HUKUKU
KARŞILAŞTIRMALI USUL HUKUKU
AVRUPA BIRLIĞI VERGI HUKUKU
ADMINISTRATIVE PROCEDURES
PROBLEMS WITH ARBITRATION LAW
Students who are interested in pursuing advanced graduate studies leading to a master's, doctoral degree or professional doctorate degree for the Fall and Spring semesters every year. Applicants can directly apply online to our graduate programs using the application portal.
TRNC Applicants- Required documents:
Bachelor's and Master's Degree Diploma
Bachelor's and Master's Degree transcripts for each completed academic term/year.
Documents to prove English proficiency for English language departments,
Scanned copy of passport or identity card.
Click for detailed admission requirements information.
Cyprus International University provides academic scholarships for its students as an incentive for success, with most students benefiting from 50%, 75% or 100% scholarships or discounted tuition fees. Click for more information.
Click for more to learn about fees in line with the Tuition Fee Calculation system.
| | |
| --- | --- |
| Fee pe​r course     | € 650,00 |
| Fee for thesis (4 Semesters)    | € 2.600,00 |
| Fee for seminar     | € 200,00  |
| Scientific Foundation per course     | € 150,00 |
| Registration and other fees* | € 245,00 |
| Student Union fee | € 50,00     |
|   | VAT Exc. |
*Applies to 1st. Year students. € 195,00 for others.