About the Program
Marketing Management is a master's program designed to equip its students with contemporary skills and knowledge specialized in the most important field of marketing management. As companies look to differentiate and update their offerings in the global marketplace as well as follow the most recent technological and social developments, they are looking for graduates who are specialized in and equipped with strategic and executive marketing skills to stand out. Marketing Management program is designed to cover the most important issues of marketing management with specialized courses like consumer behavior, marketing strategies and international marketing amongst others to provide detailed and state-of-art view on marketing management concepts.
Education Opportunities
Marketing Management program is offered by the Institute of Graduate Studies and Research, Cyprus International University. Graduate students are able to improve their skills and knowledge in a multicultural environment with teaching staff and students from more than 80 different countries. Teaching involves theoretical knowledge and practical training that will equip students with overall knowledge and specific skills to fit in the changing business environment after graduation. Courses are also designed to provide academic research skills to allow students to continue for the Ph.D. program after successfully completing the Marketing Management Master's Program. Students are also able to practice in the Finance Laboratory which is the only one among North Cyprus universities.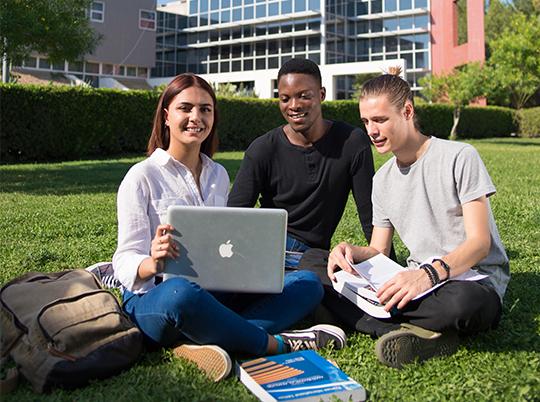 Career Areas
Graduates of Marketing Management can work in advertising, media, public relations, social media, sales and promotions, events, products and services management and other related areas in public and private institutions. Graduates are equipped with skills and knowledge that allows them to work both in local or international organizations and undertake different managerial positions related to marketing and management. The positions that graduates of Marketing Management can undertake include market researcher, marketing executive, sales manager, public relations manager, advertising executive, social media accounts manager, and marketing strategist. Graduates also have the option of enrolling in the Ph.D. program.
Compulsory modules
First Semester
Second Semester
Optional modules
RESEARCH METHODS FOR MARKETING
MARKETING
This course introduces the essential principles of marketing (key concepts, methods of analysis, strategies and tactics) critical to managing profitable customer relationships in today's dynamic and allied environment. Topics include, understanding the marketplace, product, services and branding strategies, new product strategies, pricing products, marketing channels, integrated marketing communication strategies. The course will help in understanding development of managerial decision-making techniques and problem-solving through practice in analyzing practical marketing cases. It will expose students to the commonly problems faced by marketing managers and to develop skills in analyzing marketing problems and preparing implementable plans of action based on analyses of given business situations. Cases and a marketing simulation are used to focus the discussion and to reinforce learning of key marketing concepts.
ADVANCED MARKETING RESEARCH
The main purpose of this course is to provide the prospective marketing manager with an understanding of marketing research in an advanced level. Advanced methods of marketing research have been specially compiled for graduate students on marketing management and business administration programs. This course provides the sophisticated marketing research techniques found in the discipline in a basic way. The contributors focus on the history of methods, descriptions of their assumptions and content, and examples. The main themes of the course include marketing research design, data collection, data preparation and data analysis. The students will find advanced methods of marketing research an essential update of their knowledge of classical procedures which will be helpful to conduct their project or thesis.
MULTINATIONAL COMPANIES AND ISSUES IN GLOBALISATION
MULTINATIONAL COMPANIES AND ISSUES IN GLOBALISATION
DEVELOPMENT OF SUSTAINABLE TOURISM POLICIES AND PLANNING
This course informs students about the basic concepts and practices related to sustainable tourism policies and planning. Tourism requires effective planning for the development of sustainable and non-harmful, beneficial to the environment and economic development. This course will address the issues related to tourism planning today, process and future tourism planning. The course also aims to highlight the importance of local governments' decisions and practices in ensuring the sustainable development of tourism, and to develop new recommendations for decision makers in this regard. The aim of this lesson is to learn about planning studies in tourism and what needs to be done for the development of tourism during the adaptation of tourism concept of sustainability aiming to provide resources for future generations by protecting resources.
LEADING, TRANSFORMATION AND CHANGE
NEGOTIATION TECHNIQUES AND CONFLICT MANAGEMENT SKILLS
INTERNATIONAL HOTEL MANAGEMENT
The development of hospitality and issues with hospitality management has been growing rapidly. We believe that hospitality is an area of activity that is sufficiently different to be considering separately from other aspects of management. In this lesson you will learn about: the international dimensions of hospitality management define the hospitality conception in global business environment, define key marketing concepts in global environment, to understand the strategic management process. Explain the criteria for changing international hospitality enterprises entry modes; understand the background to different approaches to international management. And students should be able to evaluate the actions taken to manage diversity in the hospitality industry both internally and externally.
ORGANIZATION BEHAVIOUR
The aim of the course is to provide students with a basic concepts related to organizational behavior and show them how individual and group behavior is important for the management of an organization.
MARKETING IN GLOBAL ENVIRONMENT
The aim of this course is to familiarize students with global competitive business environment and enhance their knowledge and skills required to successfully operate in a dynamic global market place. The course builds upon the primary concepts of marketing and will enable the students to practice applying those concepts to a global environment. The course also focuses on environmental concepts like cultural, demographic, economic, political, and legal factors as they affect a firm's global success. The main topics include operational and transactional aspects of global marketing strategies on a corporate level. After successfully completing the course, the students will have a better knowledge about the myriad of activities required to compete outside the "home" country.
DATA ANALYSIS & COMPUTER APPLICATIONS IN MANAGEMENT
ORGANIZATION AND MANAGEMENT
SUSTAINABLE MARKETING
This course tries to introduce the concept of sustainable approach due to the fact that the environment play a crucial role in sustainability studies at the top of the agenda for many organizations. Marketing has a key role to play in driving this agenda. This course tries to explore the complex and challenging environment of sustainable marketing strategies and actions. It firstly starts by considering the background of traditional marketing in order to understand some changes that have occurred over recent times and their significance. From corporate social responsibility to societal and green marketing movements, leading to the development of sustainable marketing practice. This course relies on the most complete and the accessible introduction to sustainable marketing in various markets.
Students who are interested in pursuing advanced graduate studies leading to a master's, doctoral degree, or professional doctorate degree for the Fall and Spring semesters every year. Applicants can directly apply online to our graduate programs using the application portal.
TRNC Applicants- Required documents:
Bachelor's Degree Diploma
Bachelor's Degree transcripts for each completed academic term/year.
Documents to prove English proficiency for English language departments,
Scanned copy of passport or identity card.
Click for detailed admission requirements information.
Students who are interested in pursuing advanced graduate studies leading to a master's, doctoral degree, or professional doctorate degree for the Fall and Spring semesters every year. Applicants can directly apply online to our graduate programs using the application portal.
International Applicants- Required documents:
Bachelor's Degree Diploma
Bachelor's Degree transcripts for each completed academic term/year.
Evidence of English Language competence: TOEFL (65 IBT) or IELTS (5.5). Students without these documents will take the CIU English proficiency exam on campus following arrival.
Scanned copy of international passport/birth certificate
CV
Fully completed and signed CIU Rules and Regulations document (which can be downloaded during the online application)
Click for detailed admission requirements information.
Cyprus International University provides academic scholarships for its students as an incentive for success, with most students benefiting from 50%, 75% or 100% scholarships or discounted tuition fees. Click for more information.
| | |
| --- | --- |
| Fee pe​r course     | € 350,00 |
| Fee for thesis     | € 1.050,00 |
| Fee for seminar     | € 120,00  |
| Scientific Foundation per course     | € 150,00 |
| Registration and other fees* | € 245,00 |
| Student Union fee | € 50,00     |
|   | VAT Exc. |
*Applies to 1st. Year students. € 195,00 for others.