About the Program
As of 2021, the Master's Program in Nursing has started to provide education within the body of the Institute of Graduate Studies and Research at Cyprus International University. The program aims to train critical and research-oriented expert nurses, who have the skills of planning, organizing, supervising, developing, and expanding; can use knowledge, skills and advanced technology effectively in the understanding of quality service; can plan care based on research findings; follow scientific developments and use them for professional and academic purposes. In this way, graduates will be able to have more comprehensive knowledge about the field they would like to work for. Students who successfully complete a nursing or midwifery undergraduate degree and meet the requirements of the program can enroll in the postgraduate program. Within the scope of this program, students will have comprehensive knowledge regarding the profession through the selected area-specific courses. With research methods and statistics courses, the students will learn about research methods and skills.
Education Opportunities
At Cyprus International University, the Nursing Master's Program with thesis is carried out both theoretically and practically. Theoretical education is provided in equipped classrooms on the campus while practical skills are taught in the skills laboratories of the department. In these laboratories, two adult manikins that allow basic nursing practices (vascular access, injection, tube application to the body cavities, etc.); a simulation manikin on which CPR can be performed; a pregnant simulation manikin for labor practice; a newborn care and application manikin; skeleton; anatomy model and other necessary materials used for nursing interventions. In addition to this, students gain practical skills for their field in different inpatient treatment institutions, public health institutions and rehabilitation centers. The program is run by three professors and three assistant professors. Additionally, academic staff from other departments also contributes to the programs. Students also benefit from the common library on campus which contains many printed and electronic resources.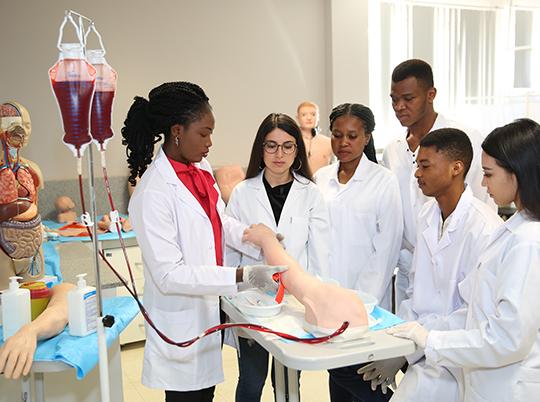 Career Areas
Together with the socio-demographic changes in society, healthcare needs are also changing. Changes such as the increase in the elderly population, shortening of hospitalization periods, as well as the rapidly advancing technology require innovations in the provision of healthcare. Therefore, there is a need for nurses, who are equipped with advanced knowledge and skills in the field of nursing; and can provide individual and evidence-based care. The program aims to educate graduates who will respond to this need effectively. Graduates will have the privilege and advantage of benefiting from employment opportunities in all kinds of areas such as inpatient or outpatient treatment institutions, rehabilitation centers, and elderly-child-disabled care homes. In addition, graduates would have the priority for the position of an executive nurse in the clinics where they work. Graduates can also continue their doctoral education and become an academic in the nursing departments that provide undergraduate education.
Compulsory modules
First Semester
RESEARCH METHODS
To provide general information about research stages and research ethics to graduate students and to prepare them to do research in health sciences. To ensure that students gain knowledge, awareness and sensitivity for ethics in research and publication and accordingly conduct researches and publish them. The course content is research planning, sources of error in a research, sampling methods, determination of the appropriate sample size, research types, report writing, concept of research ethics, related concepts, controversial research ethics topics, clinical researches, non-interventional clinical researches, animal researches, frequently encountered research ethics problems and prevention methods, recognition of violation of ethics, what should be done in health sciences.
PATHOPHYSIOLOGY
In the pathophysiology course, pathophysiological processes in diseases are examined in terms of nursing care. This course includes; cell structure, functions, pathological events occurring in the cell, their effects on human health; stress, general and local response of the body to stress; liquid electrolyte, acid-base balance and imbalances; characteristics of cancer cells, cancer etiology and effects; physiopathology of the cardiovascular system diseases; shock; immune system function; inflammation, hypersensitivity reactions, infection, and changes in the immune system; physiopathology of pain; wound etiology, wound healing and affecting factors; blood diseases. Nursing practices related to signs and symptoms of the diseases are discussed.
Second Semester
SEMINAR
This course is designed to help develop a broad and unified perspective on research, research ethics and plagiarism, literature review, research methods and design, report writing and effective presentation techniques in health sciences. For this purpose, each student will be required to do literature review on a topic related to his/her academic background and interest. As a result of their literature review the students will specify relevant further research areas. Each student will also prepare a report about the studies done so far in the topic and will cover methods used, findings, discussion and implications. Each student will share his/her report with other students in the course by doing a presentation followed by a discussion.
THESIS
During the thesis process, the research topic is selected with the thesis advisor. The research is planned according to the scientific research methodology. Data are collected after the approval of the university's ethics committee. After the literature review on the thesis topic, data collection tools are created. The reporting process is carried out with statistical analysis of the data collected, studies on the research problem, findings, comments and suggestions. Discussions and suggestions are written by comparing the results of the research with the relevant literature. Thesis writing is done according to the university's thesis writing rules. At the end of the course, the study of the graduate student is tested with the department and its presentation before the jury
CONCEPTUAL FRAMEWORK OF NURSING
In this course, conceptual foundations of nursing, interaction of concepts, nursing philosophy and nursing models / theories and how to transfer this knowledge to nursing practices are taught. The basic summative concepts of nursing, human, society-environment, illness-health and nursing are examined in detail. The basic roles and functions of the nurse are examined. The steps of the "Nursing process", which is a scientific problem-solving method, and how to apply this method to practice are examined. Basic ethical codes of nursing are examined. Approaches to develop the nursing role as caregivers are examined. The factors affecting the development of the nursing profession within its historical development are learned.
Optional modules
PUBLIC HEALTH NURSING
The contents of this course include the basic health services approach, accessibility of primary health services, community and family health nursing process, development of family and community health and nursing process, health and disease concepts, perception of health and disease, health promotion and nursing process, health protective and improving practices. Family planning methods and public education, personal and environmental factors affecting health, management and nursing processes of local and global healthcare institutions, health care services and primary health care and nurse's role, the interaction between the environment and human, public health nursing services, family health care process, community health care process, infectious diseases threatening public health, role of nurses in communicable diseases.
INFECTIOUS DISEASES
This course includes infectious diseases, ways of transmission of diseases, prevention methods from infectious diseases, treatment and nursing care. In this course, the epidemiological processes required to protect against infectious diseases and practices to protect society (vaccination, reduction of risky behaviors, improvement of environmental conditions, fight against vectors, etc.) are learned. Within the scope of this course, basic concepts and epidemiological historical process of infectious diseases, isolation methods in infectious diseases and mortality and morbidity rates related to childhood, adolescence, pregnancy, adult and advanced age infectious diseases, planning practices, surveillance in infectious diseases are learned. In this course, newly defined infectious diseases (COVID-19, EBOLA, ZIKA etc.) are defined, treatment and prevention methods are also examined.
EDUCATION AND TRAINING IN NURSING
This course includes approaches and methods for the education of nursing students and healthy / sick individual or family / group. In this course; basic education concepts (learning-teaching process, lifelong learning), learning theories and nursing education philosophy, adult education, education systems in nursing, program development and needs analysis, writing goals and objectives, creating content teaching methods and effective presentation techniques, affecting factors for learning (learning styles, strategies, learner characteristics, cultural, etc.), creating a learning environment, material design and educational technologies in patient / health education (distance education, e-learning etc.), measurement and evaluation, continuous professional development (clinic training, adaptation training etc.), clinical teaching, health education (health promotion, health literacy etc.), patient education will be taught.
NURSING PRINCIPLES AND PRACTICE
The course contributes to the development of the principles and skills that nurses have acquired to fulfill their roles and responsibilities at the masters level. In the course, students' knowledge, skills and attitudes are improved on the basis of nursing concepts and theories. Also, the students acquire high-quality, safe and evidence-based care competencies. In order for students to gain relevant competencies; care management, the effects of bed rest, vital signs, medication errors, fluid-electrolyte balance, nursing interventions in pathophysiological conditions, pain and pain control, sleep and rest are covered. In the learning-teaching process, problem solving, clinical inquiry, and self-directed learning skills are developed by making case discussions. Innovative studies on nursing care are examined. Educational activities for learning psychomotor skills are carried out.
EMERGENCY NURSING
This course includes students' consideration of ethical principles and patient safety principles, basic concepts of first aid, awareness of their powers and responsibilities, difference between first aid and emergency treatment, the necessary treatment and care to the emergency patient; duties, authorities and responsibilities of emergency nursing. In this course, general rules (triage) about determining the priorities in case of emergency are listed. In the scope of the course, how to identify emergencies that require basic life support, system (cardiovascular, respiratory, ureagenital, endocrine) and trauma emergencies, bleeding, foreign body entry into the respiratory tract, burns and animal bites, foreign bodies in the eyes, ears and nose, fractures, consciousness disorders, diagnosis, treatment and care, traumas are taught.
MEDICAL NURSING
In this course; nursing practices in the diagnosis, treatment and care of medical diseases are examined. Medical Nursing course includes treatment and nursing care practices of fluid electrolyte and acid base imbalances, neurological, hematological, endocrine, cardiovascular, gastrointestinal, urinary system diseases. Also, evidence-based applications for controlling cancer patients' symptoms caused by disease and treatment are also included in this course. The importance of biopsychosocial, physiopathological and pharmacological concepts in health care is taught by using adaptive, preventive and health education methods for the optimal functioning of patients with changes in the specified systems. Using the "Nursing Process", which is a scientific problem-solving method, an individual's nursing care plan is prepared.
Students who are interested in pursuing advanced graduate studies leading to a master's, doctoral degree, or professional doctorate degree for the Fall and Spring semesters every year. Applicants can directly apply online to our graduate programs using the application portal.
TRNC Applicants- Required documents:
Bachelor's Degree Diploma
Bachelor's Degree transcripts for each completed academic term/year.
Documents to prove English proficiency for English language departments,
Scanned copy of passport or identity card.
Click for detailed admission requirements information.
Students who are interested in pursuing advanced graduate studies leading to a master's, doctoral degree, or professional doctorate degree for the Fall and Spring semesters every year. Applicants can directly apply online to our graduate programs using the application portal.
International Applicants- Required documents;
Bachelor's Degree Diploma
Bachelor's Degree transcripts for each completed academic term/year.
Evidence of English Language competence: TOEFL (65 IBT) or IELTS (5.5). Students without these documents will take the CIU English proficiency exam on campus following arrival.
Scanned copy of international passport/birth certificate
CV
Fully completed and signed CIU Rules and Regulations document (which can be downloaded during the online application)
Click for detailed admission requirements information.
Cyprus International University provides academic scholarships for its students as an incentive for success, with most students benefiting from 50%, 75% or 100% scholarships or discounted tuition fees. Click for more information.
| | |
| --- | --- |
| Fee pe​r course     | € 350,00 |
| Fee for thesis     | € 1.050,00 |
| Fee for seminar     | € 120,00  |
| Scientific Foundation per course     | € 150,00 |
| Registration and other fees* | € 245,00 |
| Student Union fee | € 50,00     |
|   | VAT Exc. |
*Applies to 1st. Year students. € 195,00 for others.