Institute of Graduate Studies and Research
Plant Sciences and Technologies (MSc)
Apply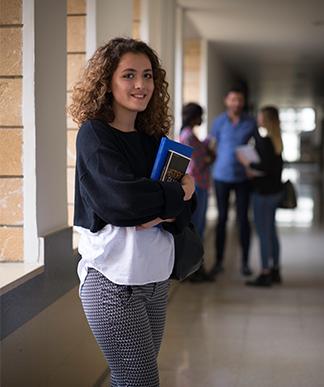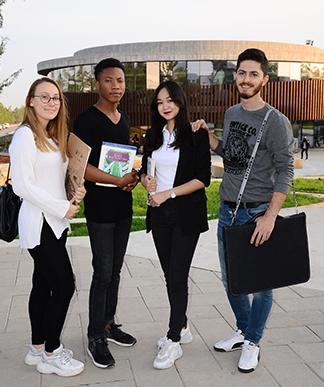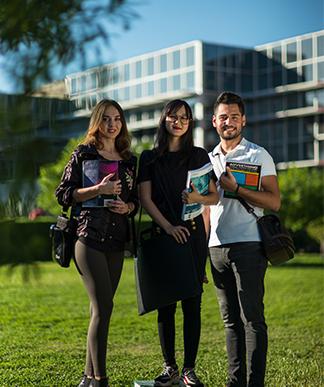 About the Program
The aim of this particular program is to guide and educate agriculture and basic science graduates to become specialized in selected areas; direct them towards original research; and assist them in their careers. Furthermore, the program also aims to encourage its students to build strong relations with internationally known colleagues from their field. The main goal of the program is to educate and guide the students to get ready to use high technologies in order to adapt, select or breed economically important and desired new plant cultivars from various floras and in well-equipped laboratories as well. Ultimate targets are to release such plant cultivars adaptable to unavailable ecologies and environments such as drought, salinity, diseases and insect damages. The visions of this program are to educate and guide the graduates to think and collaborate rationally and proactively evaluating all kinds of agricultural values, transferring environmentally-friendly production techniques to practice; contribute to higher quality and more efficient production under international regulations and standards; create added values to commodities.
Education Opportunities
The program courses are offered by senior lecturers all of whom are experts in their own fields. During the period of research and thesis preparation, students can benefit from the university library hosting periodicals and indefinite publications, electronic periodicals, digital image files from both local and international publications. For the study of the land required for the thesis, the university's agricultural areas and greenhouses can be utilized. There are also physics, biochemistry, analytical chemistry, computer laboratories and central laboratories available at the university to aid the successful completion of the program.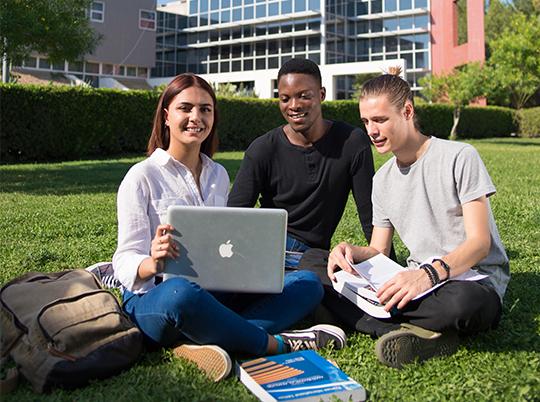 Career Areas
Students who graduate from the Department of Plant Science and Technology will expand their worldviews, international networks, have a wider vision, and will be introduced to their professional careers at the same time. Some of the employment areas include;
- Ministry of Agriculture and Forestry
- Ministry of Environment and Urban
- Ministry of National Education
- Research Institutes
- Municipalities
- Universities
- International agricultural organizations
- Freelance consultant
- Establish their own companies
Compulsory modules
First Semester
RESEARCH TECHNIQUES IN AGRICULTURE
This course brings computing solution to traditional practices and modern cocerns, sowing seeds and planting seedlings for a sustainable, constant food supply. The food supply shortage has been main cocern and the biggest problem in under-developed countries. Modelling flood patterns and predicting potential climates and microclimates through distincly modern topics such as pesticide leaching model and the impact of agricultural policy. All of these topics in this particular course deal with utilization of cutting-edge computational techniques of interest to both academics and practitional in agriculture, as well as computitaonal modelling researches such as split-plot and split-blog techniques, creating a referance practical significance.
STATISTICS
This course is designed to introduce basic statistical techniques necessary for carrying out a scientific research. It covers descriptive statistics and inferential statistics; variables and levels of measurement; measures of central tendency; display data by using graphs, charts, histograms, tables, etc.; a population and samples drawn from it; measures of variability of given data; the normal curve; the concept of probability in making statistical decisions; distributions of sample means; intervals for making statistical inference, hypothesis testing; correlation to detect relationships between and among phenomena; regression analysis; hypothesis testing to make statistical inference; tests (t-test) for the difference between the population means; the null hypothesis; analysis of variance (ANOVA), and analysis of covariance (ANCOVA); non-parametric techniques (chi-square test) for nominal data; other non-parametric techniques.
Second Semester
LABORATORY TECHNIQUES
The first section of the course will be on "General structure of an analysing laboratory; chemicals that might be found in a lab; cups and bottles that can be used in a lab; basic instruments of analysing labs. Second division will be on all about "Proper sampling, recording and conservation methods". The evaluation methods will be explained in the third section depending on sensational characteristics (color, odor, taste, etc) following by colorimetric measurements, and also measuring hardness-softness-shear value; evaluation taste characteristics through taste tests and taste panels. In the next section, methods of chemical and or instrumental analysis of energy (calorimetric), protein, fats and oils, minerals, fiber (ADF;NDF), vitamins and toxins will be detailed. The next step will cover microbiological analysis, and classical, in-vitro, in-sacco digestion trials.
Optional modules
PLANT GROWTH REGULATORS
Plant growth substances are quite important in development and growth processes of plants. Conventional plant hormones (phytohormones); auxins, gibberellins, cytokinins, abscissic acit and ethylene are discussed in detail in this particular course. Maentime, recently accepted hormones which are known as new generation hormones as brassinostereods, jasminic acid, salicylic acid and the orhers are also discussed. Synthetic plant growth substances which are not natural hormones are also part of this course. The effects of these synthetic ones are discussed in respect to environmental concerns well as human health. Important physiological processes including germination, rooting, enlargement of fruits, fruit thinning, fruit drop, coloring, earliness, rest and dormancy, senescence, abscission, height control are discussed. Practical works with students are also included.
WATER MANAGEMENT IN AGRICULTURE
Physical and chemical properties of water and water sources such as rain, rivers, water dams, underground water.Water quality, availability of water resources in the world and how water is used in irrigation systems. Relations between water and nutrients which are also given in plants. Water uptake, its transpration within plants and transpiration. Planning of irrigation in a given field or orchard according to seasons and plant types. Use of water tintometers and evaluation of obtained results. Evapotranspiration. Classification of agricultural products according to annual water needs. General introduction to agricultural water management. Conventional methods for agricultural water management. Advanced methods for agricultural water management. Artificial intelligence irrigation systems and hybrid methods for agricultural water. Management future challenges in agricultural water management.
PRINCIPLES OF FRUIT GROWING
The students are governed with basic knowledge of fruit tree species and their propagation in this course. Physiological phases of fruit trees such as juvenile and mature stages, Site selection for orchard establishments, and the important criteria for the site selection. Selection of fruit species and cultivars according to ecological conditions. The appearance of roots, stems, leaves, flowers and fruits in fruit trees and their developments and interactions with environmental conditions (climate and soil) and generative and vegetative propagation methods in fruit trees, establishment of orchards, cultural practices in orchards (irrigation, fertilization, pruning, soil cultivation, weed control) are covered as basic knowledge in the orchards.
PLANT TISSUE CULTURE TECHNIQUES
Historical background of tissue culture studies. Important expressions of the tissue cultures. Importance of chemicals used in tissue culture media and their properties. Media preparations and their constitutes. Calculation of possible modifications in media. Tissue culture stages. Selection of explants sources or mother plants and their properties. Elimination of virus and other pathogens in plants. Preventing or elimination of oxidation of possible oxidations. Use of active charcoal and ascorbic asid. Preparations of explants, sterilization, initiation, multiplications and rooting processes. Adaptation of plantlets to the greenhouse environments and open fields. Physical control of growth rooms. Designing tissue culture laboratories, necessary equipments and their properties. Education of personel in the lab personel.
SALINITY PROBLEMS IN AGRICULTURAL LANDS
Millions of hectares of land, nearly 25% of throughout the world's ıslands are too saline for producing economically crop yields, and more land becomes nonproductive each year because of salt accumulation. Salinity problems in agriculture are usually confined to arid and semiarid regions where rainfall is not sufficient to transport salts from the plant root zone.The occurrence of salinity is very common many countries in the world. Salinity problems are found in all countries having areas where arid or semiarid climates exist. Soil salinity problems are present in nearly all irrigated area of the world as well. Rehabiltation of salinated lands are very difficult and time consuming. In this course all the precausion steps to prevent soil salinity and rehabilitation salinitated lands are discussed in detais.
PRINCIPLES OF VEGETABLE GROWING
In this course, students study the basic aspects of vegetable cultivation during this course. Course covers introduction to vegetables, vegetable production of the some important countries and the world, economic importance of them, historical development of cultivated plants, species and varieties, production methods, basic cultivation methods, floral biology and reproductive biology, , factors affecting the selection of vegetable garden place rotation and application, vegetable seed production, the cultural practices( pruning, pollination etc. preparation of soil, sowing-transplanting, types of vegetable propagation, grafting, vegetable seed production. At the end of this course the students will be learned the basic concepts about vegetables; explain the economic and nutritional importance of vegetables and make their classification; establish a vegetable garden, maintain the activities and solve problems.
LOGISTICS IN AGRICULTURE AND ITS IMPORTANCE
Lojistics is very important in our daily life. Meantime, lojistics is one of the main criteria in sign of development of the countries. The use of agricultural logistics information system in the context of supply chain management is a strategy to ensure the success of an optimal distribution of agricultural commdities.The distribution of agricultural products has been encountring a number of problems such as large product price diversity, long marketing chain, non-proportional profit margins, quality and assurance of products availabilty and some others. Distribution is all aspects of products delivery from producers to consumers ranging from inventory issue, warehouse selection, to transportation planning. Management of agricultural commodities are variable. The purpose of this course is to discuss all steps of logistic in agriculture.
MODERN FRUIT PRODUCTION TECHNIQUES
Evoluation of fruit production techniques and methods, fruit species and cultivars, orchard designings, dynamic pomology, resistant to marketing fluctiations in developed countries in governmental and private sector levels. Importance of rootstocks and standart seedlings, their propagations and uses, importance of tissue culture techniques, dwarf fruit trees, earliness and greenhouse fruit productions. Meantime, the importance of mechanization in modern fruit culture from pruning to harvesting. Feasibility studies. Wage incentives and opportunities to investors and entrepreneurs at national and international levels for infrastructures and orchard establishments. Medium and large scala fruit production commodities. Niche production. Sustainability in fruit production, GAP and EU criterias in fruit productions. Designing modern fruit production plantations by the students.
PRINCIPLES OF FIELD CROP PRODUCTION
The aim of this course is to introduce field crops and their importance for the human diet. Teaching some morphological and physiological behaviours of turf crops, and establishing a good turf stand. Field crops production (systems of field crop production, systematic, economy, adaptation). Agronomic characteristics and growing of cereals (wheat, barley, oat, rye, rice, maize, sorghum), grain legumes (common bean, fava bean, pea, lentil, chickpea, cowpea), tobacco, cotton, sunflower, peanut, sesame and rapeseed. Industrial plant production, sowing time, irrigation and fertilization are also studied. Handling of the field crops after harvesting are discussed beside main diseases and harmful insects of the crops.
ORGANIC FARMING
The course includes the following topics; definition, aim and history of organic farming, advantages and disadvantages of organic farming, organic agriculture movements, principles of organic farming; the principal methods of organic farming. crop rotation, green manures, compost, biological pest control, and mechanical cultivation. Economics of organic farming, geographic distribution of organic farming and organic animal production: Origin of livestock, livestock feed. Living conditions, waste management, health care, record keeping,organic dairy cattle and organic milk production. Organic beef cattle, lamb and goat, poultry production, swine meat productions, Organic bee keeping and organic honey, organic fish production, organic cereal, vegetable and fruit production and organic feed production and feed processing and organic seed production are studied.
AGRICULTURAL ECONOMICS
Agriculture is a very distinctive form of economic activity: it produces food which is necessary for human life, it is seasonal and geographically bound, its output is quite perishable, the storage is quite expensive; in most of the world the ways of agriculture are tradition-bound small-scale economic activity, very strictly influenced by the prevalent types of land tenure. The small farmer is almost always a price taker. This course is designed to educate future farmers to calculate their costs correctly, to set up their cash flows properly, to understand the market for agricultural commodities and position themselves accordingly, to search for new ideas and to formulate them in the form of a business plan and to realize this plan.
SILAGE PLANTS AND SILAGE MAKING
In the first section of the course, as a feed "Silage" will be defined; advantages of silage making will be explained; importance of silage in animal feeding will be underlined. In te second part, every thing about silos (where to built, types of silos, characteristics of silos) will be detailed. The following section will cover completely main silage plants such as grasses, cereals (corn, sorghums, wheat, barley), legumes, legume x nonlegume mixtures; by products and residues (molasses, pomaces). The fourth chapter will be devoted to silage additives and preservatives (grains, molasses, bacterial preparates, acids). The next step will be on qualitative evaluation of silages in terms of sensational chemical and microbiological. In the last part hylage will be introduced.
NEW DEVELOPMENTS IN GREENHOUSE PRODUCTIONS
Old and new greenhouse types. Site selection criteria for greenhouses. Evaluation of the ecological conditions in respect to the greenhouse production. Different production methods of the greenhouse crop production. Soilless media preparation and aquatic systems and their uses in the greenhouse production. Nutrition, adjustment of nutrients, solution concentrations, adjustments and the factors that affect uptake of crops. Nutrient deficiencies and toxicities.Water quality, species and cultivar selections.Use of geothermal water in the greenhouse productions. CO2 and O2 applications. Greenhouse diseases, insects, physiological disorders and possible solutions. Harvesting, postharvest handling, grading, packing, storage, ripeness, effects on flavour, quality, and year-round production planning. Fruits, culinary herbs and flower productions beside tradational greenhouse vegetable crops are all in the frame of this course.
PLANT NUTRITION
The aim of this course is to introduce organic and inorganic nutrients, their properties, functions in plant growth and developments. Teaching plant nutrients, their metabolic activities in plants and fertilizers are studied. Course content covers; structural compounds of plant material, essential and necessary elements in plant nutrition, quantity and mission of macro and microelements, mineral elements, the relations between inorganic nutrients and enzymes. Nutrient uptake by plants, passive and active uptake, cation exchange capacity, nutrient transportation within plants. Resources of organic and inorganic fertilizers. Water-soluble nutrients and fertigation. Availability of nutrients to plants. Symptoms of nutrient deficiencies and excess. Nutrient pollution of soil and groundwater.
POSTHARVEST PHYSIOLOGY
The purpose and objectives of the course is to introduce storage and marketing of horticultural crops; morphological and chemical changes, respiration and facts affecting respiration process, effects of pre-harvest factors on the storage of horticultural crops, fruit flesh firmness, total soluble solids, acidity, ethylene biosynthesis, effects of storage on the marketing of horticultural products, harvest and detection of harvest time, disadvantages of early and late harvest, cold chain on horticultural products and effects on the quality, cooling techniques used for the storage of horticultural products, controlled and modified atmosphere storage systems, packaging materials used in fruits and vegetables; physiological disorders and control methods on horticultural products to students.
AGRICULTURAL IRRIGATION AND DRAINAGE
The main aim of this course is to provide the basic knowledge of irrigation and drainage science to students. In this respect, the use of soil, water, plant and climate data at the determination of water required for crops, summarized classification of irrigation systems, design, calculations and selection of pumps, descriptions of filter systems and other pressurized irrigation systems. The ability of designing, recognition of irrigation systems and its constituent elements are provided to students. The reasons for requiring drainage; horizontal and vertical movements of water in the soil, factors affecting these movements, design principles of open and closed drainage systems and steps of drainage projects are explained. Brief information about the machines, equipment and materials used in the installation of drainage systems is given.
TROPICAL AND SUBTROPICAL CROPS
In this course, the origins and spread of tropical and sub-tropical fruits in the world will be studied together with the importance of tropical and subtropical fruits in human diet, differences between tropic and subtopic fruits, selection of the right species and cultivars for the chosen sites, Propagation, pollination, fertilisation, grafting, pruning and other cultural practices of the plants. Ecological requirements of the plants. Specific attention is given to citrus species (sour oranges, oranges, grapefruits, lemons, limes, tangerine, and mandarins), olive, fig, banana, avocado and mango. Selection of rootstock and their importance in yield quality and quantity, Combating with weeds, diseases and insects, Post-harvest handlings such as storing, grading and marketing of the fruits.
GENERAL PLANT BREEDING
The main aim of the course is to teach basic definitions, concepts and principles of plant breeding. Students are introduced to different aspects and characteristics of breeding. They are informed about the history and current challenges in plant breeding. Topics covered include: evolution, purposes of breeding, creation of variation, flower biology and fertilization techniques. Plant propagation methods (conventional and modern methods), breeding methods for self-cross pollinated plants are explained. Students are informed about mechanisms in plants that promote self (mechanisms for autogamy) and cross-pollination or outcrossing and asexual plant propagations. Methods of plant breeding (Selection, cross breeding), emasculation process, genetic basis of autogamy and allogamy, Hardy-Weinberg equation, components of genetic variance, heterosis and hybrid breeding, mutation and polyploidy breeding are explained to students.
Students who are interested in pursuing advanced graduate studies leading to a master's, doctoral degree, or professional doctorate degree for the Fall and Spring semesters every year. Applicants can directly apply online to our graduate programs using the application portal.
TR Applicants- Required documents:
Bachelor's Degree Diploma
Bachelor's Degree transcripts for each completed academic term/year.
Valid ALES result document (must not exceed 5 years),
Documents to prove English proficiency for English language departments,
Scanned copy of passport or identity card.
Click for detailed admission requirements information.
TRNC Applicants- Required documents:
Bachelor's Degree Diploma
Bachelor's Degree transcripts for each completed academic term/year.
Documents to prove English proficiency for English language departments,
Scanned copy of passport or identity card.
Click for detailed admission requirements information.
Students who are interested in pursuing advanced graduate studies leading to a master's, doctoral degree, or professional doctorate degree for the Fall and Spring semesters every year. Applicants can directly apply online to our graduate programs using the application portal.
International Applicants- Required documents:
Bachelor's Degree Diploma
Bachelor's Degree transcripts for each completed academic term/year.
Evidence of English Language competence: TOEFL (65 IBT) or IELTS (5.5). Students without these documents will take the CIU English proficiency exam on campus following arrival.
Scanned copy of international passport/birth certificate
CV
Fully completed and signed CIU Rules and Regulations document (which can be downloaded during the online application)
Click for detailed admission requirements information.
Cyprus International University provides academic scholarships for its students as an incentive for success, with most students benefiting from 50%, 75% or 100% scholarships or discounted tuition fees. Click for more information.
| | |
| --- | --- |
| Fee pe​r course     | € 350,00 |
| Fee for thesis     | € 1.050,00 |
| Fee for seminar     | € 120,00  |
| Scientific Foundation per course     | € 150,00 |
| Registration and other fees* | € 245,00 |
| Student Union fee | € 50,00     |
|   | VAT Exc. |
*Applies to 1st. Year students. € 195,00 for others.