Institute of Graduate Studies and Research
Tourism and Hotel Management (MSc)
Apply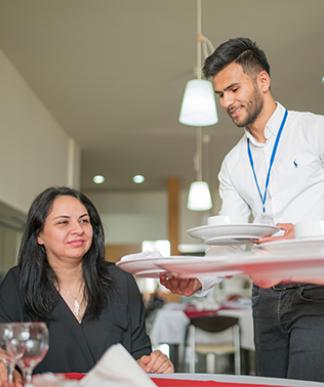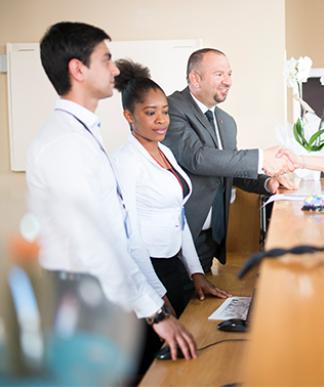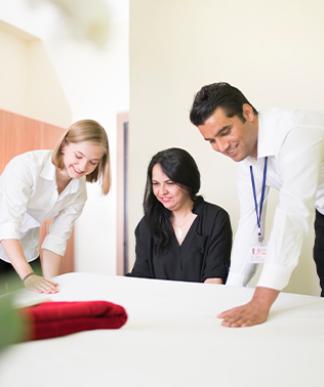 About the Program
The aim of this program is to educate individuals who will fulfill the executive managerial positions of the tourism industry where dynamic and qualified individuals are needed in the sub-sectors of tourism such as accommodation, travel agencies, food and beverage companies. In parallel to this, changing nature of the tourist profile leads to a necessity of professional management in these sectors. As known, tourism is a labor intensive industry and it requires contemporary management approaches to deliver high-quality service. It is also a fact that most of the employees occupying the managerial roles are sector-bred individuals rather than being highly educated. This program allows individuals to improve and develop themselves in the tourism field at an executive managerial level that is convenient for their tight schedule. The program also helps students to improve themselves academically.
Education Opportunities
Students undertake a total of 7 courses in order to graduate from the Tourism Management Master's Program. When students enroll, they may register up to 4 courses per semester in the thesis program. Two of the seven courses in the program are compulsory, where the rest of the courses are elective (see the curriculum). Students register to the program with the assistance of their advisors who guide students throughout the program. The CIU Library and the Institute of Graduate Studies and Research provide online and offline access to resource databases. Program advisors appoint a supervisor when students enroll to the thesis/project. Students utilize a variety of databases to complete their thesis or project. Students are encouraged produce quality work to contribute to the literature of tourism and hospitality. Cyprus International University School of Tourism and Hotel Management is a full member of Council of Hotel, Restaurant & Institutional Education - (CHIRE) and European Network of Hospitality and Tourism Educators – (EURHODIP).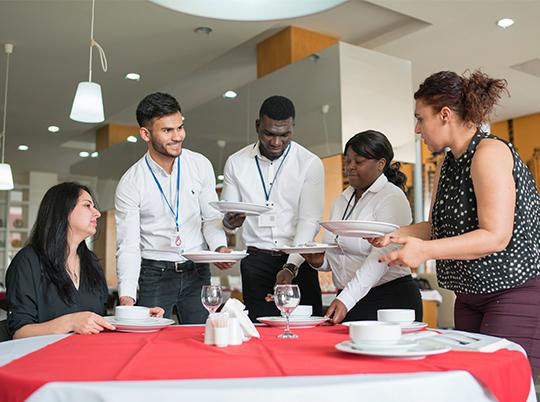 Career Areas
The scope of the Tourism and Hospitality Management program encompasses the generic philosophy of tourism organization. Within this scope, focused and specialized courses are also offered to meet the requirements of the sector. Cyprus International University School of Tourism and Hospitality Management program aims to enhance the human resources segment within the tourism and hospitality industry (i.e. hospitality establishments, airlines, tour operators, travel agents, restaurants) by educating individuals to possess the necessary skills and qualifications. The graduates of the School of Tourism and Hotel Management are fully capable of acquiring employment in the chain or boutique hotels, holiday villages, tour operators, travel agents, airport or airlines, or cruise liners. Additionally, School of Tourism and Hospitality Management equips its students with language skills, academic infrastructure, and publication notion to those students who wish to pursue an academic career.
Compulsory modules
First Semester
MANAGEMENT AND ORGANIZATION FOR TOURISM AND HOSPITALITY ENTERPRISES
This course is structured to provide detailed information about the contemporary management practices to Master of Tourism Management students. This basic approach deals with information societies and organizations, information technologies, globalization and organizations, Total Quality Management approaches, basic competence, outsourcing, hybrid organizations, downsizing, lean organizations and cluster organizations. The main topics of management and organization are: development of management theory, organization theory and approaches of organization-environment relations, management process (planning, organizing, execution, coordination and control), organizational structures and new ideas and applications for organizational structure (strengthening, core competencies, organizational citizenship, intellectual capital, etc.) and general organizational culture will be covered.
Second Semester
MARKETING STRATEGIES FOR HOSPITALITY OPERATIONS
This course helps managers determine, select and implement strategies that will make their organizations more competitive on the market. The aim of this course is to present the concepts, methods and procedures that will enhance strategic (marketing management) decision-making to decision makers. Advanced marketing strategies will be transferred within this course. With this course, it is aimed to transfer the mentioned elements to the students through simulations for real marketing campaign developments for business in tourism and hospitality sector. This course also indoctrinates students the steps to be taken to achieve profit with effective advertising, sales and public relations management by developing market analytics, competition and product, (b) financial budget planning, and (c) short-term and comprehensive strategies will be examined.
SEMINAR
The course includes seminar presentation and group discussions on selected topics related to the Tourism and Hospitality Management. The seminar couuld be considered in two segments. The Readings Seminar is designed to introduce to the graduate student a body of literature specific to a broad conceptual framework focusing on a region, topic, or time period. It provides students with an overview of the changing interpretations in a particular area over time. These seminars require some type of analytical or interpretive paper. The Research Seminar requires graduate students to conduct primary research and to prepare a major, original research paper on some specific aspect of the seminar's focus, and exchange results through presentation and discussion. Some statistics will be discussed.
Third Semester
THESIS
It is the process for Tourism and Hospitality Management Master Program students to prepare their master theses with the supervision of their academic thesis supervisors. Supervisor (a faculty member) and student designate a research topic in collaboration and students submit the chosen topic as a term end project. It must provide contributions to the tourism and hospitality management knowledge field and approved by the Administrative Committee of the Institute. Thesis students will conduct a large research project, which will likely involve several semesters of work. These students must write a thesis, which is a large document that is likely to be published. You will work with a professor to complete your research. Successful students receive Masters Diploma.
Optional modules
RESEARCH METHODS
The aim of this course is to provide insights into research concepts and procedures in the social sciences with an emphasis on social sciences. Both quantitative and non-quantitative methods are examined. Topics to be covered include the nature of social research and philosophies of social research: methodological questions, qualitativequantitative and comparative analyses, identifying a research topic, review of the literature, analysis of documents, interviews, content analysis, and writing up and preparing a research proposal. This course is also designed to provide you with the tools to conduct systematic research within leisure, recreation and tourism settings. You will learn about problem-solving and decision-making based on research design and methods. Some statistics will also be introduced.
DEVELOPMENT OF SUSTAINABLE TOURISM POLICIES AND PLANNING
This course informs students about the basic concepts and practices related to sustainable tourism policies and planning. Tourism requires effective planning for the development of sustainable and non-harmful, beneficial to the environment and economic development. This course will address the issues related to tourism planning today, process and future tourism planning. The course also aims to highlight the importance of local governments' decisions and practices in ensuring the sustainable development of tourism, and to develop new recommendations for decision makers in this regard. The aim of this lesson is to learn about planning studies in tourism and what needs to be done for the development of tourism during the adaptation of tourism concept of sustainability aiming to provide resources for future generations by protecting resources.
INTERNATIONAL HOTEL MANAGEMENT
The development of hospitality and issues with hospitality management has been growing rapidly. We believe that hospitality is an area of activity that is sufficiently different to be considering separately from other aspects of management. In this lesson you will learn about: the international dimensions of hospitality management define the hospitality conception in global business environment, define key marketing concepts in global environment, to understand the strategic management process. Explain the criteria for changing international hospitality enterprises entry modes; understand the background to different approaches to international management. And students should be able to evaluate the actions taken to manage diversity in the hospitality industry both internally and externally.
CONSUMER BEHAVIOUR
This course is designed to address behavioral concepts and theories that are useful in understanding consumer behaviors and potential applications of marketing strategy development. Concepts and theories in social sciences, particularly social psychology, cognitive psychology, sociology and cultural anthropology, will be emphasized throughout this course with a specific reference to selected consumer issues. These topics include attitude formation, change, information processing, learning, group effects, electoral behaviors and cross-cultural consumer behaviors. It is aimed to understand how consumer's decision making processes work, how the internal and external factors affecting these processes and behaviors will differ and how these differences will affect the marketing strategies of firms through various psychological, situational and socio-cultural factors of consumer behavior theories, psychological and sociological bases and consumption process.
TQM IN TOURISM AND HOSPITALITY INDUSTRIES
This course is designed to enable students to understand the principles, concepts, processes and procedures related to Total Quality Management (TQM). Quality will present the various TQM frameworks and quality improvement tools needed to apply the culture. The main aim is to reduce waste, increase quality, ensure total customer satisfaction and ultimately strengthen competitive advantage. In addition this course aims to achieve the acknowledgement of the concepts of Total Quality Management and Quality Management Systems, introduction to Total Quality Management Techniques and Statistical Process Management tools. The following topics will be discussed in the course; Competition and quality concepts, Total Quality Management principles and practices, Total Quality Management tools and techniques, Statistics, Probability, Control charts, reliability are among the topics of this course.
SERVICE QUALITY MANAGEMENT IN TOURSIM INDUSTRY
Quality is regarded as a vital component of every organization and will continue to remain important for improving organizational performance and achieving competitive advantage in a firm's industry be it a service or a manufacturing organization. Therefore, the focus of this course will be to expose the students with the contemporary quality management principles, practices and tools to help enhance their skills and abilities to identify, analyze and understand the impacts of quality management systems in any organization. Students should be able to: 1. Understand varying quality definitions and philosophies. 2. Explain different quality management methodologies, including design for Six-Sigma. 3. Apply quality management techniques to reduce variation and improve quality, processes, systems, products and services.
INTRODUCTION TO TOURISM AND HOSPITALITY INDUSTRY
MANAGEMENT FOR TOURISM AND HOSPITALITY INDUSTRY
TRAVEL AND TOUR OPERATIONS
HUMAN RESOURCES MANAGEMENT
Managing the human capital in the new economy is a challenge for all business professionals. This course addresses this challenge by protecting the uniqueness of general practice and real-world application that brings together technology, teams and virtual learning methods. Practical tips and suggestions provide effective ways to cope with the challenges of communication, leadership, discipline, performance appraisal, business relationships and compensation management. The aim of the course is to provide a detailed understanding and appreciation of the strategic priorities of the human resources management in reaching the goals of the organizations. Strategic human resources management, human resource management, planning and recruitment, orientation, training, salary, etc., will be conveyed to the students within the scope of course content.
STRATEGIC MANAGEMENT FOR TOURISM AND HOSPITALITY ENTERPRISES
All tourism and hospitality sector enterprises should use strategic management theories in a systematic way to perceive competing companies in their environment and evaluate them for the purpose of developing each field of competitive advantage. The aim of this course is to provide the students with the necessary training to gain strategic management and systematic thinking process. This course also aims to provide students with the opportunity to understand implement and critically evaluate strategic analysis for tourism organizations and destinations. It analyzes and criticizes the strategies of specific tourism organizations and destinations, and provides an understanding and critical evaluation of the factors that can contribute to a successful strategy. It ensures that the students evaluate the strategies, their suitability and whether they are successful.
E-TOURISM
Since technology and tourism are two of the world's fastest expanding industries, graduates with a mix of tourism, business, and ICT (Information and Communication Technology) abilities are in high demand, making them very attractive workers. The course is designed to provide students a wonderful learning experience. by investigating how information and communication technologies (ICTs) affect tourism – both for personal experiences and for the tourist industry as a whole. Students will learn how to design, conduct, and assess e-Tourism-related activities, particularly when it comes to analyzing a tourist destination's online image. Students will also learn how to map various tourism-related communication activities, how to do a usability test and conduct a website or mobile app user analysis, e-Tourism apps, technology, and practices.
TOURISM AND HOSPITALITY RESEARCH
SERVICE MARKETING IN THE TOURISM INDUSTRY
Tourism is a service sector which earns a substantial foreign exchange to developing countries. It is important to remember that many product-based organizations have a strong service component. This course was developed because for business, in any industry, service provision is a key differentiator. The implications of service provision, and how services are best managed and marketed, are steadily gaining importance. Therefore, students who plan to work in service industries, or the customer service division of manufacturing industries, must be prepared sufficiently to do so. This course aims to help students understand the practical implications of the unique characteristics of services and service provision and to help them cope with the challenges of marketing and managing a service.
LEADING, TRANSFORMATION AND CHANGE
MARKETING FOR TOURISM AND HOSPITALTY INDUSTRY I
NEGOTIATION TECHNIQUES AND CONFLICT MANAGEMENT SKILLS
MARKETING FOR TOURISM AND HOSPITALITY INDUSTRY II
MARKETING FOR TOURISM AND HOSPITALITY INDUSTRY II
ORGANIZATION BEHAVIOUR
The aim of the course is to provide students with a basic concepts related to organizational behavior and show them how individual and group behavior is important for the management of an organization.
TOURISM ECONOMICS
The main aim of the course is to examine the role of tourism in the economic life of countries using the basic concepts taught in the entrance economics courses. At the end of the semester, students will be equipped with necessary knowledge and tools to examine and examine the economic impacts of factors affecting tourism national income, balance of payments, employment and tourism supply and demand. In addition this course exemplifies economic aspect of the tourism industry, analysis macro and micro economic concepts including scarcity, opportunity cost, supply and demand, market structures, flexibility, GDP, GNP, employment, income distribution, exchange rates, balance of payments and investment decisions, branding, the contribution of the tourism sector to the economy, and the effects of sustainability on tourism development.
INDUSTRIAL, ORGANIZATIONAL AND WORK BEHAVIOR MANAGEMENT
The application of principles, theory and research of industrial organization, work behavior management and behavioral science knowledge in the context of work setting is explored in this course. The main goal of the course is to outline how businesses and their organizations can be designed so that both employees' efficiency and quality of life are improved. The covered topics comprise job analysis, training and development, personnel decisions, organizational change, leadership, motivation, teamwork, occupational stress and well-being, personnel assessment, history and evolution of the field, as well as other related subjects on employer-worker relationship. The course also includes developing students understanding of the questions raised and answered by scholars in the field and the methods used to answer those questions in paper writing.
ORGANIZATIONAL COMMUNICATIONS
TECHNIQUES FOR STATISTICAL ANALYSIS
MULTINATIONAL COMPANIES AND ISSUES IN GLOBALISATION
MULTINATIONAL COMPANIES AND ISSUES IN GLOBALISATION
BANK MANAGEMENT
This course is an introduction to the modern theory of banking and financial intermediation. Despite their long history and importance, banks do not easily fit into the models that economists typically use. It will examine different modelling approaches, with an emphasis on models based on asymmetric information. We will also study theories of financial instability and regulatory response to instability. After the completion of this course students will have detailed information regarding the following topics; Banking and the Financial Services Industry, Government Policies and Regulation, Analyzing Bank Performance, Managing Noninterest Income and Noninterest Expense, The Performance of Nontraditional Banking Companies, Pricing Fixed-Income Securities, Managing Interest Rate Risk: Earnings Sensitivity, Managing Interest Rate Risk: Duration Gap and Economic Value of Equity, Using Derivatives to Manage Interest Rate Risk, Funding the Bank, Managing Liquidity, The Effective Use of Capital, Overview of Credit Policy and Loan Characteristics, Evaluating Commercial Loan Requests and Managing Credit Risk, Evaluating Consumer Loans, Managing the Investment Portfolio and Global Banking Activities.
MODERN THEORY OF BANKING AND FINANCE
This course discusses financial governance and explains how financial markets and institutions complement each other. It also identifies the economic forces work within financial systems and explores how they determine system organization.This course also offers a theoretical survey of financial activity and its application to numerous practical situations. Course also explains both static financial system organization and the dynamics of financial system evolution. After the completion of this course students will have detailed information regarding the following topics; Financial System Functions, Financial System Governance, Financial System Organization and Change, Market versus Nonmarket Governance, Market Governance,Intermediation and Internal Governance, Terms of Deals, Pricing Stocks and Bonds, Pricing Derivatives by Arbitrage, Markets with Impediments to Arbitrage Securities, Bond and Mortgage Markets, Markets for Trading Risks, Exchange Rates and Markets, Marketable Securities Portfolios, Nonmarketable Securities Portfolios, Principles of Intermediation, Management Practice: Domestic Institutions, International Banking and Banking Markets.
INVESTMENTS MANAGEMENT
Develops an understanding of the models and concepts of profitable investing, relying on theoretical development and consideration of observed pricing, market, and participant behavior. Examines the markets through which investment funds are channeled and the motivations of the investing and borrowing communities.On successful completion of this course, all students will have developed knowledge and understanding on: how securities are Traded, Mutual funds and other investment companies, Global Financial Instruments, Efficient Diversification, The efficient market hypothesis, Intentional investing, Taxes. Inflation, and investment Strategies, Investors and the investment process, Behavioral Finance and Technical analysis. Examines the markets through which investment funds are channeled and the motivations of the investing and borrowing communities.
DESIGN THINKING AND SECTORAL INNOVATION
This course has been developed specifically for individuals and teams who want to learn a proven, systematic approach to developing new products. The course focuses on strong problem-solving processes that begin with design thinking and understanding unmet customer needs. The course covers an innovation process that includes concept development, applied creativity, prototyping, and experimentation. Design thinking approaches and their applications to work are explained. Major course topics include the critical design thinking skills needed to improve an existing product, design a new product or new manufacturing processes. In addition, the course covers topics such as creativity, design, customer experience, innovation, product, R&D and strategy studies in order to focus on increasing innovation, growth and customer experience based on understanding.
HUMAN RESOURCE MANAGEMENT
Managing human capital in the new economy is a challenge all business professionals face. This course addresses that challenge by retaining its unique orientation to overall practicality and real-world application incorporating technology, teams and virtual learning methods. Practical tips and suggestions provide effective ways of dealing with problems in communication, leadership, discipline, performance appraisal, labor relations, and compensation administration.
NEW COMMUNICATION TECHNOLOGIES
Focusing primarily on the internet and digital cultures, this course will explore the theoretical and practical debates that have developed around the concept of 'new media'. Topics to be studied include interactivity, social networking, media convergence, cyberculture and the emergence of 'web 2.0'. Are these developments anticipated by pre-existing studies of communication practice, or are new theoretical models required to understand them?
LANGUAGE OF SCIENCE AND CRITICAL EVALUATION
The main focus of this course is to crystallize the students' capability of accessing, reading and understanding the evidence that is revealed through social sciences literature to guide inquiry; the use of measurement or manipulation; and an assessment of relationships under controlled, objective, and systematic conditions. The abundance of information made readily available by internet created important problems like selecting and assessing. Hence the aim is to increase awareness and furnish the students with the basic tools of critical evaluation to detect those fine nuances between what is right and what is not, the ability to capture the meaning of several, often contradictory signals and stimuli, to interpret them in holistic and integrative manner, to learn from them, and to act on them.
SUSTAINABLE MARKETING
This course tries to introduce the concept of sustainable approach due to the fact that the environment play a crucial role in sustainability studies at the top of the agenda for many organizations. Marketing has a key role to play in driving this agenda. This course tries to explore the complex and challenging environment of sustainable marketing strategies and actions. It firstly starts by considering the background of traditional marketing in order to understand some changes that have occurred over recent times and their significance. From corporate social responsibility to societal and green marketing movements, leading to the development of sustainable marketing practice. This course relies on the most complete and the accessible introduction to sustainable marketing in various markets.
MANAGEMENT INFORMATION SYSTEMS
PORTFOLIO THEORY AND EQUITY ANALYSIS
The aim of the course is to provide students with knowledge of portfolio management concepts such as Markowitz Portfolio Selection Process, Efficient Frontiers, Capital Asset Pricing Model and Arbitrage Pricing Theory. This course will enhance the student's critical thinking as well as knowledge of specific techniques in the investment process, the global market investment decision, efficient capital market, stock market inefficiencies (anomalies), behavioral finance, variables that forecast stock returns, quantitative optimization methods based on stock return forecasting models and mean-variance analysis, equity style management, transaction costs, quantitative optimization methods based on stock return forecasting models and mean-variance analysis and measuring the performance of active portfolio managers.
INTERNATIONAL FINANCIAL MARKETS
This course develops the principles of international finance to gain an understanding of exchange rate dynamics, international financial flows, and recent events in both developed and emerging economies. The main topics are exchange rates, interest rates, and the derivatives (contingent claims). On successful completion of this course, all students will have developed knowledge and understanding on: options markets, options Valuation, Future markets, Bond prices and Yields, Managing Bond. Monetary Authorities, Risk in investing Mortgages and Financial crises,Equity markets, Commercial banking ,Regulation of banks. Monetary Policy , Money Markets, Capital Markets, Supply and Demand for loanable funds and exchange rates, interest rates, and the derivatives (contingent claims).
MESSAGE DESIGN AND MEDIA MANAGEMENT
This course aimed to analyse the forming and designing the planned message and its communication techniques and media within the framework of practices in strategic communication management. Relating to this, the case studies on how the effective media management should be are examined.
FILM AESTHETICS
This course aims to develop the skills and knowledge necessary for analyzing film as an art and an aesthetic category. The course focuses on film theories and film criticism and gives special attention to detailed film analyses. Within this context it examines and analyzes the film styles of "auteur" filmmakers and compares their cinematographic styles with those of mainstream filmmakers.
HISTORY OF MANAGEMENT THOUGHT
The main aim of this course is to introduce the students with the main approaches in management and equip them with the required knowledge about different perspectives of management theory. The course will start with the chronological introduction of different schools in management and knowledge will be provided on the development of management discipline over the years. Later on, the contemporary management theories and approaches will be instructed to the students.
ADVANCED MACROECONOMIC THEORY
MARKETING IN GLOBAL ENVIRONMENT
The aim of this course is to familiarize students with global competitive business environment and enhance their knowledge and skills required to successfully operate in a dynamic global market place. The course builds upon the primary concepts of marketing and will enable the students to practice applying those concepts to a global environment. The course also focuses on environmental concepts like cultural, demographic, economic, political, and legal factors as they affect a firm's global success. The main topics include operational and transactional aspects of global marketing strategies on a corporate level. After successfully completing the course, the students will have a better knowledge about the myriad of activities required to compete outside the "home" country.
Students who are interested in pursuing advanced graduate studies leading to a master's, doctoral degree, or professional doctorate degree for the Fall and Spring semesters every year. Applicants can directly apply online to our graduate programs using the application portal.
TRNC Applicants- Required documents:
Bachelor's Degree Diploma
Bachelor's Degree transcripts for each completed academic term/year.
Documents to prove English proficiency for English language departments,
Scanned copy of passport or identity card.
Click for detailed admission requirements information.
Students who are interested in pursuing advanced graduate studies leading to a master's, doctoral degree, or professional doctorate degree for the Fall and Spring semesters every year. Applicants can directly apply online to our graduate programs using the application portal.
International Applicants- Required documents;
Bachelor's Degree Diploma
Bachelor's Degree transcripts for each completed academic term/year.
Evidence of English Language competence: TOEFL (65 IBT) or IELTS (5.5). Students without these documents will take the CIU English proficiency exam on campus following arrival.
Scanned copy of international passport/birth certificate
CV
Fully completed and signed CIU Rules and Regulations document (which can be downloaded during the online application)
Click for detailed admission requirements information.
Cyprus International University provides academic scholarships for its students as an incentive for success, with most students benefiting from 50%, 75% or 100% scholarships or discounted tuition fees. Click for more information.
| | |
| --- | --- |
| Fee pe​r course     | € 350,00 |
| Fee for thesis     | € 1.050,00 |
| Fee for seminar     | € 120,00  |
| Scientific Foundation per course     | € 150,00 |
| Registration and other fees* | € 245,00 |
| Student Union fee | € 50,00     |
|   | VAT Exc. |
*Applies to 1st. Year students. € 195,00 for others.