Program
22 May 2023
Time
Speaker
Seminar
Seminar Language
9:00
Prof. Dr. Halil Nadiri, The Rector of Cyprus International University
Opening Speeches
Turkish and English
Hasan Taçoy, TRNC Minister of Labor and Social Security
9:30
Prof. Dr. B. Gültekin Çetiner, Marmara University
Dynamics of the 21st Century
English
Break
11:00
Prof. Dr. Nedim Mutlu, Akdeniz University
Seed- Biotechnology-  Sustainable Agriculture
English
Break
14:00
Bihter Beyazyüz Çevirgen, CreditWest Bank
The Unstoppable Sector During the Pandemic
English
Break
15:30
Togan Çakmak, Vodafone
Bringing Today's Technology to the Island with 4.5G
English
23 May 2023
9:30
Dilem Dana, The Arkın İskele Hotel
Forget Safety; Live Where You Fear To Live 
English
Break
11:00
Ceren Karapaşa, Brasserie Chaglayan
Happiness Is Hidden in Small Moments
Turkish 
Break
14:00
Dr. Eda Aksoy, Koç University
Leadership and Career
English
24 May 2023
9:30
Fehmi Gürdallı, Tukish News Agency
Changes In Media
English
Break
11:00
Prof. Dr. Galip Yüksel, Gazi University
Career Journey in the Education Field
Turkish 
Break
14:00
Gülşah Ertürk ve Canan Sarı, Liv Hospital
General Human Resources and Patient Care Services in the Field of Health
English
Prof. Dr. B. Gültekin Çetiner
Born in Eskişehir in 1963, Prof. Dr. B. Gültekin Çetiner completed his undergraduate studies at Gazi University in 1985. He pursued his master's degree at Marmara University and later at the University of Manchester in 1991. He completed his doctorate at Cardiff University (UK) in 1996. He started working as an assistant professor at Istanbul Technical University's Faculty of Aerospace Engineering. He became an associate professor in 1999. He has taught at King Abdulaziz University, Sunderland University, and the International Islamic University of Malaysia. He was awarded the title of professor in 2009. He served as the dean of the Faculty of Economics and Management Sciences at the International University of Sarajevo in Bosnia and Herzegovina. Later, he became the rector of the same university. He was nominated by the European Business Council for the European Rectors Club. While serving as the rector, he played an important role in the mutual cooperation agreement between Yalova University and the International University of Sarajevo. Since 2014, Prof. Dr. Gültekin Çetiner has been continuing his academic activities at Marmara University. His main areas of expertise include industrial/systems engineering, manufacturing engineering, information systems, engineering management, and management information systems. During this time, he has served as the Head of the Department of Industrial Engineering, Vice President of the Turkish Aerospace and Defense Industry, Founder of Komodo Informatics, Research and Development Deputy General Manager and Board Advisor of Teknopark Istanbul, Founder of Marmara Innovative Solutions Lab, and Founder of Marmara Chain.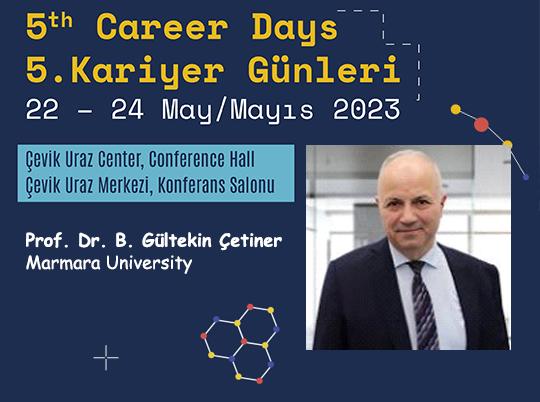 Prof. Dr. Nedim Mutlu
Born in 1972 in Adana-Kozan, Prof. Dr. Nedim Mutlu completed his master's degree in 1998 and his doctorate in 2002 at the University of Nebraska, Faculty of Agriculture in the field of Plant Breeding and Molecular Genetics. After working as a Post-doc and Research Assistant Professor at the same university's Biotechnology Center, he started working at the Faculty of Agriculture of Akdeniz University in 2009. In 2010, he established the Department of Agricultural Biotechnology and obtained the titles of associate professor and professor. His research focuses on plant breeding, plant biotechnology, genetic modification (CRISPR) to enhance yield and quality in agricultural production, plant physiology, genetic resistance to plant diseases and pests, among other topics. Prof. Dr. Nedim Mutlu is a respected researcher with published studies in numerous national and international scientific journals. He has also participated in various private sector R&D and national and international projects. He has conducted extensive research and published works in the seed sector. Prof. Dr. Nedim Mutlu provides guidance to undergraduate and graduate students and participates in agricultural faculty programs. He is a scientist who has made significant contributions to Turkey's agricultural production.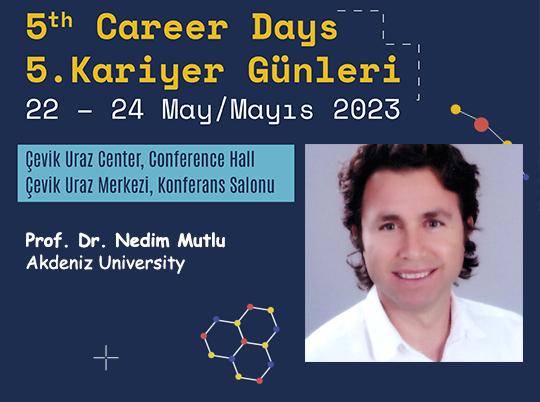 Bihter Beyazyüz Çevirgen
Bihter Beyazyüz Çevirgen has completed her education in Public Administration as a major and International Law as a minor at Gazi University Faculty of Economics and Administrative Sciences. She returned to Cyprus in 2008 and started her working life mainly in the banking and finance sector working in different banks and departments. She is currently completing her MBA program at Cyprus Science University with her thesis on "The Impact of Covid-19 on the Performance Ratio of Local and Turkish Banks Operating in North Cyprus". Çevirgen, who is also an authorized auditor, is currently working as an inspector at the CreditWest Bank Inspection Board.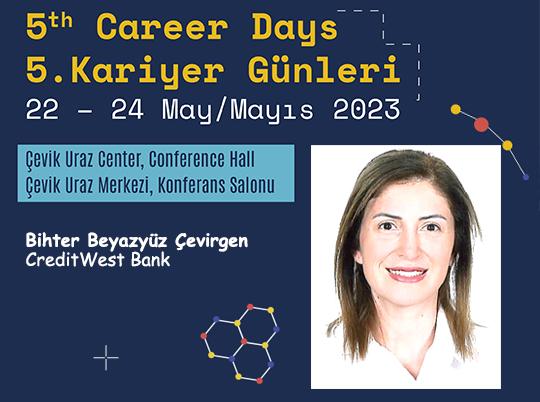 Togan Çakmak
General Manager Assistant of IT & VAS at Vodafone Mobile Operation Limited. He completed his undergraduate education in Computer Engineering at Eastern Mediterranean University in 2008 and his graduate education in Information Technologies at the University of Surrey in 2009. Between 2010 and 2011, she worked as a Specialist Computer Engineer under the Business Women's Association in the 7-month European Union Project, and took an active role in training intermediate staff in Cyprus. In this project, he led the establishment of computer laboratories in 3 different towns (Lekoşa, Dikmen and Yeni Boğaziçi) and took part in the training of more than 250 people in 2011. Between 2011 and 2012, he worked as the Software Manager at Yeba Teknoloji company and accomplished successful projects. During this period, he took an active role in the design and development of the Cyprus Turkish Football Federation Information system, Website and Mobile application. In addition, it has developed Signature Slips and Identity OCR (Object Character Recognition) technology for local banks and launched the application with 2 local banks. In January 2012, Yeba left technology and experienced a 3-month transition period at Anka Teknoloji. In 2012, he started to work as a software specialist at Vodafone Mobile Operations Limited and undersigned successful projects. During 3 years, he took part in many projects in the field of Stock integration project, Faulty Device registration system installation and GSM. After successful projects, he was promoted to the role of Senior software specialist. In 2014, he assumed the role of a board member in the Chamber of Computer Engineers and took an active role in social responsibility projects for 6 years. As a Senior Software specialist, he took part in the Call Center IVR (Smart Voice Response) project, MCKS Integration, IBM Maximo Integration, Winback Project and many GSM-based projects. He took an active role in ISO audits at Vodafone Mobile Operations Limited, by obtaining ISO 2000 internal auditor certificate in 2008. By participating in PMP certification trainings in 2017, he completed his development in project management and was promoted to the title of Senior Project Management and took an active role in the field of project management within the company. During this time, he successfully completed his work in NTS (Number Transport System) project, Call Center automatic call Project, Data Ware House Installation project and Cyprus Roaming Projects. After 3 years of Project management, he assumed the role of Value Added Services Team Leader, gained experience in the field of Live pricing, established the Invoice Assurance team and took an active role in its management. In order to reduce the costs of the company in the IT sector, it has taken an active role in the transfer of all paperwork to the digital environment with the Biometric Signature Project and has reduced the paper costs of the company to zero. Assuming the role of Assistant General Manager of Information Technologies since December 2021, she continues her working life with the responsibilities of adding vision and realizing it to Vodafone Cyprus (Telsim) company actively in Digital Transformation projects. As of April 2022, he has been the chairman of the Chamber of Computer Engineers and continues to undertake social responsibility projects.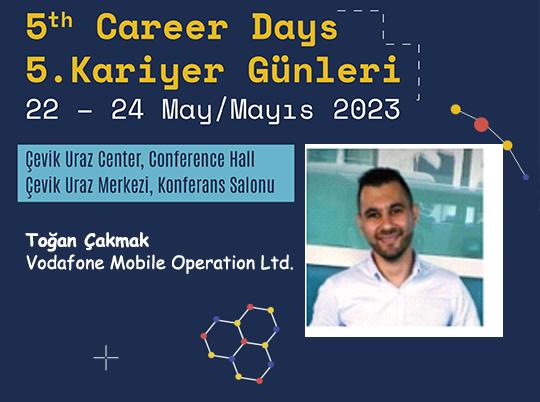 Dilem Dana
Born in 1992 in Northern Cyprus. She graduated from Famagusta Turkish Maarif College in 2010. In 2010, she entered Durham University, UK, Department of Psychology and completed her 4-year undergraduate education. In 2017, she completed her MA in Strategic Human Resource Management and Labor Relations at the University of Gothenburg (Sweden). She is currently a PhD candidate in Tourism Management at Eastern Mediterranean University. In 2017, She worked at DB Schenker (Germany) as a Global Human Resources Specialist and she worked on Strategic HRM project, such as diversity management, employee satisfaction, mentoring/coaching and employer branding strategies. References from Successful Women, Men's Perspective on Diversity, Global Mentoring Program Diversity Game Presentation, Diversity Marketing/Employer Brand are the main diversity projects she was responsible for. In February 2018, she took charge as Cyprus Paradise/Malta Paradise Social Media Marketing Supervisor and was responsible for Malta Paradise's social media marketing "Facebook, Twitter, Instagram" accounts. From 2018 to 2022, she worked as a part-time academic instructor in the Department of Business Administration at Eastern Mediterranean University. In 2020, she became the Human Resources Coordinator of Acapulco Hotel and she was responsible for Employer Branding projects, trainings and Social Media Marketing projects. She worked as a Google Advertising Specialist in Portugal during 2022-2023. Dilem Dana is currently working as a Human Resources Manager at The Arkin Iskele Hotel.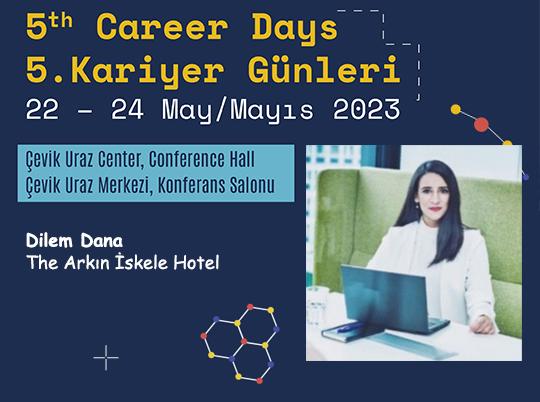 Ceren Karapaşa
Ceren Karapasa was born in 1992 in Köşklüçiftlik Lefkoşa. After completing her secondary school education at Lefkosa Fine Arts High School music department and senior high school education at Kyrenia Anafartalar High School, she went to the gastronomy school in Switzerland called Culinary Arts Academy Switzerland. Since the third year of her education, she has worked in London at Kaspar's Savoy Hotel, at Savoy Grill with Chef Gordon Ramsey, at Le Gavroche (**) with Chef Michel Roux, and at Dinner by Heston (**) with Chef Heston Blumenthal, respectively. In 2020, she returned to Switzerland and started working at the Mandarin Oriental Hotel in Geneva. At the same time, she completed her education and graduated with a Swiss Higher diploma in 2021. In 2021, she provided consultancy services to the Brasserie Chaglayan project and took on the task of menu and kitchen installation. In July 2022, she returned to the island and started working as the Head Chef at Brasserie Chaglayan.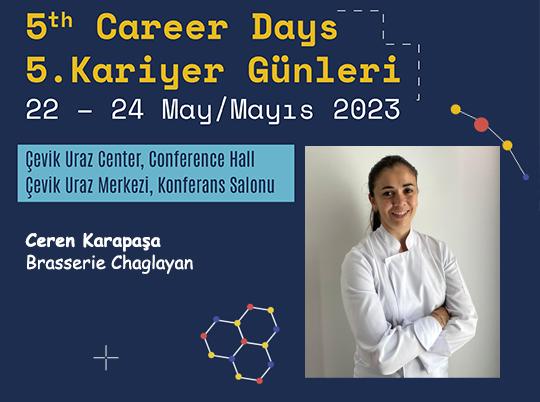 Dr. Eda Aksoy
Eda Aksoy is a doctoral faculty member in management and strategy at Koç University in the Faculty of Administrative Sciences and Economics, where she teaches undergraduate and graduate courses in organizational behavior, human resource management, and leadership. She received her undergraduate degree in economics and psychology from Denison University in the United States and later worked on developing HR systems in the banking sector in Turkey. She earned a master's degree in industrial and organizational psychology from Koç University and a Ph.D. in management and organization from Sabancı University. Her dissertation was awarded the Ralph Alexander Best Dissertation Award in 2017 by the Academy of Management HR Division. Her research interests include process-based strategic HR management, organizational climate and leadership, and her scientific studies have been published in leading international journals such as Human Resource Management, Applied Psychology, and the Journal of Cross-cultural Psychology, as well as presented at conferences and included in books.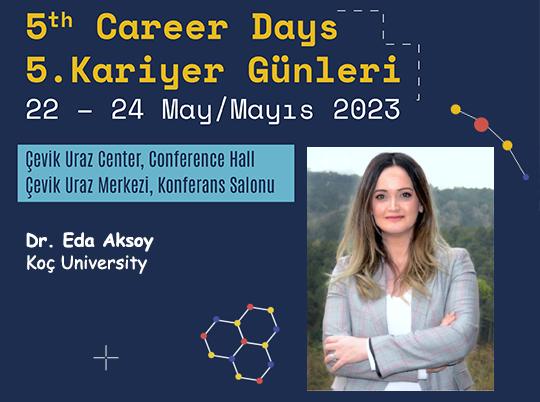 Fehmi Gürdallı
Fehmi Gürdallı is an experienced journalist and media professional born in Nicosia, Cyprus in 1974. Gürdallı, who has expertise in international news and geopolitics, has made significant contributions to the field of journalism by gaining various experiences in the fields of news agencies, television and consulting. Gürdallı's professional career began in 1999 when he joined NTV News Center as an International News Desk Editor. Over the years, he was promoted to the position of assistant director. Gürdallı's dedicated work and expertise led to his appointment as International News Director at NTV in 2009. In this role, Gürdallı, who manages the International News Desk, supervises news editors and foreign correspondents and plays a key role in the content creation, editing and production of foreign news, had the opportunity to conduct exclusive interviews, including a one-on-one TV interview with United Nations Secretary-General Ban Ki-moon. He has developed collaborations with international news agencies and foreign news channels. Gürdallı's areas of expertise include energy geopolitics, the Middle East, the European Union and Cyprus. In 2016, he stepped into the field of consulting and freelance journalism and provided expert opinions on international relations, energy and media issues. Between March  2017- April 2018, he was the Foreign News Director of Haberturk, which is also one of Turkey's important news television. Gürdallı has been working as the Director of the Turkish News Agency – Cyprus since 2018.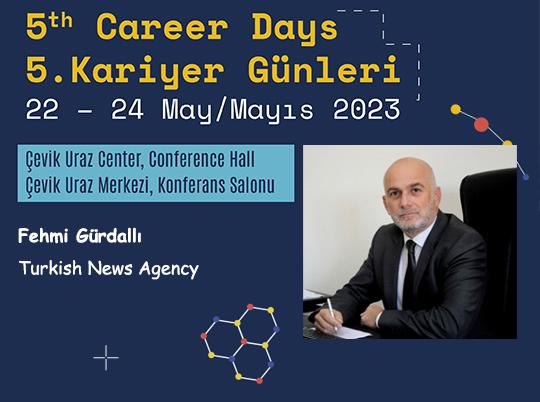 Prof. Dr. Galip Yüksel
Galip Yüksel graduated from the Department of Guidance and Psychological Counseling at Gazi University in 1987. He completed his master's (1990) and doctoral (1997) studies in Psychological Counseling and Guidance at the same university. Yüksel started his academic career as a lecturer in the Department of Psychological Counseling and Guidance at Gazi University in 1992. He later worked as an assistant professor (2000-2005) and associate professor (2005-2010). Since 2010, he has been working as a professor in the same department. Yüksel served his military service as a Reserve Officer and volunteered at the Smoking Cessation Unit of the Gazi University Faculty of Medicine (2001). He also served as a visiting faculty member at Michigan State University (2003) and the University of Florida (2016). He has held positions such as Deputy Chair of the Department (2005-2013), Deputy Director of the Migration Research and Application Center (2003-2008), and Chair of the Department of Psychological Counseling and Guidance. Yüksel has worked as an assistant editor for the Turkish Journal of Psychological Counseling and Guidance and is a member of the editorial board of the Turkish Journal of Educational Sciences and the Turkish Psychological Counseling and Guidance Association (TPDR). He has been involved in various projects, including serving as Deputy Project Coordinator for the Gazi University Faculty Profile Project (2003) and the Turkish Universities Research Project (2006), and as project coordinator for projects such as Effective Participation of Disadvantaged Children in Education (2006) and Examination of Adolescent Work Concept. He has served as a member of the Academic Evaluation and Quality Improvement Board (2005-2010; 2019-2020). Yüksel, in addition to articles and book chapters, is the translation editor of books such as "Lifespan Development: Developmental Psychology" (Santrock, 2021), "Educational Psychology: Theory and Practice" (Slavin, 2019), and "Learning the Art of Helping: Basic Helping Skills and Techniques" (Young, 2021). He teaches courses and provides counseling at the undergraduate and graduate levels in the field of psychological counseling and guidance. Currently, as a faculty member in the Department of Psychological Counseling and Guidance at the Faculty of Education, Gazi University, Yüksel continues his research on the training and competencies of psychological counselors, online psychological counseling, socio-emotional development, and cultural perspectives on learning and development.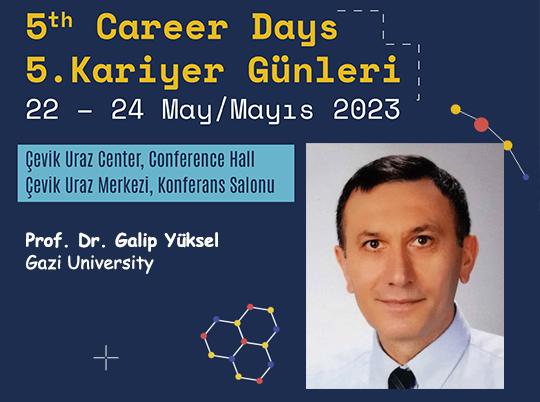 Gülşah Ertürk
Gülşah Ertürk is a human resources professional, professional coach and employee experience designer. She studied Economics at Çukurova University and specialized in coaching at Adler Coaching School. Having developed herself by participating in many seminars and certificate programs, Ertürk has been a leader in international projects and has served on various committees and organizations. Ertürk is experienced in corporate and individual coaching projects and has contributed to voluntary projects in the field of career and leadership coaching. Specializing in human resources, Ertürk has taken an active role in areas such as employee experience design, strategy creation, change management and organizational development. Having also served as a human resources manager, Ertürk assumed many responsibilities and took leadership in issues such as strategic management, policy making, performance management and employee loyalty. Gülşah Ertürk has played an active role in the field of human resources with her extensive experience and successful projects. By working as a professional coach, she has contributed to the development of many people and achieved successful results by providing consulting services to companies. As a passionate and effective professional, Ertürk makes valuable contributions in the field of human resources.
Canan Sarı
Canan Sarı is the Manager of Patient Care Services at Liv Hospital Ulus in Turkey. She received her undergraduate degree in nursing from Istanbul University in 1998 and completed her graduate degree in public health nursing at Marmara University in 2006. She conducts research on nursing and public health topics. Sarı has taught at institutions such as Istinye University, Koç University SANERC, and Kadir Has University. She has extensive work experience in the healthcare sector. From 2004 to 2014, she served as an Education Nurse at the American Hospital in Istanbul for nine years, playing an active role in all quality activities including JCI accreditation and ISO 9001 certification. She was responsible for improving and enhancing internal hospital processes, conducting audits, and creating content for patient education. From 2015 to 2020, she worked as an Education Specialist at Liv Hospital, providing training on topics such as first aid, hygiene, communication, problem-solving, and teacher training. Sarı played an important role in developing and implementing processes for special patient groups such as diabetic, end-stage, elderly, and pediatric patients. She was also responsible for supervising the performance evaluation system for nursing staff and creating and monitoring performance indicators for nursing services. Her responsibilities also included organizing seminars, participating as an instructor in conferences and seminars, approving or rejecting all research/survey/thesis studies conducted in the hospital, and planning, implementing, and monitoring all training programs in the hospital.