About the Department
The CIU Department of Psychology established in 2010, under the Faculty of Arts and Sciences, with the approval of the Higher Education Council (YÖK) in Turkey. During the first three years, the medium of instruction for the undergraduate program was entirely English; however, in 2013, the Turkish program was opened and began training and educating prospective psychologists who prefer to study in this rapidly growing field. The main objectives of the undergraduate program are to teach courses in general psychology as well as the various sub-fields of psychology including social psychology, developmental psychology, experimental psychology, industrial psychology, cognitive psychology and clinical psychology and to provide basic knowledge in psychology; to teach scientific thinking skills and academic research techniques; to adhere to professional ethical principles and practice; and to train psychologists with advanced communication skills. 
Accreditations
The Psychology Program has been since February 2018, by the Association for the Evaluation and Accreditation of Science, Literature, Science-Literature, Language and History-Geography Faculties Education Programs (FEDEK), which is a leading accreditation body in Turkey known for its innovative and continuous development in accreditation. The rapidly growing and developing Psychology Department at CIU received its well-deserved accreditation (FEDEK) in December 2017 for 5 years. Moreover, the CIU Department of Psychology is the only psychology department in the TRNC that has obtained this accreditation and it is also among the very few departments accredited throughout Turkey.
Education Opportunities
Our undergraduate and graduate programs are designed to provide students with advanced theoretical, empirical, and methodological knowledge in specific fields of psychology while providing them with opportunities to apply and integrate this knowledge into their areas of expertise. Students equipped with this foundation are anticipated to either pursue an academic career or to work in the field as either practitioners or researchers.
Our state of the art neuropsychology lab, which is the first and only neuropsychology lab in the TRNC, is fully equipped (from neuropsychological test batteries to EEG) and open for public service. In our neuropsychology lab, research topics such as memory, executive functions, cognitive development, and neuropsychological assessments are of priority. Studies carried out in the lab are done with students assigned to the projects and are supervised by the department's experienced academics. Additionally, students are encouraged to develop and carry out research projects in their field of interest, also supervised by academics in the department.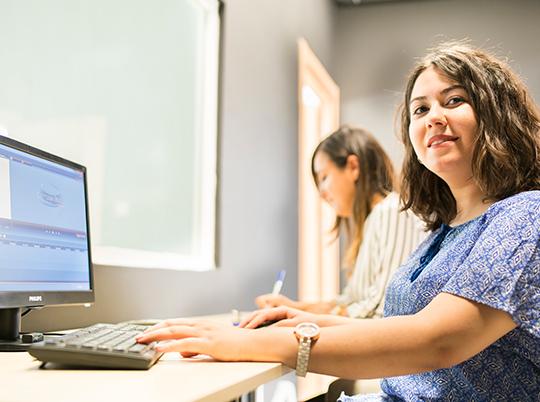 Career Areas
Psychology graduates can work as psychologists in all areas that interact with people, such as clinics, hospitals, educational institutions, and in administrative positions at housing and day-care centers or nursing homes, in organizations focusing on increasing work-place productivity and the well-being of employees, and in professional sports and athletics areas in order to improve the performance of the responsible athletes and sports clubs. Graduates can become psychologists, researchers, guidance teachers, management psychologists, or work in forensic institutions, family courts, criminal courts, psycho-evaluation centers, corporations, and human resources departments. Also, they can seek out careers in public relations or management units, public organizations, advertising companies, copywriting departments and/or work as private consultants. Graduates who are interested in becoming researchers, teaching assistants, or working in academia can pursue their master's degree and/or Ph.D. Moreover, graduates who are interested in working in a clinical and practical setting are also obliged and encouraged to pursue their master's degree in a related program. Finally, they then can set up their own consulting and training companies or offer a variety of services to businesses on personnel selection and training.
Compulsory modules
First Semester
BIOLOGY-I
The course starts with a brief introduction on evolutionary and environmental adaptations of the human beings. Students are provided with an understanding of the biological bases of behavior. The course includes a short introduction on the importance and methodologies used in the biological sciences and describes the basic characteristics of living organisms, the chemical and physiological basis of vitality, the cell, its organelles and their functions. Students are familiarized with scientific articles on biology. Anatomy and the physiology of the cell is introduced with emphasis on understanding the functions of the nerve cell. The course is specifically dedicated to the human nervous system as well as brain mechanisms.
READING AND WRITING SKILLS-I
This course aims to develop students' listening, speaking, reading - writing and study skills. The course provides students with the opportunity to develop their communication skills through controlled activities and to equip students with the basic study skills necessary to follow the curriculum of English. This course also provides students with the opportunity to process the newly acquired knowledge and to develop their ability to ask questions about how to apply the new knowledge to new situations and ask them to think critically. In addition, this course will enable students to learn about the different strategies required to review the various reading pieces, such as finding the main idea and distinguishing the details from the main idea.
INTRODUCTION TO COMPUTERS
The aim of this course is to give the students an understanding of the fundamentals of computers such as the basic components of the computers, input, output, storage devices and processing as well as application and system software, utility programs and internet basics. At the end of this course students will be familiar with the computer terminology and able to use the word processing and spreadsheet programs as well as efficient internet usage. General presentation of computer technologies, Windows operating system and applications in the Microsoft Office packageWord, Excel, Access and Power Point , softwares used in pharmacies, drawing for academic purposes and web-based method of screening of literature are also covered.
GENERAL PSYCHOLOGY-I
The course describes the nature of psychology, defines contemporary psychology which has been around since the late 1800s and combines them with new approaches such behavioral, cognitive, and neuro-scientific perspectives via the means of technology. This course briefly describes the historical roots, modern approaches and major research methods utilized in psychology. The course also introduces several sub-branches such as clinical psychology, cognitive psychology, and experimental psychology and briefly describes the major subfields of psychology as defined by the American Psychological Association. The course focuses on current perspectives and research findings regarding psychological processes such as sensation, perception, different states of consciousness, learning, memory, cognition, reasoning, thinking, language, and intelligence.
SOCIOLOGY
This introductory course in Sociology begins with an overview of the nature of the discipline, followed by a survey of various aspects of the structures and dynamics of social life. The history of sociology, the views of its founders and the major modern sociological perspectives are examined afterwards. Research methods and theories in sociology are explored to illustrate how thinking sociologically adds to our knowledge of the world around us. In this course, basic topics of sociology such as culture, socialization, media, family, education, social stratification, urbanization, social change are analyzed through different sociological perspectives. The course is accommodated to groups of students with different backgrounds and professional education. Class discussions on covered topics are encouraged and are valuable parts of this course.
BASIC STATISTICS-I
This course aim to provide students elementary introduction to statistical reasoning, including sampling, elementary probability, statistical inference, and data analysis. Based on the first level of statistics in this course the aim is to prepare the students for more complex chapters such as hypothesis testing. Organizing data by frequency distributions and graphics, obtaining and interpreting descriptive statistics for the several distributions are the first step. Learning properties of normal distribution, transforming raw scores into standard scores, using standard scores in relation to norms of psychological tests constitute an important part of this course. Correlation and lineer regression analysis are the most basic analysis that will help students understanding the nature of statistical analysis.
TURKISH LANGUAGE
This course examines basic areas of language and expression. In the first half of the course, the theoretical approach to language is formed and the spelling rules of the Turkish language are studied. In the latter part of the course, language and narrative errors are studied together with editing. In the second half of the course, formal writing, curriculum vitae, petition, evaluation of the columns in terms of language and style, types of written expression and practice; Turkish production and application of shooting attachments; Turkish grammar structure; It is aimed to teaching subjects like phonetics of Turkish to students.
TURKISH
This course provides an orientation to modern Turkish language for foreign students who wish to communicate in this language for their needs. It mainly focuses on the differences between Turkish and English Alphabets, especially the sounds and the letters which are not included in the English alphabet (i.e. Turkish letters ç-ğ-i-ö-ş-ü). In addition, basic grammar and sentence structure forms in Turkish are practised. The required grammar and vocabulary will also be developed through their adaptation to daily situations in contexts such as introducing yourselves, greeting, talking about the things they possess by using possessive adjectives, forming positive, negative and question sentences by using present simple, telling the time, talking about their own timetables, using demonstrative pronouns when describing the place of objects and becoming familiar with vocabulary related to family members.
Second Semester
BIOLOGY-II
The course is a continuation of BIYO103 and starts with a short description of the systems in the human body. The course deals with the neuroanatomy, neurophysiology and neurochemistry of the central nervous system and specifically the brain. The students are provided with a body of knowledge on how the organismal biology operates and how it is related to cellular/molecular biology. The coverage of the course includes understanding of homeostasis, the chemical foundations of life and their relationship towards psychopathology, the skeletal and the muscular systems. The course aims to provide a body of knowledge for operations of sensory mechanisms and their interactions with daily life of the human beings.
READING AND WRITING SKILLS-II
This course is the continuation of ENG 101. The course aims to improve students' listening, speaking, reading, writing and working skills. In the course, students are guided in writing compare and contrast essays using Venn diagram. In addition, the aim of the course is to learn the necessary conjunctions for composition writing. In addition, the students will be able to write a four-part critical composition by learning the difference between ideas and factual real sentences and how to write the opposing opinion and sentences used to refute it. Thus, the students will be able to distinguish between the compare and contrast essay and discursive essay. Students will also be able to make presentations by using presentation techniques. In addition, this course aims to summarize the reading pieces of the students and to use the strategies of reading and to draw conclusions and meanings using their reading skills.
INTRODUCTION TO PHILOSOPHY
Philosophy is the attempt to answer the deepest and most fundamental questions about the universe, mind, society, art, etc., in brief, all aspects of the human life. The aim of this course is not only learn the ideas of the great philosophers of the history, but also explore how to improve critical and philosophical thinking skills. The course is designed to acquaint students with the concepts, methods, problems, and theories of different areas within philosophy. İn addition to these, the one of the main objective of the course is to provide an perspective of the philosophy's relation to other disciplines such as sociology, psychology, education, law, etc.
GENERAL PSYCHOLOGY-II
This course is the continuation General Psychology I (PSY101). This course provides students with the fundamental skills, contemporary approaches, and explain development, personality, social psychology and psychological disorders by major theories which will be divided into separate but specific courses in the following years. This course is designed to improve students' knowledge about psychological topics including language and thought, motivation and emotion, gender, individual differences, personality, social psychology, stress, health and coping, psychological disorders and treatment methods such as techniques of psychotherapy which would serve as a basis for more advanced topics to be taught in the subsequent years of study.
SOCIAL ANTHROPOLOGY
The aim of this course is to understand human cultural diversity and the origins of this diversity, as well as universal aspects of human societies. To understand humanity, it is necessary to compare human cultures both spatially and temporally. For these aims, the course begins with a definition and history of anthropology, continues with an introduction to the basic theories and research methods. The analysis of culture, language, kinship patterns, religion and mythology, gender, cultural evolution, social hierarchy and types of political power, race and ethnicity, occupies much of the course. Topics that are of great concern to modern societies such as globalization and its effects on cultural diversity and racism are explored with the anthropological perspective gained in the course.
BASIC STATISTICS-II
The objective of this course is to improve the knowledge of students on Statistics by using the topics are learnt in STAT 105, Basic Statistics I. The students will learn constructing hypothesis and confidence intervals for population means. Besides, based on the first level of statistics in this course the aim is to teach the students more complex chapters such as hypothesis testing, assumptions of parametric tests, one sample T test, independent sample T Test, paired sample T test, Chi square analysis, One and two way Anova. Also, interpretations of test statistics and p-values are evaluated in the contens of the course. These chapters will provide an advantage to students to interpret their results in the research articles.
Third Semester
ADVANCED READING AND WRITING SKILLS-I
The objective of the course is to develop sophomore students' academic reading and writing skills. First of all, the course aims to identify the distinct differences between a 3-paragraph and a 5-paragraph essay. Then students are in introduced to the format of a five-paragraph descriptive essay, which includes choosing a topic, making an outline by inserting the thesis statement, a topic sentence for each body paragraph along with the supporting sentences and a concluding paragraph. In terms of reading, students will learn previewing a reading text to predict what it will be about, identifying and outlining the main ideas, skimming and scanning a text to make predictions, reading and interpreting data in charts, graphs and tables. Students will acquire effective presentation techniques.
HISTORY OF CIVILIZATION
The aim of this course is to outline the development of civilizations in the course of history. It firstly focuses on the concepts such as "Civilization", "Prehistoric", and "Historic" and on the factors forcing the emergence of the first civilizations. As well as examining the prehistoric periods and their characteristics in the course of human life since the first appearance of human beings on earth, the course mainly focuses on the early civilizations, namely the Mesopotamian, Egyptian, Aegean, Classical Greek, Hellenistic, Indian, Chinese and Roman Civilizations. Political, social, economical, cultural, intellectual, philosophical and scientific aspects in these entities are also examined in this course.
SOCIAL PSYCHOLOGY-I
The course presents a historical overview of theories, principles, methods and research topics in social psychology. Topics to be covered include definition of social perception, attitudes and attitude formation, values and interpersonal attraction. Special emphasis is placed on the development of skills for a critical evaluation of information on social behavior and the impact of this behavior on daily life. The course provides examples for students that they can relate to their own daily life experiences which increase their understanding about the topics in particular and social psychology in general. The course provides students with an understanding of the basic concepts, procedures, social influence processes, interpersonal relations and attraction, helping and hurting others, groups and group processes, and applied social psychology.
DEVELOPMENTAL PSYCHOLOGY-I
The course includes an integrated account of various approaches to human development, emphasizing the relevant research findings and theoretical formulations. Special reference is made to psychomotor, cognitive, emotional, and social development from birth through adolescence. This course emphasizes the continuity of development from conception till death. Also to show how people influenced by their genes, their families and environment that they live in through the life span. The course explains the development which is systematic changes during the life span, describes significant changes in physical growth, mental abilities, emotional expression and social behavior and understands an interdisciplinary, cross-cultural and contextual perspective of development.
RESEARCH METHODS IN PSYCHOLOGY-I
The course aims to introduce the students with the basic concepts and strategies in conducting research in psychology. Developing a research question and hypothesis, ethic issues in research, measurement and measurement scales, aspects of behavioral measures, self-report measures, validity and reliability of measurement instruments, naturalistic observation, survey research, and sampling strategies are some of the topics to be covered. How to make a literature search on a research topic and how to investigate the articles that found are the other topics to be covered. Students will develop their knowledge and abilities to write a research proposal by the end of the term.
DATA ANALYSIS-I
Data analysis I course provides the usage of SPSS which is a basic statistics programme for quantitative data analysis. The students will learn entrying data, composing data set, dealing with missing values, recoding variables into same and diffrent variables, calculating the total scores, analysing frequency, properties of normal distribution, investigating extreme values, obtaining graphs, calculating z-scores, correlation and simple regression analysis. Since this course is an application course, the students will learn to conduct these procedures in computer enviroment. Besides conducting several analysis in computer environment, the student will also learn how to read an SPSS output table, how to interpret findings and report the analysis results in accordance with APA style.
MODERN TURKISH HISTORY
In this course, Ottoman state and society, factors causing the collapse of the state; Ottoman modernization; Tripoli and Balkan Wars, World War I, Mudros Armistice and Sevres Agreement; parties and associations, the national resistance movement led by Mustafa Kemal, the Havza and Amasya Circulars, the Congresses, the National Pact, the Turkish Grand National Assembly; the rebellions, the regular army and the War of Independence; the Mudanya Armistice, the Lausanne Peace Treaty; Revolution in the political field, secularization of the state and society, abolition of the sultanate, declaration of the republic, abolition of the caliphate; 1921 and 1924 constitutions, constitutional changes; Sheikh Said Rebellion; Multi-party experience, secularization and modernization in law, nationalization and secularization in education, Kemalizm and 6 principles, Turkish foreign policy(1923-1938) are covered.
Fourth Semester
ADVANCED READING AND WRITING SKILLS-II
The course is the continuation of ENG 201. First of all, the course aims to identify the distinct differences between a 3-paragraph opinion essay and a 5-paragraph argumentative essay. Then students are introduced to the format of a 5-paragraph argumentative essay, which includes choosing a topic, making an outline by inserting the thesis statement, a topic sentence for each body paragraph along with the supporting sentences, a counter-argument and a refutation, and a concluding paragraph. In terms of reading, students will learn how to draw conclusions by inferring information from a text, practice annotating and highlighting texts, how to recognize and analyse comparison and contrast in a text. Students will also acquire effective presentation techniques.
DEVELOPMENTAL PSYCHOLOGY-II
The course is a review of theory and research on psychological problems associated with the different periods of life including adolescence, early and late adulthood and old age. Topics such as family, parenthood, work environment and retirement are emphasized. The course covers language and education, memory and information processing, intelligence and creativity, self and personality, gender roles and sexuality, attachment and adaptation, aging process and developmental psychopathology. All these topics are explained through each developmental periods starting from infancy until the late adulthood. Developmental psychopathology covers general developmental disorders, abnormalities and maladaptive processes. Last developmental stage that covers aging also explained in general with all its basic, however crucial elements.
RESEARCH METHODS IN PSYCHOLOGY-II
This course discusses the basic research strategies in psychology with special emphasis on experimentation. Statistical background of hypothesis testing, correlational and experimental research, causation, between- and within-groups designs, factorial experiments, internal and external validity, quasi-experimental research, and data analyses strategies are basic issues to be discussed in the course. Special emphasis is placed on advantages and disadvantages of design types. By the end of the term, students have the knowledge about specifying the design that is suitable for the research aims, collecting data, selecting the statistical analysis and reporting the results. The group study assignments ensures students about applying their knowledge, studying together and sharing responsibilities.
DATA ANALYSIS-II
This course is the continuation of STAT207 where students established the necessary preliminary foundation on anayzing several type of psychological research problems. Students will learn how to generate research questions, decide the type of analysis for certain type of research problems and analyze data using SPSS and write the report of the results in APA style. Students will learn to use SPSS for several hypothesis testing problems such as the difference of two independent samples means, one sample t-tests, the difference of means of two related samples within the frame of several subfield of psychology. Hypothesis testing for the difference of means of more than two samples, One-way ANOVA, two-way ANOVA and Ki-square will be studied with using SPSS.
Fifth Semester
PSYCHOPATHOLOGY
The study of psychopathology is a search for why people behave, think, and feel in unexpected sometimes bizarre and typically self-defeating ways. The objective of the course is to review the historical origins of mental and behavioral abnormalities or disorders in adult human beings. The handbook of psychology, the DSM-V will be the primary source used to explore the vast range of psychological disorders. Diagnostic approaches, causality, current empirical findings, conceptual models and/or influential theoretical trends are to be covered and discussed, with respect to selected psychopathological disorders. Behavioral, cognitive, sociocultural, genetic, and neuro-scientific aspects are the subject of emphasis as well as prevention, intervention, assessment, etiology, prognosis and symptom management of abnormal behavior.
EXPERIMENTAL PSYCHOLOGY
The course discusses the process by which psychology became experimental, presents the basic approaches, principles and techniques of the experimental methodology in reference to psychological phenomena. Assumptions that lie under positive sciences, causality, criterions and aims of science, types of scientific articles and its sections, measurement via neuropsychological tests, variance, control techniques of confounding variables, correlational and experimental designs are basic issues to be discussed. Examples of basic experimental studies applied in the psychology, their designs, and the procedures of generating experimental research and a scientific article are discussed. Evaluation and interpretation of the experimental studies and scientific articles with a critical perspective are provided.
ETHICS IN PSYCHOLOGY
This course deals with the universal ethical codes, rules and guidelines that pertain to research in psychology and to applications in the clinical centers, educational institutions, in business and industry. Also introduce students to situations where psychologists are likely to make ethical decisions, and provide the necessary skills to search and find the guidelines related to the issues. Ethical rules and guidelines that are considered in the publication process are explained. Students are equipped with the necessary skills for an ethical approach to research, field applications and publications. This will be achieved by reading about set guidelines by the APA, discussing previous examples from the literature, and conducting in-class discussions of how else these examples could have been resolved, based on the set guidelines.
PHYSIOLOGICAL PSYCHOLOGY
The course presents the neuroanatomical, psychopharmacological and physiological bases of behavior. Research methods are presented followed by the empirical findings and principles on the organismic bases of psychological processes such as sensation, perception, learning and memory, consciousness and selected neuropsychiatric disorders. The specific approach of physiological psychology, where the independent variable is an organismic factor, is emphasized in order to explain the usage of the mainly infra-human research subjects in the area. The course aims to provide students with detailed information on the physiology of the nervous system (the neuron, nerve impulse and synapse interactions), neuroanatomy of the brain and behavioral consequences of damage to the physiological systems.
Sixth Semester
PERSONALITY
The course focuses on how personality develops, how it is shaped, and the factors that are involved in making us who we are. When looking at the historical accounts of where and how the first concepts of personality emerged, it is possible to see that these ideas of characters extends back to Ancient Greece and the Greek philosophers. In addition, the role cultural factors such as religion, cultural teachings, as well as experience and genetics will be examined with regards to their influence on the development and shaping of personality. Theories of personality including the psychoanalytic, neo-analytic, biological aspects, cognitive aspects, behavioral approaches, and trait theory will be introduced and critically analyzed.
INDUSTRIAL PSYCHOLOGY
Work holds an important role in the daily lives of people everywhere and represents a unique domain of psychological experience. This course is designed to introduce students to the major areas relevant to the behavior of people at work from the time they enter the labor force until retirement. This course focuses both on building an understanding of the psychological bases of work behavior and the organizational practices used to create a good fit between employees and work's demands. The course will cover a number of topics including personnel selection, placement, training, work motivation, job satisfaction, leadership, teamwork, and work-family balance.
COGNITIVE PSYCHOLOGY
The course deals with mental processes such as sensation, perception, learning and memory, linguistic functions, higher mental processes such as reasoning and abstraction and executive functions. Processes are discussed at the behavioral level within a framework of information processing. Practical applications at everyday living, education and working environments are discussed. The course aims to provide the students with a brief introduction towards carrying out mental processes; how perceptual information enters the mind, how attention is used to select from the array of available incoming sensory information, how knowledge is organized in memory, how new information is added to memory, how information is retrieved from memory, and how information is conveyed to others through language.
NEUROPSYCHOLOGY
This course is an in-depth study of the brain based on basic neuro-anatomy such as major lobes, structures, fibers, connections and the nervous system in relation to behavior and mental process. Course treats the historical background and the philosophical formulations pertaining to neuropsychology during the developmental part of it. Students gain basic concepts and theoretical approaches in graduate level and gain skills in interpreting physiological basis of behavioral & cognitive functions. It introduces the methods and techniques of neuropsychology with special emphasis on brain scanning methods and neuropsychological tests. The effects of disease, disorders and brain lesions on mental and behavioral processes are discussed within the context of clinical neuropsychology by relating with brain structures and neuropsychological tests.
Seventh Semester
CLINICAL PSYCHOLOGY
The course covers a general overview of the definition of the field of clinical psychology; the educative and ethical issues in the field; who is the clinical psychologist and what are the academic and practical obligations of the profession; the role and status of a clinical psychologist in the course of diagnosing assessing and treating clients within the boundaries of team work or individual practice. The professional identity of a clinical psychologist, the working areas or units (clinics, universities, hospitals, private practice, community centers etc.) are to be emphasized and defined as well, to clarify the discriminative characteristics of the profession by itself.
HEALTH PSYCHOLOGY
This course is designed to present theoretical formulations and empirical findings on the bio-psychosocial factors associated with health and well-being. The aim of the course is to familiarize students with the adaptive behavioral changes that enhance acquisition and maintenance of health, facilitate prevention of disease and disorders. Emphasis is placed on the role of psychosocial factors and of specifically stress on health and well-being. Multicultural and multidisciplinary aspects of health psychology are discussed. In addition, health inequalities, health disparities, perceptions in health and illness, how the body reacts during illness, various anatomical systems, pain and symptom perception and interpretation, and quality of life are among topics that will be discussed in detail.
Eighth Semester
INTRODUCTION TO PSYCHOTHERAPEUTICAL TECHNIQUES
The course introduces a number of psychotherapy techniques with their theoretical background in a historical order. Starting with the basic and classical techniques such as Humanistic psychotherapies, Psychoanalysis and Psychodynamic Psychotherapies, Gestalt therapy, Behavioral therapies, Cognitive Behavioral therapies, Solutions Focused therapies and various other techniques that are currently used and are found to be promising in the treatment of many disorders will be reviewed. In addition to therapeutic foundations, the most commonly used eclectic approaches will also be discussed. Since the process of psychotherapy is one of the main clinical functions of clinical psychologists, the link between intervention/ therapy as a whole are to be discussed and studied in combination.
Optional modules
TR Applicants
TR Students who are successful in the exams conducted by the Higher Education Council Student Selection and Placement Center (ÖSYM) and are entitled to enroll in our university in line with their preferences can complete the registration process with the necessary documents for registration from our Registration and Liaison Offices throughout Turkey or from the Marketing Directorate on campus.
Click for detailed admission requirements information.
TRNC Applicants
TRNC citizens and TR citizen candidate students who have completed their entire high school education in TRNC. They are placed in undergraduate programs in line with their success in the CIU Student Placement and Scholarship Ranking Exam and the programs they prefer.
Students who are successful in the exam can register from the TRNC Marketing Office.
Applicants can directly apply online to our undergraduate programs using the application portal. Please fill in your details correctly and upload all the required documents listed on the last page of the application form.
Required documents;
Completed application form,
Higher/Secondary Certificate or equivalents (e.g. O/A'Level, WAEC/NECO),
Evidence of English Language competence: TOEFL (65 IBT) or IELTS (5.5). Students without these documents will take the CIU English proficiency exam on campus following arrival,
Scanned copy of international passport/birth certificate,
Fully completed and signed CIU Rules and Regulations document (which can be downloaded during the online application).
Cyprus International University provides academic scholarships for its students as an incentive for success, with most students benefiting from 50%, 75% or 100% scholarships or discounted tuition fees. Click for more information.
| | | |
| --- | --- | --- |
|   | Non-Scholarship | 50% Scholarship |
| Undergraduate Programs | € 5.843,00 | € 3.099,00 |
Click for more to learn about fees in line with the Tuition Fee Calculation system.
Program Outcomes
PO1: Critically evaluate the importance of a multidisciplinary approach to advancing science, knowing the subfields of psychology, understanding the relationship between psychology and other sciences in scope and methods, reaching specific definitions and explanations, and being in relationship with different sciences.      
PO2: Define the theoretical and practical knowledge of current psychology, to make conclusions from them, to analyze them, to synthesize them by synthesis, to compare and criticize the information.           
PO3: Describe scientific approaches and methods and techniques of psychology, express them in their own words, analyze researches in terms of approaches, methods and techniques, compare and criticize them in terms of advantages and disadvantages, anticipate and control research mistakes and / decide which methods and techniques to apply in field studies, analyze and criticize the implications of this decision.          
PO4: Apply logical, intuitive and creative thinking skills, special field skills and key skills (transferable skills) to complete tasks and solve problems.
PO5: Prepare, manage, analyze, draw conclusions and use the results to apply research and field project to knowledge, skills and competencies.        
PO6: The processes of learning knowledge and competence, self-recognition and control, self-criticism, protection of mental health, and awareness of the problems in this context; tolerance of individual differences, empathy, understanding others and using them in healthy communication.           
PO7: Use the knowledge, skills and competencies individually and within the team, to make plans that include the members of the team under their responsibility and to guide them in the direction of their goals and objectives.     
PO8: Know how to use knowledge and skills effectively in business and work environments, professional and personal development issues, to be able to demonstrate the competences that are exhibited autonomously in personal and social responsibility consciousness.         
PO9: To be able to perform competence, interpersonal communication, social competence, professional and professional competence.  
PO10: Understand that life-long learning is the subject of knowledge, skills and competencies acquired in the context of development and change, that the existing ones will be developed and reorganized, that they will be optimized, and that they will be able to follow innovations.
PO11: Share the knowledge, skills, competencies and attitudes of human psychology on a sectorial, national and international basis, verbally or in writing, with the support of quantitative and qualitative data when necessary.      
PO12: To be able to research, practice and publish in the field of psychology, to behave in line with ethical principles, to show a critical approach in ethics.       
PO13: To be able to use information and communication technologies for information acquisition, analysis, interpretation and dissemination.  
PO14: To track developments related to psychology on a foreign language, using this language to contribute to international understanding.   
PO15: To prepare professional records and research results in the form of scientific texts and in line with the rules of ethics and to present them to the evaluation of the press organs.
PO16: To be able to understand, explain, analyze and interpret social events and events, and to be able to demonstrate awareness of individual and social differences in behavior.    
PO17: Ability to use knowledge, skills and competencies in accordance with the vision and mission of the Cyprus International University.         
PO18: To be able to use knowledge and skills in psychology, accordingly with Atatürk's principles and revolutions and the dynamics of contemporary Turkish society to be able to analyze and evaluate them.  
Program Educational Objectives
PEO1: To have basic theoretical knowledge about psychology,
PEO2: Being able to use the findings of psychology in applied fields,
PEO3: Being able to  propose new research questions about psychology and carry out scientific projects related to these questions,
PEO4: To have the ability to work collaboratively with professionals from different disciplines,
PEO5: To have the ability to think critically and produce creative solutions in professional life,
PEO6: To have knowledge about the ethical principles related to the profession of psychology and to raise students who have the ability to apply these principles.