About the Department
Department of Public Relations and Advertising at CIU aims to prepare our students for diverse and highly competitive careers in the fields of public relations and advertising. Our goal is to provide our graduates with the credentials that meet or go beyond the expectations of the sector and to prepare them to be productive and creative communication experts with social responsibility and ethics. The medium of instruction is English and it is designed to teach students both theory and practice oriented courses. Our two 20-days-long summer training, first in the field of public relations and second in the field of advertising, enable students to gain experience in these fields and see the application of theories in real-life practices.
Accreditations
Public Relations and Advertising Program has been accredited as of March 1st, 2019, by the Communication Education Evaluation Accreditation Board (ILEDAK), which is an institution authorized in performing external evaluations and issues accreditation certificates in the field of communication.
Educational Opportunities
With a teaching staff consisting of both academics and media industry specialists, our department prepares its students with the knowledge and skills meeting the requirements of the public relations and advertising fields. Public relations and advertising professionals also meet our students through panels, seminars, conferences and workshops. The department's Public Relations and Advertising Club is open to all faculty students and serves as a platform for students to organize activities and create advertising and public relations campaigns. Public Relations and Advertising students also have the opportunity to work in the CIU News Agency and CIU Radio and Television studios, to help them develop writing, reporting and audio-visual skills necessary in the public relations and advertising professions.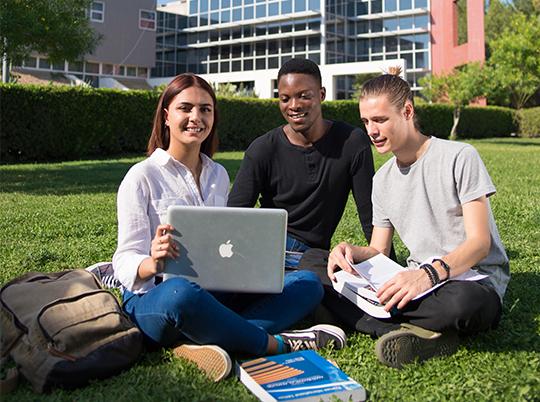 Career Areas
Graduating students will able to find employment at a variety of public and private institutions. Those who wish to pursue their career in the field of advertising can be employed in advertising agencies, graphic design studios and marketing departments. Graduates who look for jobs in the field of public relations can have a career in government offices, municipalities, trade organizations, banks, hospitals, hotels and many other organizations as public relations professionals, corporate communication directors, public relations specialists, or communication experts. Graduates who are interested in further education can continue at post-graduate programs of universities and can pursue academic careers.
Compulsory modules
First Semester
INTRODUCTION TO MASS COMMUNICATION
This course introduces students to the structure and functions of mass media, with special attention to emerging information technologies. It is designed to introduce communication students to the various media industries, including print and digital media. The impact of the mass media on lifestyles, public opinion, governance and business are also studied. Special attention is given to the historical background of traditional mass communication tools such as books, newspapers, magazines, radio and television by comparing their significance and influence on daily life of society, as well as their impact on the economy. The course also addresses the fundamental elements in the communication process and their significance to media relations.
MEDIA LITERACY
This course aims to develop students' ability to effectively and efficiently examine, interpret, and evaluate the underlying messages contained within media texts, and to provide an understanding of their social, cultural and political influences. This course is designed as a study in media analysis from critical perspectives; special emphasis is placed on the skills needed to evaluate selected shows, newspapers, advertisements, magazines and films. This course introduces students to focus on how the media is used to construct meaning, and the critical approach and methods used to analyze and understand it. Methods of critical writing appropriate to media analysis will be also emphasized.
READING AND WRITING SKILLS-I
This course aims to develop students' listening, speaking, reading - writing and study skills. The course provides students with the opportunity to develop their communication skills through controlled activities and to equip students with the basic study skills necessary to follow the curriculum of English. This course also provides students with the opportunity to process the newly acquired knowledge and to develop their ability to ask questions about how to apply the new knowledge to new situations and ask them to think critically. In addition, this course will enable students to learn about the different strategies required to review the various reading pieces, such as finding the main idea and distinguishing the details from the main idea.
INTRODUCTION TO COMPUTERS
The aim of this course is to give the students an understanding of the fundamentals of computers such as the basic components of the computers, input, output, storage devices and processing as well as application and system software, utility programs and internet basics. At the end of this course students will be familiar with the computer terminology and able to use the word processing and spreadsheet programs as well as efficient internet usage. General presentation of computer technologies, Windows operating system and applications in the Microsoft Office packageWord, Excel, Access and Power Point , softwares used in pharmacies, drawing for academic purposes and web-based method of screening of literature are also covered.
INTRODUCTION TO PUBLIC RELATIONS
Introduction to Public Relations course aims to provide a foundation of the field of public relations. The course is designed to teach students the basics of public relations and to provide a background in the field's historical development, along with various principles and theories that shape the field. Public relations is examined as a vital management function and its relationship to related fields, such as marketing, advertising and journalism is explored as part of the course. The students learn about the different roles played by public relations in corporate, government, and nonprofit organizations and learn how an effective public relations strategy can help to communicate, influence opinion and create change.
SOCIOLOGY
This introductory course in Sociology begins with an overview of the nature of the discipline, followed by a survey of various aspects of the structures and dynamics of social life. The history of sociology, the views of its founders and the major modern sociological perspectives are examined afterwards. Research methods and theories in sociology are explored to illustrate how thinking sociologically adds to our knowledge of the world around us. In this course, basic topics of sociology such as culture, socialization, media, family, education, social stratification, urbanization, social change are analyzed through different sociological perspectives. The course is accommodated to groups of students with different backgrounds and professional education. Class discussions on covered topics are encouraged and are valuable parts of this course.
TURKISH LANGUAGE
This course examines basic areas of language and expression. In the first half of the course, the theoretical approach to language is formed and the spelling rules of the Turkish language are studied. In the latter part of the course, language and narrative errors are studied together with editing. In the second half of the course, formal writing, curriculum vitae, petition, evaluation of the columns in terms of language and style, types of written expression and practice; Turkish production and application of shooting attachments; Turkish grammar structure; It is aimed to teaching subjects like phonetics of Turkish to students.
TURKISH
This course provides an orientation to modern Turkish language for foreign students who wish to communicate in this language for their needs. It mainly focuses on the differences between Turkish and English Alphabets, especially the sounds and the letters which are not included in the English alphabet (i.e. Turkish letters ç-ğ-i-ö-ş-ü). In addition, basic grammar and sentence structure forms in Turkish are practised. The required grammar and vocabulary will also be developed through their adaptation to daily situations in contexts such as introducing yourselves, greeting, talking about the things they possess by using possessive adjectives, forming positive, negative and question sentences by using present simple, telling the time, talking about their own timetables, using demonstrative pronouns when describing the place of objects and becoming familiar with vocabulary related to family members.
Second Semester
INTRODUCTION TO NEW MEDIA
This course aims to define new media environment formed as a result of the development of information and communication technologies and to introduce its properties. In this context, the process of transition from traditional one-way communication to two-way, interactive communication environment; features that differentiate new media from traditional media; basic dynamics of new media; cyberspace, interaction in cyberspace; user-generated content creation; alternative media; citizen media; information society are discussed. In addition, the way in which the new media changes and transforms personal and mass communication will be discussed. This theoretically-engaged course will give students a critical analytical introduction to how the knowledge and culture are shared and organized in the new media environments with its impact on social-political-cultural life.
THEORIES OF MASS COMMUNICATION
Theories of Mass Communication course examine major theoretical and research trends in the field of mass communication. It aims to help students to develop awareness and basic understanding of a broad range of theories which direct mass media research as well as to encourage them to make associations between these theories in real world situations. Theories of Mass Communication opens with a discussion of the concepts of communication and theory, moves to an overview of the history of mass communication theory, and progresses to an analysis of various mass communication theories and models, ranging from traditional approaches to more recent critical perspectives.
READING AND WRITING SKILLS-II
This course is the continuation of ENG 101. The course aims to improve students' listening, speaking, reading, writing and working skills. In the course, students are guided in writing compare and contrast essays using Venn diagram. In addition, the aim of the course is to learn the necessary conjunctions for composition writing. In addition, the students will be able to write a four-part critical composition by learning the difference between ideas and factual real sentences and how to write the opposing opinion and sentences used to refute it. Thus, the students will be able to distinguish between the compare and contrast essay and discursive essay. Students will also be able to make presentations by using presentation techniques. In addition, this course aims to summarize the reading pieces of the students and to use the strategies of reading and to draw conclusions and meanings using their reading skills.
HISTORY OF CIVILIZATION
The aim of this course is to outline the development of civilizations in the course of history. It firstly focuses on the concepts such as "Civilization", "Prehistoric", and "Historic" and on the factors forcing the emergence of the first civilizations. As well as examining the prehistoric periods and their characteristics in the course of human life since the first appearance of human beings on earth, the course mainly focuses on the early civilizations, namely the Mesopotamian, Egyptian, Aegean, Classical Greek, Hellenistic, Indian, Chinese and Roman Civilizations. Political, social, economical, cultural, intellectual, philosophical and scientific aspects in these entities are also examined in this course.
INTRODUCTION TO JOURNALISM
This course introduces students to the profession of journalism and its most important product, news reporting. Students study historical and contemporary issues related to the news industry, as well as the relationships between news production, journalism, media and society. The course content addresses practical as well as theoretical aspects of journalism. Students are introduced to newsgathering and news reporting practices and processes, as well as the various categories of news writing. The course also addresses the primary roles and rules of journalism, including interviewing, the ability to pose effective questions, photojournalism, and the use of images in reporting.
INTRODUCTION TO ADVERTISING
This course is designed to introduce students to the basic concepts, theories and historical development of advertising as a form of communication in modern society. The course analyses the different roles of advertising, such as an economic force and a form of cultural representation with strong social implications. Students are expected to read, watch, analyze and discuss a variety of advertisements and commercials as part of the course. In an interactive class atmosphere and a creative learning environment, students will have the opportunity to focus on advertising not only as a marketing tool that helps reinforce brand loyalty and product consumption, but also as a cultural product which is an indispensable part of contemporary popular culture.
PSYCHOLOGY
The aim of this course is to provide an introduction to the wide range of topics covered by psychology. By the end of the course, students will be familiar with the major theories and the methods of research used to analyse behavior. These include the biological basis of psychological functions, sensation, perception and different states of consciousness. In addition to cognitive topics, the course provides an introduction to social, developmental and clinical psychology.
MODERN TURKISH HISTORY
In this course, Ottoman state and society, factors causing the collapse of the state; Ottoman modernization; Tripoli and Balkan Wars, World War I, Mudros Armistice and Sevres Agreement; parties and associations, the national resistance movement led by Mustafa Kemal, the Havza and Amasya Circulars, the Congresses, the National Pact, the Turkish Grand National Assembly; the rebellions, the regular army and the War of Independence; the Mudanya Armistice, the Lausanne Peace Treaty; Revolution in the political field, secularization of the state and society, abolition of the sultanate, declaration of the republic, abolition of the caliphate; 1921 and 1924 constitutions, constitutional changes; Sheikh Said Rebellion; Multi-party experience, secularization and modernization in law, nationalization and secularization in education, Kemalizm and 6 principles, Turkish foreign policy(1923-1938) are covered.
Third Semester
BASIC PHOTOGRAPHY
This is an introductory course in photography, covering its history, aesthetics and basic techniques. The course covers practical instruction and theoretical perspectives as well as some hands-on photographic work and field trips, enabling students will prepare a portfolio of work. Students are also expected to gain a detailed historical and aesthetic knowledge concerning the development of the medium of photography, as well as technical skills and ability to take better photographs. The scope of the course also includes the development of recent revolutionary digital technologies and their effects on the medium. Within this context, both digital and analogue photography will be thoroughly examined.
HISTORY OF COMMUNICATION
This course provides an introductory overview of the major elements, events and themes in the history of human communication. The weekly topics are organized according to the emergence of specific forms of mass media, including printing, the newspaper, magazines, radio, cinema, television and the internet. The course also addresses the rise of advertising and public relations and their role in the broader history of media. Particular emphasis will be placed on the role of technology in mass communication, the convergence between different forms of media, the connection between media and culture, and the role of media in globalizing the processes of communication.
ESSENTIALS OF ECONOMICS
This course aims to give basic knowledge of micro and macroeconomics to students. The aim of the course is to introduce the market economy to the students and to examine how the scarce resources are distributed under the price mechanism. Basic microeconomic issues such as introduction to market economy, demand, supply, consumer theory, firm theory, perfect competition and basic macroeconomic issues such as national income, employment, unemployment, inflation, foreign trade, current account deficit, monetary policy, fiscal policy and economic growth are analyzed. In addition, it gives more emphasis to theoretical analysis than technical analysis. This will enable students to understand and comment on current economic issues more plainly
ADVANCED READING AND WRITING SKILLS-I
The objective of the course is to develop sophomore students' academic reading and writing skills. First of all, the course aims to identify the distinct differences between a 3-paragraph and a 5-paragraph essay. Then students are in introduced to the format of a five-paragraph descriptive essay, which includes choosing a topic, making an outline by inserting the thesis statement, a topic sentence for each body paragraph along with the supporting sentences and a concluding paragraph. In terms of reading, students will learn previewing a reading text to predict what it will be about, identifying and outlining the main ideas, skimming and scanning a text to make predictions, reading and interpreting data in charts, graphs and tables. Students will acquire effective presentation techniques.
INTRODUCTION TO LAW
Introduction to Law introduces students to legal concepts, principles and procedures. The course is designed to provide students with an understanding of the structure of the Turkish legal system including the role of the judicial, legislative, and executive branches; the philosophical underpinnings of law; the history of law in Turkey and Cyprus; the role of attorneys, law enforcement and other legal professionals; categories of law; litigation principles; and alternative dispute resolution. The course involves substantial reading and writing. Students also participate in trial simulations, debates, and have opportunities to work with legal professionals.
FUNDAMENTALS OF ADVERTISING DESIGN
This course is designed to introduce students to the fundamentals of advertising design and serves as an introduction to design in advertising. The course will explore different roles and functions of advertising and will discuss the importance of design in advertising. Students will become familiar with some of the basic techniques in advertising design and will learn to use some of the programs such as Corel Draw and Photoshop. Using these programs students will practice creating visual elements and combining these elements with powerful advertising messages with an aim of persuading the target consumers. Students will learn that a good design is a powerful tool, which helps communicate the advertising message to the consumers.
Fourth Semester
SOCIAL MEDIA IN COMMUNICATION
This course explores the history, rise and growth of computer-mediated communication technologies known as "social media," – including Facebook, Twitter and YouTube – as a 21st century communication practice. Throughout the course, various social media tools and their application in current media will be addressed and current habits in social media will be discussed. This course also examines relevant social theory, including technology studies, communication theory and cultural studies to critically evaluate the effect of social media on relationships, activism, branding, politics and news media. This course also focuses on content creation and how to build content that performs well in social media.
RESEARCH METHODS FOR SOCIAL SCIENCES
This course is designed for the students to help them understanding what is research, how to conduct a valuable research, and teach them the general ethics about the academic contributions. The course is a second year course, and will help the students to have an idea how to conduct an academic research. The aims of this course could be listed as: Develop knowledge and understanding on the fundamental principles of research design. Understand the steps in conducting a scientific research. Develop skills in conducting literature review using references. Understand the process of developing hypothesis and variables. Assimilate the knowledge when deciding between different types and styles of research.
ENGLISH FOR PUBLIC RELATIONS AND ADVERTISING
English for Public Relations and Advertising is a skills-based course designed specifically for students of public relations and advertising. It provides practice in listening, speaking and writing for professional environments. It also equips students with the specialist language and terminology which will help them communicate efficiently in their field. Listening and speaking exercises all are related with public relations and advertising, and all reading texts are taken from the field of study. There is also a focus throughout on key public relations and advertising vocabulary that students will need. The course will provide a wide range of activities to develop students' knowledge and use of essential vocabulary and to prepare students to participate effectively in public relations and advertising.
MEDIA LAW AND ETHICS
The purpose of this course is twofold: first, to discuss ethical principles and codes for various media professions such as journalism, public relations and advertising, and to discuss how these guidelines have and have not been applied in specific cases. Second, the course focuses on specific issues such as the invasion of privacy, defamation, obscenity, racial hatred, hate speech, intellectual property and copyright within the scope of media law. The course also concentrates on press freedom as well as basic knowledge of international law necessary for understanding how media law affects media institutions. Term project provides students with the opportunity to research and question local laws and regulations in the field of media and ethics in their own countries.
Fifth Semester
MARKETING AND CONSUMER BEHAVIOR
The course aims to provide an understanding of how consumers make decisions and how internal and external factors influence consumer purchase decisions. Students learn about the evolution of consumer behavior and the impact of new technologies and media on studying and targeting customers, including new methods conducted by marketers. They will also study consumer purchase patterns and methods used to target them more precisely, thus learning why consumer behavior is valuable in marketing programs. In addition, students will study basic theoretical knowledge and terminology related to the field, learning how to think and act strategically about the behaviors of consumers and how to understand and solve problems from a communication perspective.
WRITING FOR PUBLIC RELATIONS AND ADVERTISING
This course aims to teach students the roles and responsibilities of public relations writers and copywriters, and to provide the necessary background to acquire the knowledge and skills needed for writing in these areas. Writing techniques in public relations and advertisement texts and supported by various examples and application studies. Students learn and apply the writing processes and techniques in media such as press bulletins, brochures, flyers, posters, corporate magazines, corporate newspapers. While teaching students effective techniques and processes in the field of public relations and advertising, the importance of adhering to professional ethical principles, law and universal values is emphasized. In this context, ethical rules published by leading professional organizations in public relations and advertising are also examined.
SUMMER TRAINING-I
Advertising and Public Relations students are required to complete their first of two summer training courses in the field of Public Relations. The duration of each summer training is a minimum of 20 working days, in accordance with the rules and regulations set out by the Department of Advertising and Public Relations. The summer training will provide the students with the opportunity to get acquainted with the professional Public Relations field, and to gain real-world PR experience where they can develop their skills in a variety of areas, such as designing public relations campaigns, organizing special events and writing press releases. The students are provided with an internship file which needs to be fully filled by themselves as well as a professional at the work place. After completing the internship, interviews are arranged at the department in order to assess and discuss their experiences.
PRODUCTION TECHNIQUES IN ADVERTISING
This course is designed to familiarize the students with various production techniques and processes in the making of advertisings which have unique style that attract the audiences' attention. With the goal of persuading consumers, advertisers seek to create a powerful message. In order to fulfill this goal different techniques are utilized in advertisements. The course aims to help students develop their understanding of the ways in which advertisers rely on different techniques in producing ads and to recognize the power of visual elements such as framing, color, editing and special effects as well as other elements such as sound and music.
CAMPAIGN DESIGN IN PUBLIC RELATIONS
Within the scope of campaign design in public relations course, information on how to design and implement public relations campaigns are given. The students have the chance to practice the theoretical knowledge they gained through their own projects. The students are encouraged to think creatively and critically. For this purpose, the students are presented with the effective ways and techniques of developing original and creative strategies. They learn the importance of approaching all functional areas of preparing a campaign (research, media, the creative text etc.) as a whole. The students are expected to prepare an original public relations campaign at the end of the semester.
Sixth Semester
MEDIA PLANNING
This course is designed to teach students the principals of media planning. Major media concepts, media research, and strategic media planning are explored in this course in order to help students extend their understanding of the media planning processes. Hence the course teaches students the ways in which marketing problems can be solved through an analysis of how the media operate and the relationships between the advertiser, the agency and the media. In an interactive class, drawing on real-world media situations, the students will discuss and review various decisions and problems that arise in a variety of media planning processes.
CREATIVITY IN ADVERTISING
Creativity in Advertising course focuses on the question of what makes an ad creative and helps the students to recognize that without creativity there will be no effective advertising. The course examines the concept of creativity and various creative approaches and styles employed in different forms of advertising. The students will examine and critically reflect on a variety of advertisements. They will also design their own ads and experience the challenges in coming up with a creative idea. In the end of the course it is aimed that the students have a solid idea why creativity is so important in advertising.
CAMPAIGN DESIGN IN ADVERTISING
Within the scope of this course, information on how to design and implement advertising campaigns are given. The students have the chance to practice the theoretical knowledge they gained through their own projects. The students are encouraged to think creatively and critically. For this purpose, the students are presented with the effective ways and techniques of developing original and creative strategies. They learn the importance of approaching all functional areas of preparing a campaign (research, media, the creative text etc.) as a whole. The students are expected to prepare an original advertising campaign (deciding on the message and writing the script, writing a short skit, preparing a poster etc.) and decide on the media they wish to publish their campaign.
Seventh Semester
SUMMER TRAINING-II
This is the second of two summer training courses. It should be done in the field of Advertising for a minimum of 20 working days, in accordance with rules and regulations set out by the Department of Public Relations and Advertising. The aim of the second summer training is to introduce the students to the advertising industry. Students will arrange the internships in association with the department and they can be placed within a department of a communications or media company that deals with advertising as well as specialist advertising agencies. As with the first summer training, students will be interviewed by a panel of advertising and department members after completing their internship to assess and discuss their experiences and to examine the report made by their employers.
GRADUATION PROJECT-I
The course requires students to draw on skills they have developed throughout the program to produce an original, professional-quality project in the field of Public Relations. The projects will encourage students to develop innovative and creative ideas and will provide the ground for them to learn ways to produce constructive solutions to problems. Students will be expected to act with an awareness of their social responsibilities towards the society and the world they live in and to apply professional ethics, principles and rules. The projects produced must be original and free from plagiarism. At the end of the semester, the projects will be presented in front of a jury consisting of faculty lecturers and invited experts.
POLITICAL COMMUNICATION
This course introduces the political communication field to students. It focuses on the nature and functions of political communication, and evaluates the role of the media in political communication. The concept of political communication is examined and the theoretical, conceptual and historical processes that shape the field are discussed. Role of the media in democratic societies, freedom of the press, and the agenda setting is explored. Also, political communication campaigns, political marketing, political advertising, and political public relations are discussed in the course. By the end of the course, students are expected to be able to explain concepts of political communication, political advertising, political public relations, political marketing, and to be able to exemplify and comment on political campaigns.
GRAPHIC PRODUCTION TECHNIQUES
This course is designed to introduce students to the methods of technical production for graphic design. Within this perspective the course concentrates not only the history and evolution of print technology but also its technical side including types of printing, descriptions on colour separation process, camera-ready art, matrix, cutting, and binding techniques. Other related topics like image preparation, electronic file management and formatting, paper and alternative printing substrates, colour management, and the major commercial printing techniques will also be presented from the perspective of their individual and collective effects on the look of graphic design applications. Students are expected to use their previous knowledge in their practical projects.
Eighth Semester
GRADUATION PROJECT-II
The course requires students to produce original projects drawing on knowledge and skills acquired throughout the program. The projects must demonstrate the ability of students in public relations, publicity and advertising areas within the framework of integrated marketing communication, drawing on innovative and creative ideas. The projects will require students to write effective messages, conduct media planning, write budgets, select appropriate equipment and materials, and write reports. They will also be expected to demonstrate their awareness of social responsibility and professional ethical principles within the field. At the end of the semester, projects will be presented in front of a jury consisting of lecturers and invited experts from the field.
INTEGRATED MARKETING COMMUNICATION
This course aims to provide students with insights into the coordination and integration of marketing communication tools, avenues, and sources into a seamless program which maximizes the impact on consumers at a minimal cost. This integration is studied in relation to a firm's business-to-business, marketing channel, customer focused, and internally directed communications in their entirety. Integrating advertising and other marketing communications becomes extremely important in highly competitive trade arenas and advertising alone does not guarantee sales. This course will thus enable students to understand the importance of the strategic integration of marketing mix elements, as well as the value of strategic communication in gaining new customers.
CORPORATE IDENTITY DESIGN
Corporate identity of a company refer to the ethos, aims and values of an organization and how it is perceived by its customers and the rest of the marketplace. By discussion and comparison visual expression of an organization's unique identity is explored by exemplifying companies such as BP, IBM and Coca-Cola. Within this context, concepts, symbols, sign systems, analysis of successful corporate identity applications, differences between brand, identity, and logo design, cohesive brand identity across multiple platforms, implementing the corporate identity system on the internet are presented. Students are expected to develop corporate identity a company and communicate them by through design working on the name, logotype and related products.
Optional modules
SOCIAL RESPONSIBILITY PROJECTS MANAGEMENT
This course is designed to teach students the importance of social responsibility projects and provide opportunity for the students to gain both theoretical and practical skills in designing and implementing social responsibility projects. The students will engage in developing social responsibility projects which contribute to the betterment of society and provide solutions to various problems related to social, cultural, educational, artistic and sporting aspects of the community. This course will require students to work as groups to design campaigns, write a campaign budget, and complete related steps in the realization of their project, which will finally be presented and defended in class.
PUBLIC ADDRESS
This course is designed to examine the principles of public address and teach the students the main elements and factors which result in a dynamic and effective speech. Besides speaking skills, the course aims to help students to improve their listening skills so that they are able to evaluate and critique speeches they listen to insightfully. The course provides opportunity for students to significantly improve their public speaking skills by practicing and delivering speeches and presentations in a safe environment with feedback from their peers as well as their lecturer so that they will be able to critically examine their own and others' speeches through interactive practice.
WRITING FOR MASS COMMUNICATION
This course examines the importance of writing in mass communication. Students are introduced to the primary methods of writing for newspapers, advertising, public relations, and radio and television broadcasting. News writing and headline writing techniques are studied, with particular emphasis on the inverted pyramid method and the writing of summary lead paragraphs by evaluating the importance of news elements. Students also study the techniques of writing press releases and learn their significance in public relations, the principles of writing copy and slogans for advertisements, the basics of writing for radio, television broadcasts, and writing for online publications.
INTERCULTURAL COMMUNICATION
This course aims to educate students in the issues and debates which surround the process of communication between different cultures. Students will examine the various barriers which impede and inflect intercultural communication, particularly language differences, non-verbal communication practices, and the incidence of prejudiced attitudes. They will also study specific examples of intercultural communication, both historical and contemporary, including European imperialism and its aftermath, modern patterns of immigration, and the creation of multicultural societies. In addition, class activities and presentations will encourage students to discuss and reflect on their own experiences of communication in intercultural settings.
CYBER CULTURE
This course examines the development of a culture of machines, from the industrial revolution forward, by analyzing a selection from the cannon of non-fiction and fictional texts, and exploring the ways that these visions converge with and diverge from present reality. The objective of the course is to introduce the students the cyber culture surrounding them and give them awareness in their approach to their designs. In this course, by means of cinema, literature and architecture, the formation of cyber culture in time and its futuristic projections will be analyzed. Topics include various films, images and readings based on cyber themes such as cyber space, cyber punk and cyber art.
FILM PRODUCTION TECHNIQUES
The main aim of Film Production Techniques course is to expand the knowledge and skills of students with camera work, acting, lighting, sound recording, editing, creating visual and sound effects in post-production. Within the scope of the course, students will apply film production stages, beginning with preparation stage of films, production and post-production stages, gain experience in teamwork in the film production process and find an opportunity to direct actors and practice in the composition of the image, camera techniques, lighting and editing aesthetics. In addition, students taking the Film Production Techniques course will also have knowledge about the application of professional ethical rules in the film making process.
PUBLIC RELATIONS CASE STUDIES
The course examines a variety of real-world public relations cases and analyzes how public relations professionals manage different public relations situations in corporate, government and nonprofit organizations. Group discussion of cases in an interactive class atmosphere is essential for this class where each student is expected to have read assigned case material before the class and be prepared to participate actively in case discussions. The course allows the students to utilize their background knowledge gained in previous public relations courses and expand their knowledge by examining several successful and unsuccessful public relations responses to organizational issues, problems, challenges and opportunities.
DOCUMENTARY PRODUCTION
This course is designed to introduce the development of documentary film in terms of its history, its genres and its pioneers. Students will also consider the relation between reality and representation, and the distinction between fiction and documentary filmmaking. This course integrates the basic historical, theoretical and practical approaches to the basic techniques of documentary production in different mass media tools. The historical diversification and evolution of the documentary film and television will be emphasized in the course. With documentary demonstrations, discussions of sample documentary films, and out of class assignments, this course provides the fundamental theoretical knowledge and skills that are required for documentary production.
SOCIAL MEDIA APPLICATIONS
Within the scope of this course, the students will learn the development of social media as a communications tool, the societal effects of social media, public relations strategies and applications through social media, reputation and crisis management in social media. Students will also gain information on the process of assessment and evaluation in social media and the tools and platforms that can be used for this process. At the end of the semester, the students are expected to be able to explain the process of communication in social media, explain different social media tools and their uses, describe the use of social media in the field of public relations and explain the analysis, assessment and evaluation processes in social media.
PHOTOJOURNALISM
This course aims to introduce the various aspects of telling stories via photography. Building on previous photography courses, it emphasizes the differences between photography and photojournalism. The course focuses on the development, features, pioneers and genres of photojournalism, and analyses how photojournalism has become an institutionalized part of journalism in general. The course content addresses the technological and aesthetic dimensions of photojournalism, the careers of important photojournalists, the impact of news photography, and the ethics of digitally manipulating news photographs. Special attention given to the rules and methods of cutline writing, which is complementary for both the photograph and story.
RADIO-TV NEWS WRITING AND REPORTING
This course is designed to develop skills in the areas of radio and television news writing and reporting including interviewing, researching public records, checking news information, as well as the various formats, styles and types of reports used in broadcast media. This course integrates theory and production work to address the knowledge and skills required for radio-TV news writing and reporting. It also includes in-class and out-of-classroom assignments in which students write and report news stories on topics concerning public interest, such as the economy, policy and technology. This course also provides a strong foundation in the legal and ethical rules utilized by those who gather, write, broadcast and distribute information. 
TV GENRES
This course will provide a critical overview of television genres and will examine them from practical and theoretical perspectives. Students will analyse a variety of fiction and non-fiction television genres, emphasising their historical, cultural and economic contexts. Students will also consider the ways television genres have changed, divided and combined over time. Attention will also be paid to the processes through which genre classifications are produced and the media discourses which generate them. Sample genres addressed and discussed during the course include the crime show, the prestige drama, the soap opera, reality TV, news programming, and also the quiz show.
POLITICAL JOURNALISM
This course examines the relationship between journalism and politics and its place in the broader media landscape. In particular it will address the contribution which journalism can make to the public understanding of, and public engagement with, political discourse. Student journalists will focus on the major practical and theoretical issues affecting political journalism and reflect on the role they can play as political reporters in a variety of contexts. Students will also produce original political reporting, which will be examined via a portfolio of original written work. The course will also feature contributions from local professional journalists specializing in political coverage.
EDITING
This course is designed to introduce basic theories and applications of cinema and television films post-production processes and editing for different film genres. It also aims to promote aesthetic creativity and awareness, as well as the basic knowledge and skills required for using and arranging visual language effectively. Course content includes the history and theories of editing; editing terminology; motion and dialogue editing; the synchronization of video, music and sound; and special effects. This course also teaches students how to select video footage considering a basic visual vocabulary, select correct audio clips that support video, utilize graphic elements, colour and positioning, and to assemble and trim elements to create certain moods and emotions for audiences.
FILM GENRES
This course is designed to explicate the formation and developments of film genres. It also addresses theoretical approaches of film genres and looks at film genres as artistic and cultural forms. In this course, the development of major film genres (including the western, horror, science fiction, comedy, musicals, crime films and animation) will be covered. The genres will be analysed in relation to both socio-cultural structures and with industry and audience practices. In this way students will develop a solid understanding cultural representation in film, stimulating critical, creative and independent ways of thinking about the role of the media in general
INTERVIEW TECHNIQUES
This course will give students practical instruction in conducting interviews for a variety of media work, both face-to-face and using the telephone or other telecommunications technology. Weekly classes will focus on the primary techniques and professional practices entailed in the process of interviewing for newspaper, radio and television production. Students will also reflect on the ethical dimensions of the media interview. The course will also feature contributions from local professional journalists who have experience as interviewers. Students will conduct and present original interviews with a variety of subjects, which will be examined and assessed via a portfolio of written work.
INTERACTIVE ART AND DESIGN
Building upon the concepts learned in Visual perception and Design, this course presents a new challenge to the student: to use art and design methodologies for the creation of virtual worlds, interactivities and environments. Within this scope this course introduces and expands the concepts, aesthetics, and techniques and the impact of technology and new media critical to the exploration and authoring of interactive art and design works. The conceptual framework of the course includes an understanding of the psychological and cultural/social contexts of interactive media access, media ecologies, content composition, sensing of physical environments, spatial narrativity and venue development.
AESTHETICS
Aesthetics as a science and a theory. Reaching the level of 'aesthetic' perception. Aesthetics is a philosophical science that privileges sensual perception as suggested by Baumgarten and the consciousness of the aesthetic approach is an essential quality for a designer. It is also understood as the philosophy of art concerning the fundamental question 'What is art?' In this scope philosophers have written works basically related to this question since the ancient Greek civilisation. This course aims to build consciousness and create an awareness of aesthetic theories and contemporary issues in aesthetics which is necessary for developing unique projects in visual communication design.
TR Applicants
TR Students who are successful in the exams conducted by the Higher Education Council Student Selection and Placement Center (ÖSYM) and are entitled to enroll in our university in line with their preferences can complete the registration process with the necessary documents for registration from our Registration and Liaison Offices throughout Turkey or from the Marketing Directorate on campus.
Click for detailed admission requirements information.
TRNC Applicants
TRNC citizens and TR citizen candidate students who have completed their entire high school education in TRNC. They are placed in undergraduate programs in line with their success in the CIU Student Placement and Scholarship Ranking Exam and the programs they prefer.
Students who are successful in the exam can register from the TRNC Marketing Office.
Applicants can directly apply online to our undergraduate programs using the application portal. Please fill in your details correctly and upload all the required documents listed on the last page of the application form.
Required documents;
Completed application form,
Higher/Secondary Certificate or equivalents (e.g. O/A'Level, WAEC/NECO),
Evidence of English Language competence: TOEFL (65 IBT) or IELTS (5.5). Students without these documents will take the CIU English proficiency exam on campus following arrival,
Scanned copy of international passport/birth certificate,
Fully completed and signed CIU Rules and Regulations document (which can be downloaded during the online application).
Cyprus International University provides academic scholarships for its students as an incentive for success, with most students benefiting from 50%, 75% or 100% scholarships or discounted tuition fees. Click for more information.
| | | |
| --- | --- | --- |
|   | Non-Scholarship | 50% Scholarship |
| Undergraduate Programs | € 5.843,00 | € 3.099,00 |
Click for more to learn about fees in line with the Tuition Fee Calculation system.
Program Mission
The Mission of the Department of Public Relations and Advertising
The mission of the Department of Public Relations and Advertising is to educate professionals who have adequate knowledge and skills in the areas of communication in general and public relations and advertising in particular, who actively make use of information technologies; who have a critical perspective; who can offer solutions to problems; who can work individually and as part of a team; who have developed self-esteem; who are aware of their social responsibilities towards the society; and who embrace the necessity of lifelong learning.
Program Outcomes
PO1:   Have a basic theoretical knowledge in the fields of public relations, advertising and communication.
PO2:   Understand that public relations is a function of management.
PO3:   Understand the importance and role of public relations, publicity and advertising within the scope of integrated marketing communication.
PO4:   Know organizational communication models and how they operate.
PO5:   Know how to conduct research, make a plan, execute the plan, assess and evaluate the results.
PO6:   Know the process of crisis management and how to find solutions to problems within the field of public relations.
PO7:   Have knowledge of perception and reputation management for institutions and organizations.
PO8:   Understand media and digital media communications related to the publicity of institutions and organizations. 
PO9:   Know how to make periodic reportage about the activities within the field. 
PO10: Know effective methods of presentation within the field.
PO11: Know how to create advertising messages appropriate for the target audience.
PO12: Understand media planning. 
PO13: Know the advertising and campaign processes carried out within traditional and new media.
Skills
PO14: Carry out internal and external communication processes within institutions and organizations.
PO15: Organize all kinds of events within institutions and organizations.
PO16: Determine the appropriate medium, equipment and materials fit for purpose within public relations and advertising works.  
PO17: Develop solutions fit for strategic purposes in accordance with research results. 
PO18: Have the ability to think strategically.  
PO19: Have the ability to use the necessary audio-visual communication tools within the fields of public relations and advertising. 
PO20: Create advertising messages by taking different characteristics of different communication mediums into consideration. 
PO21: Plan and execute traditional and new media advertisement campaigns. 
PO22: Use digital media and social media effectively within the fields of public relations and advertising. 
PO23: Follow social changes and developments closely, study the changes in consumer behavior and use the gathered data in advertising messages. 
Competence 
PO24: Anticipate potential crises within institutions and organizations, take action to prevent the crisis, and take an active role in its solution, if necessary.  
PO25: Show competence in active listening, critical analysis and problem-solving. 
PO26: Evaluate the knowledge and skills gathered within the field with a critical approach. 
PO27: Have an administrative perspective.
PO28: Behave in accordance with protocol and etiquette/social rules of behavior. 
PO29: Follow the development of the profession in the world and adapt accordingly. 
PO30: Have the ability to follow the economic, social and political agenda of society and use it for the public interest. 
PO31: Take responsibility independently or as part of a team to solve problems.
PO32: Show sensitivity toward remaining loyal to universal values, laws and ethical principles while practicing their profession.
Program Educational Goals
The Cyprus International University Department of Public Relations and Advertising aims to graduate students who:
PEG1: Have professional knowledge and skills in the fields of public relations and advertising,
PEG2: Can design and execute public relations and advertising campaigns,
PEG3: Can generate novel and creative ideas,
PEG4: Can propose constructive solutions to problems,
PEG5: Have critical thinking skills,
PEG6: Understand the research methods used in the fields of public relations and advertising,
PEG7:Can use new media and new communication technologies. Can use computer programs used in the field of public relations and advertising at minimum, or The European Computer Driving License at the advanced level.
PEG8: Possess advanced written and oral communication skills,
PEG9: Are aware of their social responsibilities to society and to the world,
PEG10: Are competent users of the English language at B1 Level of The European Language Portfolio,
PEG11: Are conscious of behaving in accordance with professional ethics and have a sense of responsibility,
PEG12: Can use information pertaining to their field's workplace health and safety.